==================
Florida Splendors is supported by our audience. When you purchase through one of our links, we may earn a small affiliate commission.  As an Amazon Associate I earn from qualifying purchases. Your cost is not affected.
In 2020, the sunshine state hosted about 111.8 million tourists worldwide. The sheer volume of visitors makes finding any quiet places in Florida challenging.
Looking for a peaceful escape from the hustle and bustle of everyday life? Florida has plenty of hidden gems that offer a serene getaway from the crowds. Some of the best-kept secrets in Florida are these unspoiled beaches, making them the safest place to visit in Florida. The weather in Florida adds to the charm making these pristine coastal havens  perfect vacation regions in Florida, providing ideal spots for families seeking a quiet spring break or couples planning their anniversary trip ideas in Florida.
Looking for a peaceful escape from the hustle and bustle of everyday life? Explore the tranquility of Florida's unspoiled beaches and discover hidden gems that offer a serene getaway from the crowds. The weather in Florida adds to the charm, making these pristine beaches the safest and most delightful places to visit. Experience the perfect blend of relaxation and sunshine as you immerse yourself in the beauty of Florida weather.
Quiet Places in Florida to Visit
Top 11 Best Quiet Places in Florida to Visit
1. Anna Maria Island
2. South Walton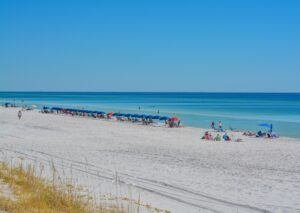 3. Cayo Costa State Park, Pine Island
4. Perdido Key

5. Apalachicola
6. Homosassa Springs
Also, Florida tourists visit Clearwater Beach and Homosassa Springs. They are in the same state but not directly related. Clearwater Beach is renowned for vacations due to its smooth white sand and clear blue ocean. Homosassa Springs, a small Citrus County community, is famous for its natural springs and animal sanctuary. They're just an hour apart but quite distinct places to visit. Hotels, restaurants, and watersports abound in Clearwater Beach. Homosassa Springs is quieter and offers nature walks, wildlife watching, and boating.
7. Lovers Key State Park
8. Fort Myers Beach Sanibel
9. Dunedin
10. Manasota Key
11. Santa Rosa Beach
12. Bahia Honda State Park
Enjoy The Serenity In The Sunshine State
Have you discovered the best quiet places in Florida to visit? Here is a collection of the state's most tranquil spots we've put together for your enjoyment. These locations are ideal for escaping it all and experiencing breathtaking beauty.
These places are great for people who want to relax, whether on a romantic trip or for other reasons. If you need relaxation, pack your bags and travel to one of these serene getaways.
Have you visited any of these top Florida destinations for peace? Tell us all about it if you have, please! Leave your feedback and recommendations for your preferred location below.
Plan Your Next Quiet and Affordable Florida Vacation
If you're seeking a serene and affordable vacation in Florida, you have a plethora of options to choose from. The state is home to some of the country's most beautiful and peaceful beaches, making it a top contender for the title of best beaches USA. Siesta key beach  has a pristine white sand and Henderson Beach State Park's tranquil beauty are just a couple of the reasons why Florida is considered one of the best beaches in Key West destinations worldwide. Additionally, Florida boasts the distinction of hosting the most visited national park, attracting nature enthusiasts from around the globe.
Although Florida is often viewed as a family-friendly destination, there are also several Florida destinations for adults who want to unwind and escape the daily grind. "11 Favorite Quiet Places in Florida to Visit" is an excellent resource for those looking for inexpensive Florida vacations, as it highlights several peaceful and underrated spots that won't break the bank. Whether you're searching for quiet places to hang out or relaxing vacation ideas, this article has you covered.
Many of the destinations highlighted in the article are located near some of the best Florida beaches, including Pensacola Beach, which boasts stunning white sand and emerald waters. Whether you prefer the Atlantic Ocean or the Gulf of Mexico, Florida has some of the best beach options for any preference, including Amelia Island, known for its beautiful beaches and charming downtown area. So, if you're looking to plan your next vacation to the best beaches for swimming in Florida in 2023, or want to discover some of the the best beaches in Key West that are peaceful and serene, there's no shortage of options to choose from.
Read More
St George Island and St Marks Florida – Worth Visiting
10 Best Beaches for Swimming in Florida
10 Nature trails in Central Florida to Explore
Great Kayak Trails in South Florida
Important Things to Bring on a Day Hike
Florida Weather Information (weather.com)
More Related Pages
Pros and Cons of Inflatable Kayaks
inflatable kayak pros and cons
Beautiful beaches and a peaceful atmosphere set them apart from a trip to Miami Beach. These spots provide a unique vacation experience that centers on leisure and the great outdoors. It's a good thing that Florida keys quiet vacation rentals are also available.
When Florida has a sunny season, many people flock there. It's why folks book trips to Florida in March. With mild (some ideal) temperatures and fewer tourists than in the summer, this is one of the most fantastic times to visit. In the spring, the temp at most southern Florida locations is suitable enough for bathing.
What are the other chill vacation spots?
The Gulf Coast beach runs along the east and west coasts of Florida, giving visitors a wide range of beautiful beaches from which to choose. While places like Fort Lauderdale attract tourists with their lively atmosphere and oceanfront amenities, other spots like Gulf Islands National Seashore offer a more secluded and natural setting. Whether looking for sun, sand, and sea or a quiet nature retreat, the Gulf Coast has something for everyone. If you are in the Sunshine State, search for "best lonely places near me," and you will find either of those.
Suppose you're looking for the quietest Florida beaches, head to Barefoot Beach. This coast is in Southwest Florida. Still, the remains as an undeveloped barrier island on the Gulf Coast. Still, it offers miles of pristine coastline perfect for swimming, shelling, and sunbathing.
Is Florida vacationing expensive?
There are plenty of affordable options for those seeking a quick getaway in Florida that won't break the bank. Families and budget-conscious travelers love St. Pete Beach on the Gulf Coast for its soft white sand and calm waters.
What would be a great mini vacation Florida idea?
Renting a beachfront resort is recommended especially when you are with a group. There are plenty of Florida beach resorts considering the expansive shoreline of the Sunshine State. You will never run out of beachfront vacation rentals or fl apartments to choose from. The huge number of Florida beachfront rentals means you have the freedom to pick a beachfront Florida that meets your every need. From budget, floor area, location, amenities to location, the most suitable beachfront rentals will surely give you a vacation to remember.
What are the unknown beaches in Florida that are worth visiting?
Some of the greatest secret Florida getaways are Lover's Key State Park, Sebastian Inlet State Park, Vilano Beach, Calusa Beach, and Pass-a-Grille Beach. Lots of South Florida hidden gems also await. All you have to do is come over and explore every shoreline that the Sunshine State has to offer.
Which Florida beaches can I go to avoid the crowds on Spring Break?
Unfortunately, there aren't many quiet Florida beaches during Spring Break. You can check out Cape Canaveral, Merritt Island, Destin, Marco Island, and the least populated city in Florida.
What places can you recommend for trips to Florida in February?
There are plenty of pretty places in Florida. You have Key West, (considered to be the prettiest part of Florida), Dry Tortugas National Park, Daytona Beach, Florida Mall and even downtown Miami as well as Walt Disney World. These places are also ideal weekend getaways in Florida for singles.
What are other low key vacation spots in the Sunshine State?
Two of the best non touristy beaches in Florida are Caladesi Island State Park and St George Island Florida. Because these places are protected and untouched, they're easily some of nicest parts of Florida. If you live in Central Florida and want to find the best places in Florida in January. If you reside in Labelle, the nearest place to see in the winter is Naples. Check the map of Labelle Florida and it's only an hour's drive away.
What is Palm Island Resort?
Palm Island Resort, nestled on the tranquil barrier island off the southwest coast of Florida, beckons for South Florida staycations, showcasing all the benefits of a secluded beachfront getaway. This serene haven offers a peaceful and tranquil environment, making it an ideal destination for those seeking relaxation and serenity during their staycations in South Florida. Experience all the benefits of this hidden gem, where every moment is a perfect blend of comfort, leisure, and natural beauty.
Is there an outdoor pool at Palm Island Resort?
Yes, Palm Island Resort features an inviting outdoor pool for guests to enjoy. The pool offers a serene and refreshing environment where you can relax and soak up the sun while surrounded by the resort's tranquil surroundings. It's a perfect spot to unwind and cool off during your stay at Palm Island Resort.
Is there an outdoor pool at Little Palm Island Resort?
Yes, Little Palm Island Resort has a stunning outdoor pool available for guests. Nestled amidst the lush tropical landscape, the pool provides a secluded oasis where you can take a leisurely swim or simply lounge in a peaceful setting. The pool area at Little Palm Island Resort complements the overall tranquil ambiance of the resort, offering a serene escape for guests.
Are the East Coast beaches in Florida family-friendly?
The East Coast beaches in Florida, including Indian River Lagoon, Opal Beach, Smyrna Beach ,Vero Beach, and Delray Beach, are highly family-friendly. Many of them have gentle waves, making them suitable for children to play safely. Additionally, there are family-oriented facilities and nearby attractions, making these beaches perfect destinations for family vacations along Florida's east coast.