==================
A Caveat and Affiliates
First off, a little caveat: within my articles you will find affiliate links, meaning if you buy them, I get a small commission. Your cost is not affected. In addition, I am an Amazon Associate and I earn from qualifying purchases on Amazon.
And yes, if I say that I recommend a product here, it means I truly believe it is a good product. I refuse to recommend any product that I have not researched and believe to be a good value.
Even better, I provide you with a very clear picture of the product, it's use, and the probable value.
Earning your trust is important to me. I run this website myself and the commissions and donations help support the site.
Sound reasonable and fair enough? Let's continue to the article.
==================
Caladesi Beach is one of America's best beaches. If you plan a family trip, here's everything you want to know about Caladesi Island State Park!
The Sunshine State has been one of the top-visited places for many years now. Millions of international guests visit Florida, and everyone has a favorite. After all, the state provides excellent weather, enchanting sceneries, and breathtaking best beaches for swimming in Florida in 2023. Whether you are after peaceful places or action, Florida has it all.
Moreover, the place has more than theme parks. Florida is also home to some of the most enthralling beaches in America. Caladesi Island State Park and Graton Beach are among America's top ten coasts.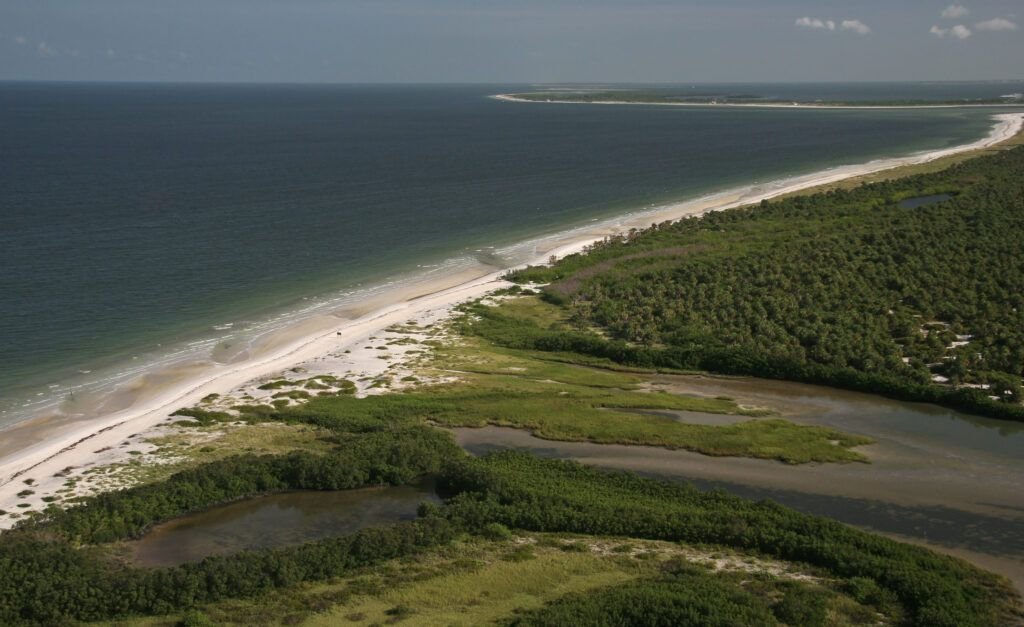 Caladesi Island State Park in Florida will please you. It will suit your need for a beautiful honeymoon destination. Also, it caters to people who want to enjoy nature with their family and friends. This post will discuss everything about Caladesi Island. It includes the Caladesi Island Ferry and Caladesi Beach.
So, let's get started!
Caladesi Island State Park, Florida
Caladesi Island State Park is perfect for exploring natural beauty and tranquility. Off the Florida Coast in the Tampa Bay area, it is among the best outdoor places in America to experience nature. Likewise, in 2004, Dr. Beach included it in their top 10 list of best beaches in America. Folks based it on the wave activity, water temperature, and soft sands of Caladesi Beach. Still, the on-site facilities of Caladesi Island Ferry are impressive.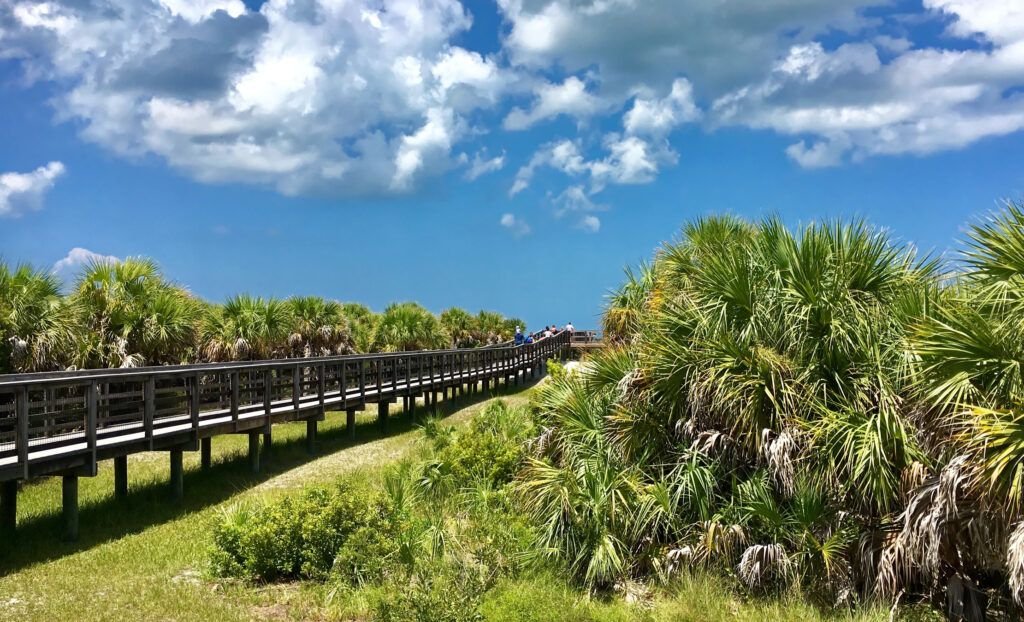 People acknowledged the environmental efforts to preserve Caladesi State Park in recent years. National Geographic named the island one of the top destinations in America. Also, the Audubon Society designated the island as a "Wildlife Sanctuary." It's one of the renowned organizations focusing on conserving wildlife and their habitats.
Moreover, the Department of Environmental Protection awarded the locals for their efforts. The Caladesi Island State Park got the "Florida Green Award." After all, they put in efforts to protect wildlife and the environment.
Caladesi Island History
There's more to the Caladesi Beach and Caladesi Island ferry trips too. Besides its natural beauty, its long and fascinating history amazes guests. In the past, the first-ever Native American inhabitants know it as the "Island of the Flower."
It also remained under Spanish control until it became a part of Mexico in 1821. In 1835, during the American-Mexican war, the US captured the island. Hence, it has been a part of the country ever since. People filmed the movie, "The Prince of Tides," there. It also starred Mary Pickford and Douglas Fairbanks Jr.
In 2004, Hurricane Charley damaged the island's infrastructure. Yet, it has been rebuilt and remains an exciting tourist destination in Florida.
Where Is Caladesi Island State Park Located?
In the Gulf of Mexico and off the Florida Coast, you will find Caladesi Island. The place is a part of Florida's Clearwater Beach Complex and Sand Key Park. Likewise, it's a seaside resort northwest of Tampa in Pinellas County. Clearwater Beach provides access to various attractions in the Tampa Bay area. Caladesi Island is an excellent pick for a captivating day trip on the ferry. It also allows for several-day excursions.
How To Access Caladesi Island?
Half the fun of any trip to the island is the journey. Take the Caladesi Island ferry from Honeymoon Island State Park to get to the island. Guests can also walk from Clearwater Beach to reach it. But the Caladesi island ferry is by far the most convenient way. From 10 a.m. to 3 p.m., the island ferry transport passengers hourly. Yet, if you prefer to walk, ensure low tide conditions.
Likewise, walking hours before the low tide to the island is ideal. While you must walk about 2 miles, the breathtaking views you will see along the way are worth it.
Moreover, you will enjoy walking across a narrow land strip during low tide. It connects the island to the mainland.
Furthermore, a 20-minute walk is an excellent way to see the fantastic wildlife. It's why people and creatures treat Caladesi as a home. Various birds, turtles, and even dolphins are visible along the way. They come into view after reaching the secluded Caladesi beach. Hence, it explains why folks walk to the beach despite the popularity of the ferry.
Alternative Ways To Reach Caladesi Island
Private Boat
Having your boat means convenient and independent access to Caladesi Island. Yet, you will still have to pay a $6 entrance fee per boat with up to eight people.
Kayak
Getting on a kayak is an excellent option if you are looking for a little more adventure. With it, you can paddle across the island. Even if you don't own a kayak, rentals are available at Sail Honeymoon on the Dunedin Causeway. You can rent a single kayak for 2 hours for $35. But, if you are traveling with family, you can rent double for $45.
What To See And Do At Caladesi Island State Park?
Once you arrive at Caladesi Island State Park, you will have plenty of places to explore and things to do. Yet, if you want to sit and relax, Caladesi beach is beautiful.
Hang Out At Secluded Caladesi Beach
The beach is pristine, white, and wild, spanning over four miles and edging Caladesi Island. It is also a tranquil place away from polished stretches of sand elsewhere in the sunshine state. It is an ideal spot to spend quality time and hang out for a few hours.
Also, Caladesi beach is satisfying due to its many features. It is enjoyable to dip in its crystal clear waters. Folks can also have fun there lounging beneath the warm sun. That is while appreciating the beauty of nature. The spot is so charming that we'd completely understand even if you do nothing on the island.
The on-site facilities mean you can rent a couple of attractive amenities. It includes sunbeds with matching parasols. Or you can come and lay your towel down wherever you fancy.
Furthermore, at the marina, you will see that Caladesi beach has clear signboards. These help visitors walk along a raised walkway to access the beach.
Wildlife Watching
Caladesi Island is home to various fascinating wildlife. People even voted for it as a "wildlife sanctuary." Its protected status means Caladesi Island State Park has plenty of wildlife-watching opportunities.
Visitors can peel their eyes in the water to spot tropical fish, stingrays, and crabs. Also, remember to look up to spot beautiful birds. Sandpipers, snowy egrets, blue herons, pelicans, ospreys, and more often visit. Moreover, if you are lucky, you may spot dolphins and manatees.
Furthermore, remember to be respectful. Be a responsible traveler and give wildlife the space to go about their ways and roam as they please. Do that while observing or interacting with them.
Kayaking
Kayaking at Caladesi State Park provides an enthralling experience. You can take on the paddling trail, which begins and end at the marina and café. It will take you through a broad mangrove forest. As you approach the entrance, you will find it shaded by a canopy of branches overhead. These seem like tunnels from a close distance and afar.
Additionally, the shorter 1-mile loop is popular among visitors. But adventurous kayakers take the longer 3-mile loop. It's the one floating through the ancient Scharer Homestead Ruins. While paddling, you may see wading and diving birds. Great egrets and blue herons are common. Fish like red drum, snook, and mullet are also available.
Hiking at Caladesi Island Trail
Hiking is another exciting option to explore Caladesi State Park. The Island trail is a series of marked paths. Also, it links the park's complex with the fascinating homestead area. The 3.5-mile loop from the marina docks entices visitors with scenic views. It also has engaging wildlife spotting opportunities.
Moreover, while on the trail, you can discover how mangrove swamps and virgin pines are. Doing so explains what defines the wilderness of Caladesi Island. Still, while the route is easy and flat, it becomes more challenging on clear days. It walking gets tricky, especially under the hot Floridian sun.
Shelling on Caladesi Island
Many seashells remain intact thanks to the unique geography off the coast of Florida. They usually break apart when rolling to shore. That's why this part of the world is one of the famous sea shelling destinations.
While shelling is rewarding, the seashells gathered by some were upsetting. Remember to keep conservation in mind and collect only a few. If you find live shells, you must leave them. If you see something living inside, put them back. Be responsible and contribute to the conservation efforts of the locals.
Camping at Caladesi State Park
If you want a peaceful stay, you cannot afford to miss camping at Caladesi Island. Booking a room in a five-star hotel is fun, yet camping at Caladesi State Park offers a unique experience.
If you own a boat, you can still stay at the campgrounds. Likewise, the park has various camping sites you can check out. We recommend bringing camping gear. But without equipment or to skip packing and unpacking, there are supplies for rent. These items are available from the locals on the island.
Enjoy A Relaxing Picnic Lunch
You can have lunch after hours exploring and appreciating the beauty of the state park. The site features a nice picnic area where visitors can enjoy eating and drinking. It is a fun spot to take a break and hang out with your family and friends.
After lunch, let your kids blow off some steam on the playground. You can do that before starting your afternoon activities. Likewise, if you haven't brought any food, you can head to the state park's Café Caladesi. The place offers casual fare, fresh seafood, refreshing smoothies, chips, and burgers.
How Much Does it Cost?
Caladesi Island State Park is an enthralling place for family trips. Yet, it can be expensive. Caladesi Island ferry costs $24 per adult and $12 per child if you travel with a family. Also, you must pay extra parking fees if you have a water vessel.
Once you are there,
plenty of fun
activities will keep you engaged, but at a cost. For instance, kayaking at Caladesi beach is an enthralling activity. Yet a rental kayak costs $8 an hour, whereas a beach umbrella costs $5.
Exciting Facts About Caladesi State Park
Caladesi State Park has various fantastic wildlife, including birds and fish. It also happens to be on the Great

Florida Birding

Trail. The

island offers

sanctuary to a variety of birds. Examples are black skimmers, American oystercatchers, snowy egrets, and blue herons.

Visitors may also witness green

sea turtles

and loggerheads nesting at the beach. Folks may also see gophers making their homes.

Caladesi was once home to homesteader Henry Scharrer and his daughter Myrtle. There's also a book, "Yesteryear I Live in Paradise," by Myrtle. Also, she noted there about her family's time living on Caladesi Island.

Before the 1921 hurricane, folks identified some places by different names. The Caladesi Island and Honeymoon were one, and they called it Hog Island. But the cyclone formed what's known as the Hurricane Pass, splitting the island.
Ready to hit the beach? Before you start collecting seashells, have you ever wondered whether it's a good idea or not? Let's explore the pros and cons of this popular beach activity.
Caladesi Is Perfect
Planning a family trip to Caladesi Island State Park is an excellent relaxing way. It's also where guests can appreciate the beauty of nature. Caladesi Island has crystal-clear water, white-sand beaches, and lush vegetation. It's where folks can swim, sunbathe, paddle, and enjoy the Caladesi Island ferry. Hence, the tourist destination has something for everyone. Add Caladesi Island to your list for a tranquil destination away from all the hustle and bustle.
We hope you learned a few things about the island through our post. It's a paradise to many and a tourist spot worth sharing. Please comment if you have the experience to share about the place. We'd like to hear from our readers too. Thanks for reading.
What distinguishes Caladesi Beach?
For decades, Caladesi Beach has been famous for its natural beauty and turquoise seas. It's one of Florida's few natural barrier islands.   It's perfect for some R&R and an intimate evening out. Also, it's superb for a fun-filled day with the kids or a tranquil afternoon for two. I doubt I could find the right words to justify this place's beauty. The guys who operate the ferry are great: they're super friendly and hilarious. Head to the white sand shore for better waves and more shells. There are fewer folks there, though.
Caladesi Beach: boat or car?
Clearwater Beach to Caladesi Beach is walkable or boatable from Honeymoon Isle at low tide. After all, the region has options for unwinding on the shore or exploring on foot. Roads should reach the coast.
Is Caladesi Beach only for sunning and diving?
Yes! Kayaking and paddleboarding are great on the island. After all, it has fishing spots, nature paths, and mangrove-lined waterways. The shore has a snack bar and a picnic area.  
Other Fascinating Beach Facts?
The beach is a good size, about 3 miles long and half a mile wide.

"Blue Wave"

 shoreline is the official designation for Caladesi Beach. After all, it meets specific safety, cleanliness, and environmental protection standards.

The island has gopher tortoises, ospreys, bald eagles, dolphins, and other species.
What are the Caladesi Island Ferry times?
The ferry service typically departs every hour. Ferry boats bring visitors to Caladesi Island every day except on Christmas and Thanksgiving. Caladesi Ferry also has two ferry boats depart from the docks of Honeymoon Island State Park.
You Might Also Like The Following: