==================
Florida Splendors is supported by our audience. When you purchase through one of our links, we may earn a small affiliate commission.  As an Amazon Associate I earn from qualifying purchases. Your cost is not affected.
BEST BEACHES FOR SWIMMING IN FLORIDA
Many find several favorites from among the beaches for swimming in Florida. After all, the state is a year-round tourist target for visitors from East Coast and other places. It has almost 1,200 miles of coastline and a variety of beaches. Family-friendly resorts to party hotspots attract a wide range of visitors. You might discover a treasured spot and return to your special place often.
You have many options in Florida. Even if you're in the middle of the state, there are beaches near Sebring Florida, particularly City Pier Beach in Lake Jackson. But how do you choose between so many beautiful beaches? With a snapshot of some of the beautiful beaches in the Sunshine State, we're here to help you narrow it down. Ready for kayaking? Learn the 10 tips on how to stay safe while kayaking. And when you're ready for a sunny beach day, Florida's beaches are waiting for you.
Note: If you are wondering about the beach reports today, you can rest assured that all the beaches on our list have been thoroughly checked for water quality. Florida's Department of Health, dedicated to maintaining florida healthy beaches, regularly conducts beach water quality testing, and any beach with a high level of bacteria or other contaminants is immediately issued a beach closure. This ensures that beach users can enjoy the water safely and without any health concerns. Stay updated on the latest beach conditions to make the most of your beach day.
Top 13 Best Beaches for Swimming in Florida
Please choose from our top-rated Florida beaches, featuring the most exquisite names of beaches in Florida, for an unforgettable beach vacation with your kids and family.
1.  Sanibel Beach
Sanibel is a one-of-a-kind barrier island known for its unique East-West orientation, setting it apart from the more common north-south configurations of islands. This distinctive layout has significantly contributed to Sanibel's popularity among visitors and shell enthusiasts. As one of the Shell Islands, Sanibel, particularly its renowned East Beach, As one of the Shell Islands. It's an ideal location for collecting completely preserved shells. Along Florida's coast, it has pods of all shapes and sizes. Because of these features, some discover it when searching for "best beach in Florida 2021. Still, it's one of the safest beaches in Florida. After all, the place has a low crime rate, fewer incidences of natural calamities, and serene coasts.
At low tide, walk the beach with a bucket, shovel, and small net. It's to peruse the ocean's wealth of conch, cockles, and scallop shells. Bowman's Beach is Sanibel's quietest and most isolated patch of sand. Lighthouse Beach's rustic boardwalk invites tourists to stroll too. Also, it may be as private as the Dry Tortugas National Park. Hence, it can be the calmest beach in Florida. Yet, when driving, you must search for beach parking first. People charge parking fees there, but at least you can bring your vehicle along.
People closed the beach due to Hurricane Ian. After the calamity hit, folks worked on rebuilding the site. They opened it on January 2, 2023, to residents and travelers alike. So folks can have fun here once more.
Also, it's got one of the beach parks, "Gulfside City Park," located adjacent to it. Still, it's known for having a diverse and unique set of Florida fish species, making it a popular destination for fishing enthusiasts and marine life enthusiasts alike. Moreover, it is approximately a 10-mile drive southwest from Lynn Hall Memorial Park, a convenient and well-known gathering spot for visitors enjoying the beach and waterfront activities on Fort Myers Beach. Additionally, Sanibel is home to the enchanting Butterfly Beach, where visitors can immerse themselves in the beauty of nature, observing colorful butterflies in their natural habitat. So Sanibel offers plenty to its visitors, from serene beach experiences to vibrant encounters with local wildlife.
2.  Panama City Beach
The breathtaking honeymoon island beach adds to the allure of the Panama City Beach resort, which boasts some of Florida's most beautiful beaches. It's famous for being accessible on the Gulf of Mexico and St. Andrews Bay, and it also showcases emerald-green waters and sugar-white sands. Moreover, the place offers on-the-water sports such as jet skiing and windsurfing, making it a top choice for those searching online for "beaches open for swimming near me." Still, folks visit it for the nearby gulf coast beaches hotel and casino establishments. It's open 8 AM to sundown and caters to guests who wish to get wet during those hours. So it's clear why many prefer to visit and frequent it. It's where folks can have almost the same fun in hotels on Orange beach. Likewise, it's a family-oriented location. Because of that, it has similarities with Daytona beach.
Spend the day at St. Andrews State Park to touch a beautiful white-sand beach on the mainland. It's a pristine, bridgeless barrier island accessible by water taxi. Some guests there try boating, canoeing, and kayaking. Scuba diving and other family-friendly events are also available at the facility. The Coconut Creek Family Fun Center is another local draw. These details make it easy to see why folks consider it one of the best Florida beaches 2021 offers.
Government officials have plans for this beach this 2023. Folks are ready to place new facilities for safety and convenience. With success, it would be an excellent destination for swimming and other activities. Also, some people may ask, "Is Panama City Beach polluted?" The answer is no. Local businesses and caretakers make certain that the coasts are free or have the least floating garbage for everyone.
3.  Naples' Pearly White Sands
The most difficult decision to make when relaxing on Naples' pearly white sands is how to look. The crashing waves on one foot and the gleaming mansions make up Millionaires' Row on the other. On 12th Avenue South, one of Naples Pier's most famous beaches locates in the neighborhood. There are bathhouses and food stalls on-site. Likewise, rentals for anything from umbrellas to kayaks are available. After all, guests go there to enjoy kayaking and canoeing. Thus, this is a perfect spot to lay out the family's beach picnic and hang out for the day. It's also where folks can go on an adventure.   Are Naples beaches safe? Yes, they are. They are in a city with lower criminal offenses than the national average. The coasts also have many visitors. They get guests even though a few sometimes have dangerous wildlife and tropical storms. Still, the place has a public aquarium nearby, which tourists can enjoy visiting.
4.  Siesta Key Beach
It's almost tricky to bore on Siesta Key, with too much to see and do. It's far from Key West and Fort Myers beach destinations but has quality features. The allure of the island sands is infectious. That is, whether you curl your toes, brush your fingertips, or bask in them. Beachgoers flock to these silky beaches. They enjoy the enormous stretches of sand and the calm Gulf waters. Some who visit this coast ask, "Is Bonita springs beach open?" This beach is also near one of the welcoming communities in Southwest Florida. So, with it, you have a place for a good time and to transfer for more adventures.
The beach on Siesta Key is ideal for strolling and shell picking. For this reason, of the different Florida keys, people recommend it. It's also fabulous for more adventurous pursuits like renting a catamaran. This perfect family vacation spot features beachside picnic areas, playgrounds, and candlelit restaurants. Thus, many consider it part of the best swimming beaches in Florida keys.
5.  Seaside, Florida
The Seaside is fifth on our list when it comes to north Florida beaches to explore, and it has so many great things to offer. It's why so many tourists visit this part of Northwest Florida. But just because it came in fifth place doesn't mean it's not a must-see. It is true! The beach sands are pristine, smooth, and acceptable, making it one of the top north Florida beaches to visit. Like in Lake Michigan, the sands are soft and whitish, thanks to the mountain quartz brought by the river to the Gulf. You may also hear squeaking noises or whistling sounds during strolls. Calm and inviting, the coast is also ideal for a relaxing dip or a plunge into its clear waters. Guests can be sure of the area's cleanliness too, making it a must-visit destination among north Florida beaches. The environmental protection agency of the site keeps the place idyllic. Hence, you can expect to experience the vivid water beaches Florida offers here. Still, because of these, it's one of the prettiest beaches in Florida 2021.
Making Waves and Memories: This Beach-Loving Family Soaks up the Sun and Fun in Destin, Florida!
6.  Destin Beach
April and May are ideal for Destin, especially for beach locations. People go to the Emerald Coast at that time to visit the beach locations and enjoy the place. The water is warm, the sun is shining, and the temperatures are pleasant for beachgoers. If you go much sooner, the weather will usually feel cool, and the water will be colder. Some folks also consider this shoreline one of the cool beach locations in Florida. Summer vacation will place you amid the queues and the highest costs, particularly at popular beach locations. While late summer and early fall are popular times to visit beach locations, the weather can be hot and humid, with rain. Many visitors come during the winter offseason to take advantage of lower prices at beach locations, but they must catch up on some of the area's most popular events while enjoying the beach.
Guests enjoy this beach due to the spontaneity of people visiting too. For instance, on New Year's Day, people started showing up for the "Destin Dunk." Hence, many also see this site as an exciting spot for fun.
Although it's rare to find them, nurse sharks are also present at Fort DeSoto Beach, as well as in Destin. Yet, these creatures are often harmless to humans. The last shark attack in Destin, Florida, was at Fort DeSoto Beach in 1882.Hence, it explains why people see it as one of the nice Florida beaches for swimming.
7.  Clearwater Beach
The soft water and white sand of Clearwater Beach attract comfort seekers in droves. Beachgoers can play tennis or bike on the nearby Beach Walk promenade. That is after a few hours of swimming or lounging. After that, tourists can go to Pier 60 to see a spectacular sunset. Moreover, there are evening crafts and entertainment. Anglers and snorkelers sometimes come here to fish at night. After all, the 1,080-foot pier decorates with assorted lights.
When people look for "Florida beaches without seaweed ", they find this coast. The place is sandy without seagrass and rocky pebbles. Hence, folks can enjoy doing all kinds of activities here. Yet, despite its name, it is not a clear water beach in Florida. Yet it does have sandy beaches and swimmable waters that beachgoers can enjoy.
It's also near Pinellas County. Because of this, it's an excellent spot to witness the majestic manatees. Guests of Clearwater beach can see them passing by or notice them while kayaking. Hence, it's a fascinating place to observe rare wildlife too.
8.  Santa Rosa Beach
Santa Rosa Beach, located in North Florida, stretches 26 miles down Florida's northwest coast. It is one of the beaches in northern florida gulf side. Folks know it for its brilliant white beaches, emerald sea, and top-notch dining. Many also identify it for its nearby art galleries and boutiques. This beach town received high recommendations from its visitors. Choose this for a prime beachfront without Panama City Beach or Destin crowds. Santa Rosa Beach in North Florida is a popular vacation spot for many relaxing and fun opportunities. It's where visitors can swim, sunbathe, explore dunes, bodysurf, and more. The US environmental protection agency also covers this site in North Florida. So guests get clean and clear water during their trip. It's where Florida beaches clearest water flows
9.  Amelia Island
Think of going on vacation on Amelia Island if you're looking for a luxurious beach resort. It's a place that comes with an old-world charm. Amelia Island has 13 miles of beaches, approximately 30 miles northeast of Jacksonville beach. It also includes Amelia Island State Park and Main Beach Park. Play a game of golf on one of the island's championship courses or go diving with your family. Still, it's only a 30-minute drive from St. Augustine beach, where you can try RV camping.
There's an inlet beach Florida map for fishing spots too. Anglers visit the island to reach St. Mary's river and catch whitefish, salmon, and more. Still, this place is worth visiting for its events. For instance, there's Amelia Island Restaurant Week and other events to look forward to this 2023.   Amelia Island has had tiger sharks swimming on its shores. Also, other shark species, like the hammerhead shark, surfaced. Yet people continue to appreciate the uncrowded coasts and carefully dip the waters of the Atlantic Ocean. Thus, many tourists still recommend it.
10. Cocoa Beach
Cocoa Beach situates on Florida's Atlantic coast. It's just south of Cape Canaveral, known as the

"space coast." Cocoa Beach

is a typical day trip for families staying in Orlando. Moreover, it is
just
an hour away from the state's theme park capital and the nearest beach. Folks also appreciate it for being one of the beaches near Lakeland FL. The best beaches in Vero Beach meanwhile are an hour's drive further south.
It's also known for its waves, including some of the biggest waves in Florida. The waters draw visitors looking for excellent surfing, kiteboarding, and parasailing conditions. Moreover, the Kennedy Space Center and many museums also exist. They include those with air and space themes. Thus, it has more than public

swimming beaches

. This coast

offers plenty

for tourists.
Near the coast is the Walter L Hudson, Junior Artificial Reef. Hence, the area has reef sharks. Also, folks saw lemon sharks there. For years, incidences of shark bites surfaced. But experts provide precautions to avoid them. Thus, being cautious makes Cocoa Beach enjoyable to get a tan and swim. After all, visiting this beach also means seeing the best Florida ocean. Moreover, the presence of the " aquarium cocoa beach" adds another dimension to the attractions available.
Still, the water temp cocoa beach averages around 78°F. The beach is famous for its long stretches of soft, sandy beaches and is a popular destination for surfers. Visitors can enjoy a variety of activities, including swimming, surfing, and fishing. The beach is also patrolled by lifeguards, and there are several amenities available, including showers, restrooms, and picnic areas.
11. Sunset Beach
As its name implies, it's a great spot to watch the sun go down. People visit it when they travel south of Treasure Island. Like St. Pete beach, it dazzles guests with its sunset views. Hence, the shore provides emotional sightseeing experiences to visitors. Retirees, couples, and other travelers may love this seaside spot for this feature. Many see it as the best beach destination in Florida for this reason. More than that, it also has shell-filled sands. Beachgoers there appreciate its azure skies and boat launch ramps. So people come here for many things other than swimming.
When it comes to aquatic activities, this coast also has some things to love. Travelers going here can try surfing and snorkeling. It's where the water conditions may be ideal for watersports. Still, it's home to underwater creatures like sea turtles. Thus, it comes as no surprise why folks visit this tourist hotspot.
12. Coquina Beach
It takes about ten minutes to drive here from Anna Maria Island, which is 4.5 miles away. Like the said coast, it's also an excellent spot to view the sunset. Tourists going here can enjoy this vast area since it also has amenities to use. It has a spacious parking space and also some picnic tables to use. Still, the place has many surrounding lush trees, sea oats, and grass to see. Those features and its white sands make it a relaxing place for holiday vacations.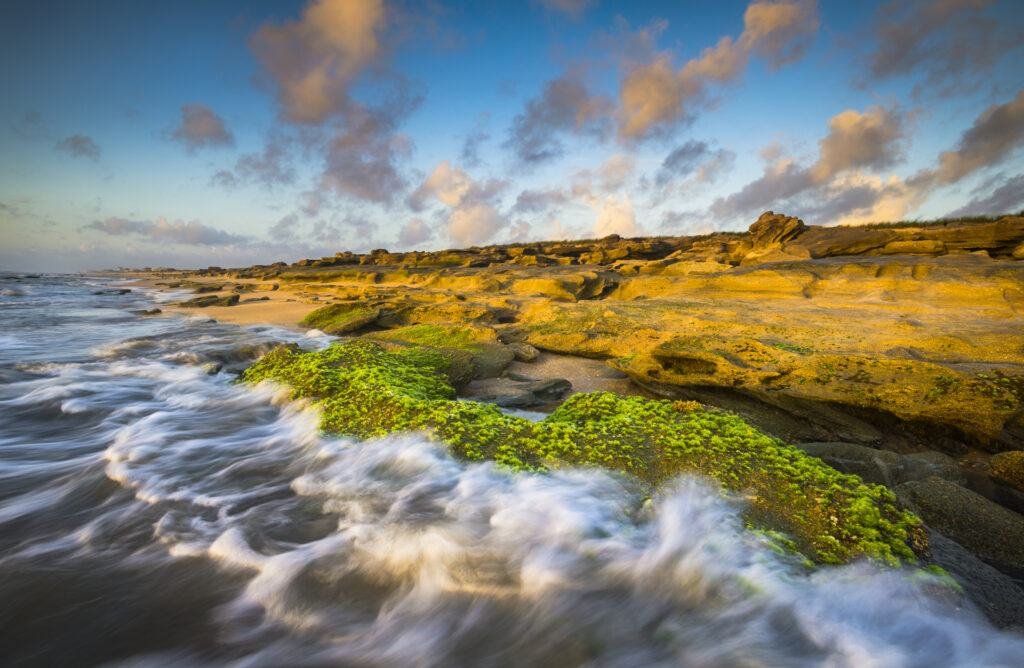 The beach, with its private beaches, has a cafe and local food for nourishment. It also comes with restrooms for guests. Moreover, it has a quiet atmosphere since it is less crowded than other coasts. Even when there are many people, it's still possible to see birds and other sea creatures. So, folks go on vacation here to rest, experience convenience, and appreciate nature.
It's a vast, uncrowded, clean seaside town with lovely scenery. The site draws boaters, anglers, and beachgoers due to its natural features. After all, it has accessible beaches with dunes and warm, vivid, and shallow waters. Still, it also has friendly and accommodating neighborhoods. Many homeowners welcome tourists and convert their homes to vacation rentals. So travelers enjoy going here and recommend the place.
Although far from and on the opposite side of Smathers Beach, Indian Rocks beach offers swimming opportunities and seaside facilities too. Restrooms and picnic areas are available and ideal for short and long-term vacationers.
No sharks attacked locals and visitors, but people saw them swimming in the waters. Plus, it's where people may encounter constant waves. Yet it's a safe place to enjoy surfing and paddling. Rental shops offer surfboards, kayaks, and more for residents and travelers to enjoy. Plus, folks can also rent motor boats there. Despite these offers, the beach is quiet. Hence, it's ideal for friends, families, and lone travelers to relax and have fun.
Experience Florida's stunning natural beauty and rich cultural heritage by visiting St George Island and St Marks. These destinations offer something for everyone, from pristine beaches and wildlife refuge areas to historic lighthouses and museums. Don't miss out on the opportunity to explore these hidden gems of the Sunshine State!
About Miami and Pensacola Beaches
When it comes to the best beaches to stay in Florida, you can't go wrong with Miami. Miami Beach is world-renowned for its turquoise waters and white sand beaches. In addition to swimming, visitors can also enjoy a variety of water sports, including miami snorkeling from shore. The beach is patrolled by lifeguards, and there are several amenities available, including showers, restrooms, and picnic areas.
If you are looking for a beach with warm water, Pensacola is an excellent choice. The Pensacola water temperature averages around 75°F, making it perfect for swimming all year round. The beach is also known for its powdery white sand and crystal clear water. Visitors can enjoy a variety of activities, including sunbathing, swimming, and fishing.
Beaches Near Kissimmee, Florida
If you're looking for amazing beaches near Kissimmee, Florida, you're in luck! The continental US is home to some of the best beaches, and the closest beach to Kissimmee is just a short drive away. One beach that stands out is Canaveral National Seashore, located near Smyrna Beach. With its pristine shores and crystal-clear waters, it's definitely worth a visit. Whether you're seeking relaxation or adventurous water activities, these beaches offer splendors that will make your trip truly memorable.
What About Beach Closures?
It's essential to note that beach closures can happen at any time due to storm drains, runoff, or other environmental factors. If you are planning a trip to any of the beaches on our list, it's always a good idea to check the beach water quality testing results before going for a swim. You can check the status of a beach closure or any beach advisory today on the Florida Department of Health's website.
The Sunshine State has many great options for beachgoers, and we hope our list of the 10 Best Beaches for Swimming in Florida has helped you narrow down your choices. Remember to always check for any beach closures or advisories before heading to the beach, and be safe while enjoying your time in the water.
Try the Best Beaches for Swimming in Florida
There you have it: some of the best beach Florida for swimming. They are ideal spots to take your kids or enjoy dipping by yourself. Crystal-clear waters, including some of the bluest waters in the US, and plenty of activities cater to guests. These beaches will make a splash with everyone. So pack your swimwear and suntan lotion. Head down to one of these top spots for fun in the sun.
If you've ever been to any of these areas, feel free to tell us about it. Check out the rest of our blog if you want to learn more about Florida's beaches and tourist spots. After all, we write about all the great things about the Sunshine State. Thank you for reading, and have fun on your journeys!
---
Florida Beaches Ranked
Here are the rankings of the 13 best beaches for swimming in Florida along with brief explanations:
Sanibel Beach: A picturesque beach on Sanibel Island, Florida, known for its pristine white sands and abundant seashells. It offers a tranquil and natural setting, perfect for shell collecting and birdwatching.

Panama City: Located along the Gulf Coast of Florida, Panama City Beach is a popular vacation spot with stunning emerald-green waters and sugar-white sands. It offers a wide range of water activities, including snorkeling, diving, and fishing.

Naples Beach: Situated in southwest Florida, Naples Beach boasts a beautiful coastline with soft sands and crystal-clear waters. It is known for its upscale ambiance, luxurious resorts, and breathtaking sunsets. Wildlife spotting and beachfront dining are popular here.

Siesta Key Beach: Located near Sarasota, Florida, Siesta Key Beach is renowned for its powdery white quartz sand, which stays cool even on hot summer days. It consistently ranks among the top beaches in the United States and offers various recreational activities, including volleyball and kayaking.

Seaside Beach: Situated along the scenic Florida Panhandle, Seaside Beach offers a charming coastal experience with pastel-colored beachfront houses and a quaint town center. The beach features beautiful sand dunes and azure waters, attracting visitors seeking relaxation and a laid-back atmosphere.

Destin: A popular beach destination in northwest Florida known for its emerald-green waters and white sandy beaches. Destin offers a range of water sports, fishing charters, and upscale resorts, making it a favorite vacation spot for families and water enthusiasts.

Clearwater: Clearwater Beach, located near Tampa Bay, Florida, is a lively and family-friendly beach known for its soft sands and warm waters. It offers a vibrant atmosphere with various beachside activities, including beach volleyball, water sports, and dolphin watching tours.

Santa Rosa Beach: Situated along the Emerald Coast of Florida, Santa Rosa Beach features pristine white sands and a tranquil ambiance. It offers a laid-back coastal experience with opportunities for swimming, sunbathing, and exploring the nearby coastal dune lakes.

Amelia Island: A charming beach destination in northeastern Florida known for its unspoiled beauty and rich history. Amelia Island features sandy shores, rolling dunes, and a relaxed atmosphere. Visitors can enjoy activities such as horseback riding, fishing, and exploring the historic downtown area.

Cocoa Beach: Positioned on Florida's east coast, Cocoa Beach is a popular destination known for its consistent waves, making it a surfer's paradise. It offers a vibrant beach town atmosphere, with various shops, restaurants, and the iconic Cocoa Beach Pier.

Sunset Beach: Located in Treasure Island, Florida, Sunset Beach offers breathtaking views of colorful sunsets over the Gulf of Mexico. The beach has a laid-back vibe, with soft sands and calm waters, perfect for relaxing walks along the shore.

Indian Rocks Beach: Situated on Florida's Gulf Coast, Indian Rocks Beach offers a quieter and less crowded beach experience. It features pristine sands, gentle waves, and a relaxed atmosphere, making it a popular choice for families and couples seeking a peaceful coastal retreat.

Coquina Beach: Located on Anna Maria Island, Florida, Coquina Beach is a beautiful and spacious beach known for its soft white sands and clear turquoise waters. It offers ample space for sunbathing, picnicking, and beach activities. The beach is equipped with picnic areas, pavilions, and amenities such as restrooms and showers. Coquina Beach is a popular spot for swimming, fishing, and watching stunning sunsets over the Gulf of Mexico.
I hope this helps you choose your next beach destination in Florida!
Beyond the Beaches in Florida: Aquatic Delights of Bioluminescence, Clear Oceans, and Enchanting Beauty
Florida's pristine coastline offers a multitude of aquatic wonders that are sure to captivate beachgoers in 2023. For those seeking a truly enchanting experience, the phenomenon of Bioluminescence in Florida is an absolute must-see. Whether it's the magical glow of bioluminescent organisms illuminating the clear oceans of Florida or the mesmerizing Indian River Lagoon, nature unveils its awe-inspiring brilliance after sunset. Adventurous souls can embark on bioluminescent kayaking tours, immersing themselves in a breathtaking display of light and color. As the night sky twinkles above, the enchantment continues at Merritt Island Wildlife Refuge, nestled along the picturesque Space Coast. Amidst the tranquil surroundings, visitors can witness the harmony between wildlife and the vibrant bioluminescent displays, creating unforgettable memories in Deerfield Beach and beyond.
Best Beaches for Swimming in Florida FAQs
What is the latest on Panama City Beach Drowning 2023?
It's most unfortunate that the Panama City beach drownings happened. According to news, at least 12 people have drowned at Florida beaches due to rip currents that continue to plague the Panhandle, including Panama City Beach, where several recent incidents have occurred and the number of drownings has surged in 2023. Deadly rip currents are being attributed to a dozen apparent drownings, with extreme heat drawing more people to beaches, leading to an increase in such incidents.
Is the flesh eating bacteria Florida news true?
As per the news, giant clumps of seaweed are washing up on Florida beaches and they may contain deadly flesh-eating bacteria that pose a serious threat to humans. Local Tampa Bay news station WSTP warned that the seaweed washing up in Florida could contain this dangerous bacteria. Furthermore, climate change is enabling the spread of flesh-eating bacteria in US coastal waters. This presents a significant risk to people who use the beaches for recreational purposes.
To keep yourself updated on this subject, please try searching for "Florida beach bacteria warnings today" online.
Are other beaches excellent for swimming too?
According to various sources, Blue Mountain Beach, Grayton Beach, Rosemary Beach, and Seagrove Beach are considered some of the best in the area for swimming. However, it's important to note that rip currents can be dangerous and pose a risk to swimmers, so caution should always be exercised when entering the water.
What makes Florida's beaches so great for swimming? Are florida beaches closed
Florida's beaches are known for their clear, warm waters, which make them perfect for swimming. Plus, with over 1,300 miles of coastline, Florida has a wide variety of beaches to choose from, including everything from quiet, secluded coves to bustling party spots.
As of 2023, most seaside spots are open for use.
Are there any beaches in Florida that are particularly good for families with kids?
Absolutely! Many of the beaches on our list, including Clearwater Beach, Siesta Beach, and South Beach, are great options for families with kids. These beaches have gentle waves, soft sand, and plenty of amenities, like bathrooms and showers, to make your day at the beach as stress-free as possible.
Can you swim in the ocean year-round in Florida?
While the ocean is generally warm enough for swimming year-round in Florida, the temperature can vary depending on the time of year and the location of the beach. Generally speaking, the water is warmest in the summer months, but even in the winter, the water is usually still comfortable enough for a dip.
Do I need to worry about sharks or other sea creatures while swimming in Florida?
While Florida is home to various sea creatures, including sharks, the chances of encountering one while swimming are very low. In fact, most shark attacks in Florida happen to surfers, not swimmers. That being said, it's always a good idea to exercise caution and avoid swimming in areas where sharks or other dangerous creatures are known to be active.
Though there are shark sightings Florida folks witnessed, it doesn't mean all waters are always dangerous. You just need to be careful when and where you swim. Do your research or ask around before exploring the coastal waters.
Can I bring my own food and drinks to the beach?
In most cases, yes! Many of the beaches in Florida have picnic areas or designated areas where you can grill or set up a picnic blanket. However, it's always a good idea to check the specific rules and regulations for the beach you'll be visiting, as some may have restrictions on food and drink or require you to use designated trash cans or recycling bins.
Do I need to worry about Red Tide in Florida?
It happens in various places in the Sunshine State. Thus, because of it, sometimes authorities may prohibit swimming in Florida keys and other areas. After all, the algae causing it may release toxins that can cause respiratory problems in people.
The St. Joseph Peninsula State Park has a beautiful beach too. Where is it?
Like the Henderson Beach State Park that is far from it, it does have a superb coast. After all, it too is in the Gulf Coast of Florida. Here is its location and what makes it appealing:
Why is Alligator Point Florida not on the list?
Alligator Point is also a beautiful area in Florida but the beach is more suited for fishing rather than swimming. And name itself is a giveaway – there are a few alligators reported in the area, with emphasis on few. Don't let that discourage you though, Alligator Point has some of the most pristine coasts in North Florida. Compared to pretty but touristy beaches in Venice FL, Alligator Point provides a quiet and untouched haven for those who want the beach to themselves. Check out the Alligator Point Florida map and you will find Bald Point State Park, another amazing attraction offering lots of land and water activities.
What is St Joseph Bay known for?
St. Joseph Bay is not a traditional beach. Yet it is a large and shallow bay located on the Gulf of Mexico side of the Florida Panhandle. Also, people appreciate its clear, shallow water and abundant marine life. Visible on it are sea turtles, dolphins, and a variety of fish species.
While the bay itself is not a typical beach with sandy shores, it is surrounded by several beautiful beaches. These spots include St. Joseph Peninsula State Park, which is located on the Gulf side of the peninsula. Folks also recognize the park's beach for its white sand and clear water. Hence, it's a popular spot for swimming, sunbathing, and beachcombing. Below are other things related to it:
17-mile-long barrier peninsula with white sand, beautiful blue water, and much more! See what the Gulf County Tourist Council says about this gorgeous Florida getaway.
Can you swim at Dekle Beach?
Certainly. In addition to swimming, this quaint little fishing village is known for fishing, kayaking and appreciating nature.
Is there a beach for swimming near me? Where is the closest swimming beach to me?
Florida hosts many beaches! When looking for "beaches near me," check out any one of the 189 official beaches along the 360 miles of coastline. When you ask a local, you're likely to hear, "Many Florida beaches right now are open!" After knowing the destinations, you only need to look for beach access points.   Still, it's also worth noting that places like Fort Lauderdale have plenty of beaches to choose from. After all, it has access to the Gulf Intercoastal Waterway Florida offers. South Beach is something you can experience there.
Yet, if you only wish to swim, you could try dipping in freshwater. Locations like the Blue Springs State Park provide excellent spots for water recreation. They offer swimming and the chance to see manatees. It's the same when going to the Merritt Island National Wildlife Refuge. Hence, the Sunshine State allows aquatic leisure and exploration almost everywhere. But take note that some waters are also inaccessible for swimming. For instance, Apollo beach became a nature reserve. So research open seaside locations first before traveling.
I'm looking for the cleanest beach in Florida. Which are the best beaches in Florida?
You will be pleasantly surprised! Florida prizes pristine beaches. Also, nearly any sandy shore will be among the best FL beaches. For instance, visiting Sombrero beach in Marathon allows one to experience soft and clean sands. Some of the sites in West Palm Beach are also attractive and clean. Still, the Port Saint Lucie weather and cleanliness provide a cozy spot for Atlantic coast beachgoers.
Crescent Beach is less crowded than other beaches, is broad, and offers easy parking. It has the charm of historic Florida and the clear waters you expect from the Sunshine State. And yet, many insist that Panama City Beach is the cleanest of them all.
Are any of the hiking trails near a swimming beach?
Florida parks often combine lovely swimming beaches with nearby hikes. Check the floridahikes.com site for ideas, and look at Florida State Parks. Bahia Honda State Park is a good spot for this. It has a bridge near the coast. Harvey Rest Beach Park is another example. It's suitable for walking, has chickens to see, and has excellent swimming conditions. Most of the time, there are also white sand beaches to welcome guests.
Are beaches open in Florida today?
Many coasts in the Sunshine State are open right now. Yet some are not accessible due to some reasons. For instance, Sanibel Island is inaccessible this January 2023. It's because of the devastating effects of Hurricane Ian. But the Florida Department of Environmental Protection assures the safety of some shores. They said 90% of the best beaches in Florida for adults are available.
Are there saltwater crocodiles in Florida waters?
Although reclusive creatures, crocodiles swim in brackish waters and saltwater areas. Creeks and mangrove forests may have these large and predatory creatures. Yet many sites are also safe from them and ideal for watersports. Hence, visitors should research the beaches around Florida before visiting them.
These days, it pays to be careful. People need to keep an eye out for more than just crocodiles. This is why it makes sense to search for things like "Shark attack Miramar Beach 2022." After all, sharks did attack people in the Sunshine State last 2022.
What are the best Florida beaches?
Everyone has their own unique set of beliefs and perspectives. Some have preferences and give favorable opinions of the regions they've explored. Usually, folks consider the pretty beaches in Florida best when the water and sands are great. Also, they appreciate them when it has other things to offer. For instance, some sites allow people to swim with dolphins Florida has.
When is the coast of Florida unswimmable?
Algal blooms can make the Florida coast unswimmable. Also known as blue green algae, harmful algal blooms can be poisonous for both animals and humans. Algae bloom Florida often occurs during the warm months. Blooms are caused by heat, slow-moving water, rainstorms, and water pollution. The algae then produce toxins or release harmful gases that can cause sickness in humans and animals that are exposed to them. The bloom can also deplete the water of oxygen leading to dead fish. Check the local news for any algal bloom before you Google best walking beach near me.
What are some of the main differences between Daytona Beach and Clearwater Beach, and which one would be a better fit for families versus those seeking a more laid-back, relaxing atmosphere?
Daytona Beach and Clearwater Beach are two popular destinations located on Florida's Gulf Coast. While both beaches are known for their beautiful white sand and clear blue waters, there are some differences between the two. Daytona Beach is famous for its 23-mile long stretch of sand and is known as the "World's Most Famous Beach." It's a great destination for families, as there are plenty of activities and attractions to enjoy, including a boardwalk and amusement park. On the other hand, Clearwater Beach is a more laid-back destination, with a quieter and less crowded atmosphere. Its white sandy beaches and crystal-clear waters make it a popular spot for swimming, sunbathing, and water sports. Whether you prefer the bustling atmosphere of Daytona Beach or the relaxed vibe of Clearwater Beach, both are great options for a beach vacation in Florida.
What is the Gulf Islands National Seashore and where is it located?
The Gulf Islands National Seashore is a protected area located on the Florida Panhandle and Mississippi Gulf Coast. It includes several barrier islands and stretches over 160 miles along the Gulf of Mexico. The seashore offers pristine white-sand beaches, clear blue waters, and plenty of opportunities for outdoor activities, such as swimming, fishing, and hiking.
What makes Florida's Gulf Coast a great destination for a summer vacation?
Florida's Gulf Coast boasts some of the best beaches in the country, making it an ideal destination for a summer vacation. The region has a warm and sunny climate, perfect for spending time on the beach or engaging in water sports activities. Additionally, Florida's Gulf Coast is home to numerous beach towns and cities that offer a wide range of attractions, including beachside restaurants, bars, and shops.
What are the best Florida beaches in July?
July is one of the busiest months for tourism in Florida, and the Gulf Coast has plenty of beaches to choose from. Some of the best Florida beaches to visit in July include Clearwater Beach, Siesta Key, and St. Pete Beach. Clearwater Beach offers a lively atmosphere, with plenty of dining and entertainment options, while Siesta Key is known for its soft, white sand and tranquil waters. St. Pete Beach is perfect for families, with its wide and spacious shoreline and abundant amenities.
What are the best Florida beaches in July?
July is one of the busiest months for tourism in Florida, and the Gulf Coast has plenty of beaches to choose from. Some of the best Florida beaches to visit in July include Clearwater Beach, Siesta Key, and St. Pete Beach. Clearwater Beach offers a lively atmosphere, with plenty of dining and entertainment options, while Siesta Key is known for its soft, white sand and tranquil waters. St. Pete Beach is perfect for families, with its wide and spacious shoreline and abundant amenities.
Which beaches in Florida are also recommended for swimming?
Please refer to our article for the 13 best Florida swimming beaches. Also, we encourage visiting popular destinations like Keaton Beach, Ruskin Beach, Florida, and Watercolor Florida.
Ruskin Beach, located in Florida, is another beach known for its swimming opportunities. With its picturesque setting and coastal charm, Ruskin Beach offers visitors a chance to relax and enjoy the sun while taking a refreshing dip in the ocean.
Watercolor Florida is renowned for its stunning white sand beaches and clear turquoise waters. It provides an ideal setting for swimming, and visitors can indulge in a range of water activities while enjoying the beauty of this coastal gem.
Are there any lakes in Florida suitable for swimming?
Yes, Florida is home to numerous lakes that are great for swimming. Whether you're in Central Florida or other parts of the state, there are many Florida lakes where you can enjoy a refreshing swim. Don't miss the opportunity to explore the natural beauty and crystal-clear waters of these lakes.
Florida lakes offer a unique swimming experience amidst beautiful natural surroundings. Whether you're in Central Florida or exploring other regions of the state, there are many lakes to choose from. Don't miss the chance to discover the splendor of Florida's lakes and take a refreshing swim in their waters.
Can you provide more information about Keaton Beach?
Keaton Beach is one of the recommended beaches for swimming in Florida. Situated in the Gulf of Mexico, Keaton Beach offers beautiful sandy shores and inviting waters. It's a popular destination for swimming and other water activities.
What about Bonita beach park?
Bonita Beach Park is a separate beach located in Bonita Springs, Florida, and it is not included in the initial list provided. It is a public beach park with its own unique features and amenities, including sandy shores, picnic areas, restroom facilities, and a boardwalk. While Bonita Beach Park is not on the list, it is another beach option in the area for visitors to explore and enjoy.
What types of marine life can I see at the Florida Aquarium?
The Florida Aquarium features a diverse range of marine life, including various species of fish, sharks, rays, turtles, corals, and more. They also have exhibits that highlight ecosystems from Florida's Gulf Coast, Florida Keys, and beyond.
What can I see in Florida besides the beaches?
You can visit Brevard Zoo, situated in Melbourne, Florida, nestled within the lush landscapes of Brevard County.
Is there any shark pit bar in Caspersen beach?
No, there is no Shark Pit bar in Caspersen Beach. There is a Shark Pit Bar in Venice, Florida, which is about 15 miles away from Caspersen Beach. The Shark Pit Bar in Venice is a popular spot for locals and tourists alike.
Is ormond beach safe
Ormond Beach, Florida, It's one of the best north florida beaches. is generally considered a safe place to visit and live. It's a popular tourist destination, and like any other city, it has its share of safety concerns, but it doesn't have a reputation for unusually high crime rates.
Are there any california beach towns that rival the best beaches in Florida?
While California and Florida both boast stunning coastal towns, they offer distinct beach experiences. California beach town, such as Malibu and Laguna Beach, are known for their rugged beauty and scenic cliffs. However, California coastal towns, like Malibu and Laguna Beach, also provide a unique charm and atmosphere that set them apart. In contrast, Florida's beaches, like those in Destin and Cocoa Beach, are renowned for their soft, white sands and unique attractions like bioluminescent kayaking. Whether you're drawn to the dramatic coastline of California or the pristine beaches of Florida, each state offers its own captivating beach town experience.