==================
A Caveat and Affiliates
First off, a little caveat: within my articles you will find affiliate links, meaning if you buy them, I get a small commission. Your cost is not affected. In addition, I am an Amazon Associate and I earn from qualifying purchases on Amazon.
And yes, if I say that I recommend a product here, it means I truly believe it is a good product. I refuse to recommend any product that I have not researched and believe to be a good value.
Even better, I provide you with a very clear picture of the product, it's use, and the probable value.
Earning your trust is important to me. I run this website myself and the commissions and donations help support the site.
Sound reasonable and fair enough? Let's continue to the article.
==================
How to Store Your Kayak
Dragging your kayak straight from the water to your garage and leaving it there for the winter is the worst idea to store your kayak. It can cause warping, hull damage, mold, fading, and theft. So, how to store your kayak, then? And what is the best kayak storage rack?
Owning a kayak means you have spent a fair amount of your hard-earned money. So, it is your responsibility to keep and maintain its top shape for decades to enjoy more fun adventures. Unluckily, most of us are unaware of how to store a kayak as it requires some forethought.
When storing your kayak, it is essential to ensure that the weight is evenly distributed on a hanging system or rack. Moreover, whether you are keeping your kayak indoor or outdoor, make sure to take the necessary steps to protect your beloved kayak from pest and rodent infestation. In addition to that, also take essential steps to prevent theft by keeping it watched and out of sight.
Below, I'll go over the best practices that will help you with kayak storage. With these tips, you avoid common mistakes, helping you figure out how to store a kayak to protect your potentially substantial investment.
Firstly, we will break down common mistakes that many new kayak owners make, and then we will go over the best ways to store a kayak.
So, let's get started!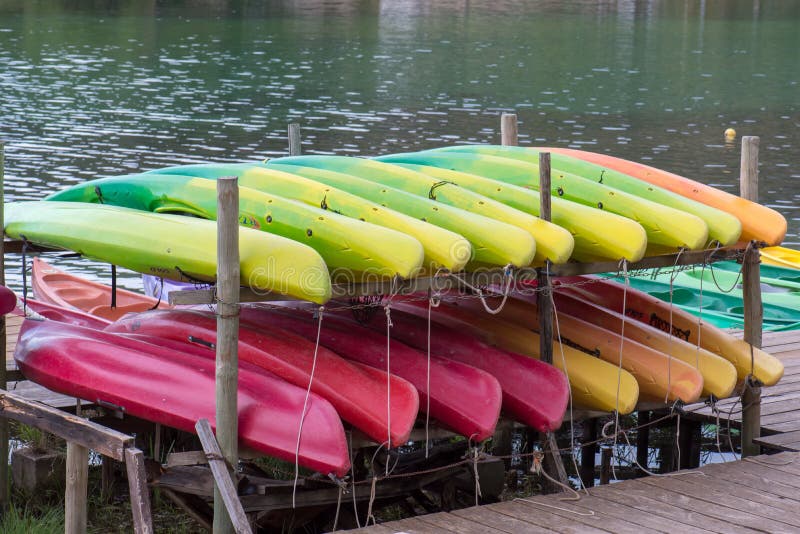 Importance of Good Kayak Storage
Buying a kayak means you will make an expensive investment, and because of this, there are various reasons you should store your kayak. Some most common reasons to store your kayak during the offseason include:
· Protects Your Kayak from Damage and Deformity
Storing your kayak incorrectly and without evenly distributing the weight can cause severe damage to your kayak. According to professionals, it is important to evenly distribute the kayak weight or bend the kayak or cause hull damage.
Although distortion to your kayak may not be visible immediately, storing your kayak with uneven weight distribution for long periods can cause severe damage. Unluckily, many new kayak owners store their kayak on its hull, which causes uneven weight distribution.
Besides storing your kayak on its hull, many other storage practices can also cause harm, including;
Standing the kayak on end is another practice that causes similar damage as when placed on its hull. It puts undue pressure on one end of your kayak, causing cracks while deforming the bow and stern shape.
Another incorrect practice to store your kayak is hanging it from its straps. Remember that these straps or grab handles are meant to carry the kayak. However, many people use these straps to hang their kayaks. Practicing this consistently can weaken those straps, forcing them to erode and break. Without these straps, carrying your kayak to your vehicle and then to the water can be hard for you.
Placing your kayak on a hard surface when storing isn't a good idea as it can cause dents and scratches on the points meeting the surface.
· Keeps Your Kayak from Elements
Regardless of whether your kayak is made of fiberglass, wood, plastic, or any other composite material, it can be damaged by elements, such as rain, wind, frost, sunlight, etc., quickly or gradually.
Sunlight: According to professionals, sunlight is the biggest culprit that can degrade almost any material, including plastic, fiberglass, wood, etc. So, it is essential to store your kayak away from direct sunlight during the offseason. You can store your kayak indoors, like in your garage or basement.
However, if you don't have space to store your kayak indoors, make sure to use a tarp to cover it. Also, make sure that there's no contact between the boat and tarp to prevent mold and fungus.
Cold and Frost: Cold and frost are another reason why it is essential to store your kayak in a room temperature place. A freezing place can wreak havoc on your kayak when kept indoors, causing water to freeze that seep in and settle.
Protective Spray: When storing outdoors, make sure to protect your kayak from UV rays by using a sun-protective spray. Spray your kayak twice a year and then cover the entire kayak.
Rain: If you don't have an indoor space to safely store your kayak, consider necessary precautions during rainy or snowy seasons. Water that seeps in and settles in your kayak produces mold, eventually damaging your kayak. Although a tarp helps protect your kayak, it is essential to check your kayak constantly to ensure that tarp isn't leaking and your kayak is safe.
· Protects Your Kayak from Potential Theft
Another reason to store your kayak correctly during the offseason is to protect it from theft. As I mentioned earlier, your kayak is an expensive investment of money, fun, and adventure; make sure to store it away from sight to prevent theft.
If you are planning to store your kayak for extended periods, you won't be able to check up your kayak regularly, which can increase the chances of theft. So, what you should do is store your kayak in a safe and locked place that only you and your family can access.
So, now let's discuss how to store a kayak!
How to Store a Kayak
If you don't know how to keep a kayak safely, follow the below steps:
1. Clean Your Kayak Thoroughly
If your kayak is well-used, chances are it will likely have a considerable share of dirt, residue, and bugs. You need to clean off all of that stuff before storing your kayak. Now, you need to carry your kayak into a shady area to start the cleaning process.
· Start removing the sections made of fabric. It includes storage compartments, seat cushions, etc. You can wash fabric sections separately in a washing machine. Once you finish cleaning them, let them dry and keep them separate.
· Now, make a mixture of water and a mild detergent and spray it on the kayak.
· Use a long scrub brush and start rinsing off the kayak with the hose. Make sure to thoroughly every nook and cranny.
· Now, open the drainage and let the water flow through it. Wait until all the water is wiped down.
· Finally, carry your kayak back into a sunny spot and allow it to dry thoroughly. Also, make sure that all the storage spaces are open so they can dry as well.
2. Find a Place to Store Your Kayak
Kayaks would be stored indoors in a perfect world away from weather fluctuations, pests, and other elements. However, kayaks that are too big rarely fit into a basement or a garage. So, in many cases, people need to find suitable outdoor storage.
When storing your kayak outdoors, consider the following guidelines to protect your kayak:
When Storing Your Kayak Outdoors
Many kayak owners make this common mistake of covering the entire kayak into a tarp and then leaving it outside. The problem with this kayak storage method is that moisture can sneak underneath the tarp, causing your kayak to get musty.
So, what should you do now? Well, make sure not to wrap your kayak too tightly with a tarp. Instead, find a shady area where you can store your kayak. A DIY method to do this is to use tarp and PVC pipes to create a tent-like structure. The tent-like structure will let the water drain off of the sides.
Moreover, make sure to pay attention to the cockpit and protect your kayak from pests and rodents. You can easily find a specially made cover from the market that you can wrap around this area of your kayak.
Furthermore, when storing your kayak outdoors, also consider:
Remove sections made of fabric, such as seating, compartments, etc., and store them separately.
Use a designated rack to store your kayak instead of leaving it on the ground.
Make sure to keep your kayak away from direct sunlight. Constant exposure to UV rays can severely damage the exterior of your kayak.
Also, make sure to store your kayak in a secure and locked structure like in your garage or shed.
When Storing Your Kayak Indoors
If you do not want to store your kayak outdoors, you should look around your basement or garage to find an open section that you can convert into your kayak storage space. If it is hard for you to find a place with enough room, you may want to ask a friend if they have any spare space. Moreover, you can also rent a storage unit to store your kayak during the offseason.
When finding the perfect indoor storage space, consider a spot with room temperature and humidity. Storing your kayak into an unstable environment can cause mold and mildew.
Whether you are storing your kayak indoors or outdoors, you should never put your kayak on the ground for too long. Also, avoid storing your kayak right side up as it will damage the bottom because of the excessive weight.
Remember that kayaks aren't meant to be put directly on their hull for too long, and they also should not be placed on one side unless they have proper support.
Most Recommended Ways to Store a Kayak
Here are a few top recommended ways to store your kayak:
1. Wooden Planks
When storing your kayak on the surface, make sure to place two wooden planks close to the wall. Now, make sure that the right side is up, and the weight is evenly distributed on the planks. Lift one end portion of your kayak to lean it against the wall. It will help spread the weight more evenly. If you want to keep your kayak in its top shape, rotate the kayak and learn the other side to the wall each month.
2. Kayak Storage Racks
Kayak storage racks are readily available on the market. However, if you don't want to buy one, you can build your own that is custom designed. These racks are great to place your kayak at a slight tilt on evenly distributed beams.
3. Hang the Kayak Using Bars or Straps
Another safe option to store your kayak is to hang it upside down using straps or bars anchored to the ceiling. However, make sure to avoid hanging your kayak from its handles.
Best Kayak Storage Racks
Below are some best kayak storage racks that you can use to safely store your kayak for extended periods.
1. Ajillis 71 Kayak Storage Rack
If you love kayaks and like an immaculate garage, Ajillis 71 kayak storage rack is the best kayak storage rack for you. The freestanding kayak rack features caster wheels so you can store up to 6 kayaks. And it handles kayaks up to 11-feet in length. This portable kayak storage rack is efficient to use as well.
Constructed with coated steel, you can put it on the garage floor and put up to three boats on each side. In addition to its efficiency, it also features a slight angle on the holding arm, making it easier for you to get it on and off.
However, if you want a more permanent solution, you will be able to take its wheels off and mount it to the floor.
Features
Floor stand.
Caster wheels.
The angle on holding arms.
Padded foam storage arms.
2. RAD Wall-Mounted Kayak Storage Hooks
This wall-mounted kayak storage rack is highly flexible and straightforward to install. Because of their simple structure, you can easily mount them to any wall without breaking the bank. These square steel kayak storage racks are available as an individual armature that you can screw in and place wherever you want. Unlike some competitors, these sport foam-covered hooks protect your kayak from scratches and nicks. The holding straps provide even more security.
Made from rust-resistant powder-coated steel, they can last for decades in the basement, attic, or garage. Moreover, this pair of kayak storage racks easily holds up to 125 pounds of weight each.
Features
Holds up to 125pounds of weight.
Rust-resistant powder-coated steel. with foam-covered hooks.
Ability to store more than one kayak.
Extremely durable.
3. RAD Sportz Freestanding Kayak Storage Rack
RAD Sportz is one of the most customizable and versatile kayak storage racks on my list. It can hold two kayaks at a time while also allowing you to adjust its height and space. Since it is a freestanding kayak storage rack, you can adjust the height and spacing of all of its arms.
You can move each of its padded arms up or down using bolts that secure its steel. Moreover, they also feature two additional padded foam bumpers that you can use to store two more kayaks. However, make sure that the weight does not exceed the 175 pounds limit.
If you are crafty, you can also use it to store one or two bicycles. Its rustproof arms and UV protection allows you to use it outdoors. Furthermore, thanks to its anchors, it can also be used in windy areas.
Features
Customizable and versatile.
Height and space adjustments.
Padded arms.
Rustproof.
UV protection.
4. RAD 

Kayak Hoist Set (2-pack)
Kayakers like this hoist storage and consider it as one of the best kayak storage racks. It's versatile, too. Use this rack to store your bike, paddleboard, or kayak by hoisting the rack to the ceiling with straightforward installation. And, this kayak storage rack hoists up to a 125-pound weight limit per hoist.
This installs easily on most ceilings up to 12-foot high. It includes all the hardware that you will need to mount to the ceiling surface. The rubber-coated hooks serve to protect your kayak from nicks and scratches.
Features
Ceiling storage.
Easy to mount hardware.
Quick-release, auto-locking mechanism.
5. Rage Powersports Kayak and Canoe Storage Hoist
If your garage, like mine, is too messy and has a lot of stuff, you may want to use the ceiling to store your kayak. Regardless of the size of your kayak, the Rage Powersports kayak storage rack makes it simple to tie it in and hoist it up, keeping your kayak at easy access but conveniently out of the way.
One of the fantastic factors of this kayak storage rack is that you can use it to store anything you want. No matter what shape or size kayak you have, you will be able to find a solution to hoist and store it. Although it requires some DIY to install the rack, you need some screws and a drill.
It is one of the best kayak storage racks that you can use to store almost any type of boat or other product.
Features
Ceiling hoist.
Versatile and customizable.
Easy installation.
Read More
15 Surprising Benefits of Kayaking – Physical and Mental(abovehouse.com)