==================
A Caveat and Affiliates
First off, a little caveat: within my articles you will find affiliate links, meaning if you buy them, I get a small commission. Your cost is not affected. In addition, I am an Amazon Associate and I earn from qualifying purchases on Amazon.
And yes, if I say that I recommend a product here, it means I truly believe it is a good product. I refuse to recommend any product that I have not researched and believe to be a good value.
Even better, I provide you with a very clear picture of the product, it's use, and the probable value.
Earning your trust is important to me. I run this website myself and the commissions and donations help support the site.
Sound reasonable and fair enough? Let's continue to the article.
==================
Kayak for Parent and Child: Make it Enjoyable
A lot of people consider kayaking as the best outdoor activity. The amount of exercise, fun, and relaxation you can feel will get anyone hooked. When you have a family with kids though, kayaking may become a bit more difficult since it's not exactly the safest activity. In this article, I'll give my experience on how I made kayaking safe and enjoyable for my family. Kayak for parent and child won't really be complicated and dangerous. You just need to find out how to kayak with kids, get kid-friendly kayaks, and even how to kayak with a toddler.
Tandem Kayak with Kids
Kayaking is an enjoyable and slightly skill-based activity. The more you get to experience kayaking, the easier and more enjoyable it gets. Children will find their first experience exciting at first and will develop into something even more enjoyable.
Before you go out with your family though, you need to prepare for a number of things. The most important thing you need to take note of though is that you can't have your kids stay in a kayak alone. Tandem kayak with kids should be the only way to consider when thinking about going kayaking with your family.
Bonus Tip: Adult-To-Child Ratio
Kayaking, especially with children, needs to have more adults than children. Never take a risk in thinking that you or your partner will be able to handle more than two children during kayaking. Accidents will always be unexpected and quick to happen. People might tell you that a one-to-two ratio is safe enough but for me, the one-to-one ratio is the safest bet. This ratio will hold true even later on when your kids become more experienced in kayaking.
Things to note during tandem kayak with kids:
During the tandem kayak with kids, you need to stay in the stern or back of the boat.
Make sure that your kids actually know how to swim or are willing to be taught.
Never take your eye off your kids since they can be a bit unpredictable.
Though make sure to leave them enough space so that they can discover things on their own as well.
Get your kid a paddle of their size so they can familiarize themselves more with kayaking.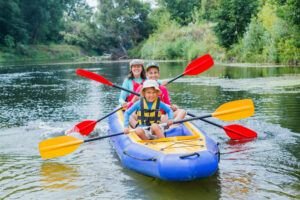 Plan for the Trip
Before setting off on a family kayaking adventure, you need to understand that planning will be the key. You need to note the different factors involved on how to kayak with kids or how to kayak with a toddler and looking for kid-friendly kayaks. A Tandem kayak with kids will be your only option where you'll need to find a way to get the best kayak for children or the best kayak for toddlers.
Aside from the kayaks, you also need to consider the time you plan ongoing. You cannot expect your children or even the other people you plan on bringing, to enjoy themselves if the trip is during the hottest time of the day. Having the sun bearing down on you is never fun.
Lastly, you need to do your due diligence when researching the place you plan on taking your family. The place needs to be crowded enough that you can easily ask for help and for your kids to possibly meet new friends. Though it also needs to be isolated enough that they wont feel too constricted with their journey in kayaking.
Packing for the Trip
Packing for the trip will always give anyone problems. Most of the time, the difficulty comes from unnecessarily set high expectations. Packing in general can get complicated but it doesn't have to be that way.
You just need to make sure you get the essentials. I often make a list, either on a piece of paper or from my phone. Here are the ones I think are essential to kayak for parent and child:
Bonus Tip: Taking Charge
Having kids of my own, I can tell you that they won't really let you pack for them. Though this behavior does not always happen, children who are 7 and above will almost always want to be in charge of their packing. The best way to handle this is by giving them a list to follow and reminding them to double-check after packing and before heading out for kayaking.
Where to Go
Look for places where the waters will be mostly calm and with minimal currents. You always need to put safety in mind when it comes to the venue. Though later on you may go for more difficult challenges for more excitement.
You also need to study up on the current weather or other nature-related factors that may affect your kayaking trip. Lastly, you need to consult or do a bit more research regarding kid-friendly paddling destinations. A lot of people have gone kayaking with their kids and talking to them will make planning easier.
How to Kayak with Kids
As mentioned before, when learning about how to kayak with kids you need to go for tandem kayaks. Kids have short attention spans so you need to keep a constant eye on them while staying on the kayak. Do not strap them in too tight, just make sure they wont fall easily. The best way I found to do this is by making it a game with them. I told my kids that whoever can stay on the kayak the longest will win.
How to Kayak with a Toddler
When looking for ways on how to kayak with a toddler, you need to first consider when toddlers or if babies can safely kayak. According to the U.S. Coast Guard, what is important is the baby's or a toddler's ability or maturity of their body.
The most important requirement is that they need to be capable of sitting still while in the kayak. Toddlers can become a handful at times with their energy. When tandem kayak with kids, you need to have them be able to stay on the kayak at all times.
Another requirement is that they are able to at least float on the water. Not a lot of parents will dedicate resources or have their children learn how to swim as toddlers. So this requirement pertains more on the ability of the toddler to stay upright when in the water. This requirement relates to another one which provides that a toddler needs to be able to snuggly fit in a PFD.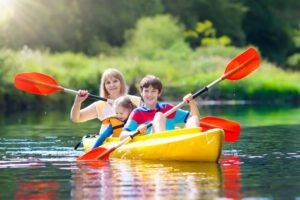 Kid-Friendly Kayaks
The ideal age for your kids to learn and experience kayaking would be 7 to 10 years old. Aside from snug-fitting PFDs, you need to consider the type of kayak as well. It needs to have sufficient room for them to fidget in without falling off and the design and stability for safety.
Sit-on-Top Kayak 
Sit-on-top kayaks are the best kayak for toddlers or in general, one of the best kid-friendly kayaks. Firstly, it is much more stable when factoring in how squirmy kids can get. They can properly move and feel the water as well.
Additionally, they include scuppering holes. These holes make it so that water won't build up on the kayak. Scupper holes also make it easier to grab on to and flip over a capsized kayak. They make for a handy area to keep your paddle close by.
Lastly, sit-on-top kayaks allow kids to get back onto the kayak if ever they fell off. This feature can also get handy when you have kids who know how to swim and wish to take a break from paddling. Sit-on-top kayaks is considered by many the best kid-friendly kayaks available.
Size is Important
The size of the kayak also matters. In a kayak for parent and child, you need to consider one that will fit both parties. It doesn't mean that it will be enough when both can stay on top of the kayak. There also has to be enough space for the parent to paddle effectively while having the kid at an arms length.
When choosing kid-friendly kayaks, size will be one of the most important factors. Aside from comfort, size will affect maneuverability as well. Too big a kayak will be difficult to maneuver, especially with a kid on board.
Choose a Safe Seat Design
Another factor regarding kayaks for parents and children is seat design. When looking for kid-friendly kayaks, you need to look for ones that are relatively wide. Aside from having wide seats, you need to get open-cockpit designs as well with easy to hold on to handles.
Stability is Very Important
Lastly, when looking for kid-friendly kayaks, you need to consider stability. Wider kayaks will give you the best stability. Having more room will not only give stability, but it can also make your and the kid's kayaking experience more comfortable.
Stability means that your kayak will less likely capsize or flip over. It will prevent you and your kids from having an unexpected swim. A stable kayak for parents and children can ensure that everyone will find the whole experience enjoyable.
A deeper V-shaped hull will also give more stability. When considering kid-friendly kayaks, you need to avoid shallow and flat kayak designs. From my experience, you won't have to worry about capsizing with a deeper V-shaped kayak.
Best Kayak for Children: Make it Fun
After planning, packing and having the proper equipment and any one of the kid-friendly kayaks, you need to consider the fun factor. Kids these days often get lost in their own digital words. They find it difficult to really connect with outdoor activities, especially strenuous or tiring ones.
The best way to pitch something to kids is to give incentives. The best incentive would be the amount of fun they'll have. You also need to follow up on it and make the whole kayaking experience fun so that they become hooked. Here are some of the ways I got my kids to have a lot of fun during kayaking trips.
Play Games
A little healthy competition will go a long way for kids. Kayaking can easily get monotonous. Having games and even competing with your kids will liven things up.
If they are able to paddle, you can a little race with them to get their enthusiasm up. You can even play a simple "I Spy" game with them. With regard to how to kayak with a toddler, you can bring small fidget toys that float. Creativity will be the key aspect when it comes to child games.
Follow Their Interests
Interests here pertain to what they find interesting. This method of having fun is centered on attentiveness on the part of the parent. Kids are very curious and will go out and try to touch everything they find interesting.
Your job as a parent would be to help them identify, get or even prevent them from touching certain things. When talking about how to kayak with a toddler, you need to try and answer all the "what's that?" questions. Following up on your kid's curiosities will be a key factor in keeping them engaged.
Kayak for Parent and Child: Safe and Fun
When talking about how to kayak with kids, the most important thing you need to consider would be PFDs and the adult to children ratio. The PFDs need to be properly fitting. Although a little space is still good. The adult to children ratio needs to be at least 1 to 1. Any more than that and it can get a bit dangerous.
When talking about how to kayak with a toddler, you need to consider if they're able to snuggly fit into a PFD. Toddlers in general will either get too squirmy on the kayak or be very docile. With the former, a snug fitting PFD will guarantee safety for your toddler. Though you need to fish the toddler back into the boat whenever they fall over. For the latter, you just need to keep them engaged and interested. Answer their questions as best you can and make sure to ask them how they feel every now and then as well.
As mentioned earlier, fun will get your kids hooked. Safety should always be considered but of course, you need to make sure that you're giving your kids enough space too. Just keep an eye on them and let them experience kayaking for themselves. Engage with them through games or conversations. Kayaking will hopefully bring out their adventurous and nature-loving sides.
Read More