==================
A Caveat and Affiliates
First off, a little caveat: within my articles you will find affiliate links, meaning if you buy them, I get a small commission. Your cost is not affected. In addition, I am an Amazon Associate and I earn from qualifying purchases on Amazon.
And yes, if I say that I recommend a product here, it means I truly believe it is a good product. I refuse to recommend any product that I have not researched and believe to be a good value.
Even better, I provide you with a very clear picture of the product, it's use, and the probable value.
Earning your trust is important to me. I run this website myself and the commissions and donations help support the site.
Sound reasonable and fair enough? Let's continue to the article.
==================
Like to hike but don't like leaving your fur-friend at home? Try dog-friendly hiking in Florida! Florida offers plenty of pet-friendly trails to take your dog along with you. Of course, you need to remember to take a few extra necessities with you. With that in mind, let's  check out the many possible places for dog friendly hiking in Florida!
Take your pet with you! Dog-Friendly Hiking in Florida
Dogs enjoy hiking with their people.  And they keep the hiker company while also giving the dog some exercise. Some parks, however, are not dog-friendly. In this article, I will show you the best dog-friendly hiking in Florida.
Exploring the great outdoors and reaping the advantages of being outside and physically active with your dog is a fantastic way to enjoy. Hiking offers your dog not just much-needed exercise but also a good workout for their noses and brains. Furthermore, research has shown that spending quality time outdoors in green spaces lowers stress levels and has other health advantages.
Dogs are permitted on the hiking trails in these parks as long as their owners can keep them under control. This means that most gardens require that dogs must leash, while others demand only that the pets be under the owner's care. So go for a walk on the hiking routes mentioned below and spend some quality time with your pet.
Is It Possible for You to Hike With Your Dog?
To begin, determine whether or not your dog is suitable for trail hiking. It would help if you didn't take a puppy or an adolescent dog on a difficult trek until the dog completes its growth. Excessive pressure on a young dog's developing bones might result in discomfort and future developmental difficulties.
Before beginning any significant hiking or jogging program with your dog, consult with your veterinarian. Older dogs may have arthritis or stiff joints, making longer excursions harmful rather than functional. However, it's still necessary to keep them active and exercised to keep them healthy. Dogs in their golden years have less energy and strength than those in their prime.
Dog-Friendly Backpack
Wearing a dog backpack might be a great way to have your dog assist you with carrying your trekking goods. However, not all dogs should wear gear; see your veterinarian to ensure that your dog is physically capable of carrying the additional weight of a pack and has the correct body type for it. Then, choose a dog backpack that meets your trekking requirements. Whether you're planning a backpacking trip, camping trip, or simply a day trek, you'll have plenty of possibilities.
Dog-Friendly Hiking Trails in Florida
Hiking Trails in South Florida
The 1.5-mile nature walk in Cape Florida State Park passes through hardwood hammocks, cattail marshes, ficus trees, dunes, and mangrove forests. In addition, the walk goes through a lighthouse, a marina and even provides a stunning view of Stiltsville, a collection of historic residences perched on stilts that dot Biscayne Bay. On the hiking routes, picnic spots, sea walls, and cycling routes, pets are welcome.
Owners must, however, bring their doggy bags and clean up after their animals. Pets must keep on a rope and be well-behaved at all times. Because there is minimal shade and no water taps on the Cape Florida Nature Trail, bring an abundance of water for yourself and your pet. All in all, this is the best dog friendly hiking trail in Florida.
Hawks Bluff Track is a mile-long walking trail that goes through five distinct ecosystems inside the Savannas Preserve State Park. Hikers will be able to see freshwater savannas, sandy beaches, coastal scrubs, spike moss, and gopher apple as they go along the path. Photographers will particularly like this hike since several species of animals, birds, and flora were captured.
At this location, dogs aren't the only pets permitted. Reptiles, birds, fish, cats, and dogs must all keep on a leash, in a carrier, or otherwise under the owner's continual physical supervision. In addition, regardless of the pet, owners must clean up after their animals and dispose of their waste in garbage cans.
St. Sebastian River Preserve State Park is home to 60 kilometers of hiking trails. Hikers will view pine Flatwoods, palmetto grasslands, cypress domes, and a strand swamp while exploring the numerous routes. In addition, these pathways will appeal to photographers since the preserve is home to over 50 protected species of flora and animals.
Hikers should carry lots of water and wear sunblock since the paths of St. Sebastian River Preserve State Park are lengthy. Pets are welcome. However, they must always keep on a leash and under the direction of their owners. As usual, owners are responsible for cleaning up after their dogs and properly disposing of waste in trash cans.
Long Key Island, a state park, includes two hiking paths for hikers to enjoy. Rare birds such as the white-crowned pigeon and the Key West Quail Dove may see on the Golden Orb Trail, which is 1.1 miles long. This trail's boardwalk runs through mangrove swamps and a variety of different plant groups. In addition, hikers may get a look at some of the odd botanical views.
Long Key's second route is just a quarter of a mile long, making it ideal for first-time hikers or families with children. On this short path, mangrove woods and tropical hammocks dot the landscape. Both hiking paths accept pets. However, they must keep on a leash at all times. Pets, however, are not permitted on the beaches, in toilets, or in picnic areas.
North Beach's North Shore neighborhood is a hidden treasure. On Collins Avenue, this dog-friendly park runs over nine blocks and is next to the ocean. While dogs did not permit on the beach, they are allowed on the concrete roads and the sandy walking route that runs parallel to the coast.
There's also a new dog park with separate areas for minor and more enormous canines to play while their owners watch. Each section has a paved track where dog owners may walk their dogs without having to worry about rollerblades, bicyclists, or youngsters bothering them. Water stations scatter around the central park, and pet bags are available both within and outside the dog park.
Hiking Trails in North Florida
Pioneer Path is a moderately frequented 26.1-kilometer out-and-back trail in Middleburg, Florida, that has a river. The route is open all year and provides a variety of recreational opportunities. This route is also suitable for dogs, although they must keep on a leash. There is a lot of height gain and loss on this path, as well as three waterfalls, vistas, camping places, high walkways, and steps. The title of the trek stems from the ruins of historic farmhouse locations.
The Live Oak, Lake Circular, and Rosemary Ridge Trails are 4.7-kilometer highly traveled loop path that incorporates a lake and is suitable for all skill levels. The route is open all year and provides a variety of recreational opportunities. This route is also ideal for dogs, although they must keep on a leash.
This path has a small amount of elevation variation, which is unusual for northeast Florida. As a result, you'll find loblolly pines throughout this path, as well as a significant portion in the initial (west) section of the trail with pine Flatwoods and limited ground vegetation.
The Fort Caroline National Memorial, situated near Jacksonville, is a fascinating piece of history. The tourist center is just across the street from the parking lot. Every time we've visited Fort Caroline, there's been plenty of parking available. There is no parking charge for Fort Caroline or the Spanish Pond, situated on the other side of Fort Caroline Rd.
The Hammock Route at Fort Caroline is a 2.3-kilometer frequently frequented circular trail with a suitable river for hikers of all ability levels and is situated in Jacksonville, Florida. The route is open year-round and is famous for walking, jogging, nature walks, and fishing. This route is also suitable for dogs, although they must keep on a leash.
Sweetwater Preserve Trailhead is a dog-friendly network of hiking trails in Tucson's foothills suitable for hikers of all abilities. Although dogs are allowed on the trails, horses and mountain bikes are not, which means you and Fido must be extra cautious and keep him on a leash. There are several pathways to choose from, giving dogs plenty of opportunities to explore. The months of October through March are optimum for exploring these routes.
Pets are permitted at Painted Hills Trails Park as long as they keep on a leash at all times. Make it a practice to clean up after your dog at all times. The trailhead parking lot of Painted Hills Trails Park is available from sunrise to sunset and can accommodate 19 automobiles. All non-motorized trail users are welcome to enjoy the park's roughly 4 miles of trails.
To provide a safe and pleasurable trail experience for everyone, all trail users ask to follow good trail etiquette and be respectful to other trail users.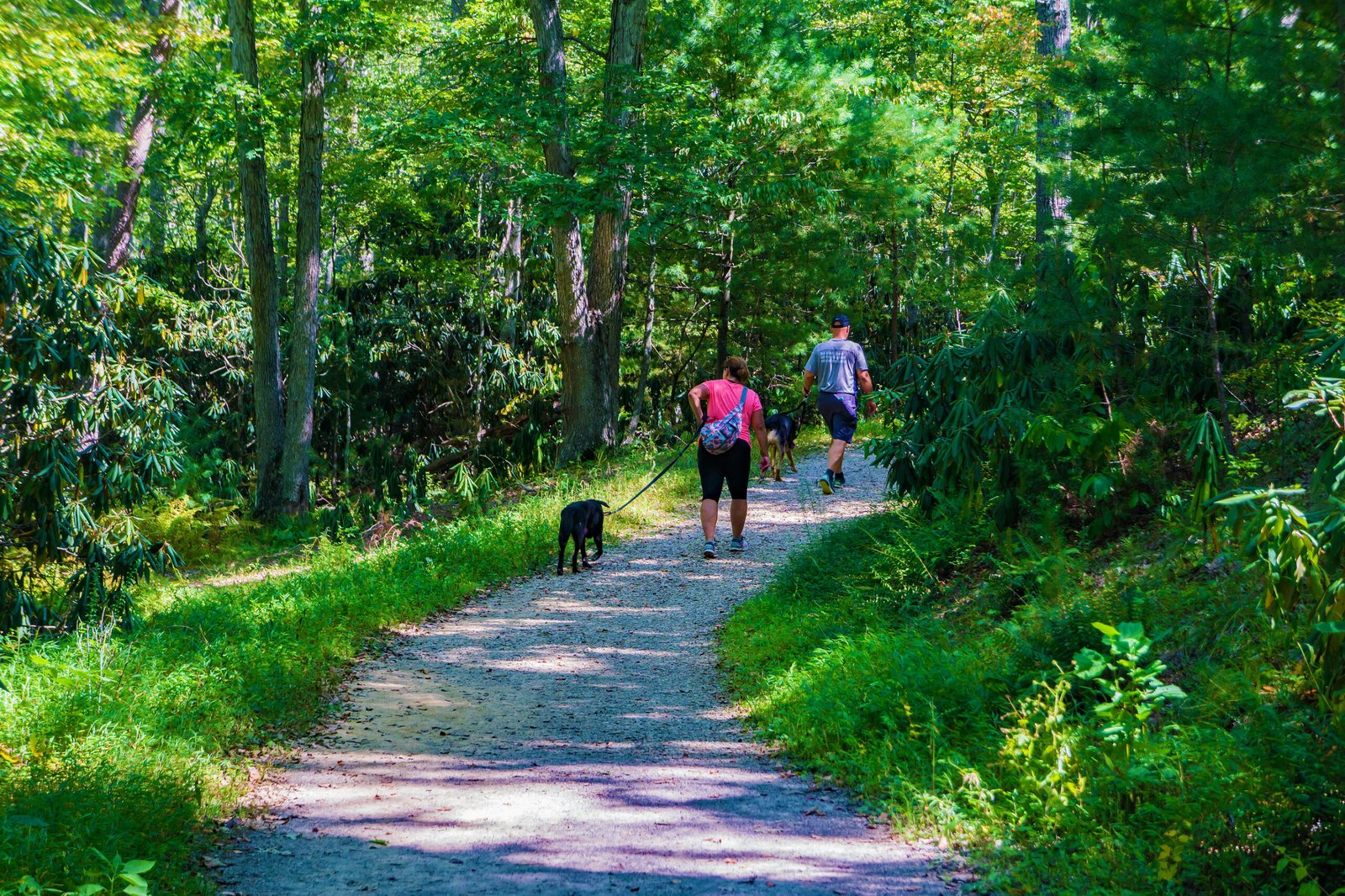 Hiking Trails in Central Florida
This walk is fantastic if you're looking for a short yet enjoyable trek with your dog. It's a stunning trek that's also really simple. Bear Creek Nature Route is a 1.4-kilometer, extensively traveled circular trail that incorporates a river and is suitable for all ability levels. It locates in Colorado Springs, Colorado. Hiking, walking, and wildlife trips are the most popular activities on the path.
The loop isn't adequately defined, but the wilderness area's limited size will protect you from getting lost. Walk into the woods from the parking lot and follow the stream as far as you can.
The Bill Frederick Park at Turkey Lake in Orlando, Florida, is a peaceful, unassuming gem of a park that is everything visitors don't expect to find when they think of fast-paced, adrenaline-fueled holidays in the center of Florida. It is a community park where dogs are welcome as long as they are well-behaved.
As long as your dog is neither violent nor unmanageable, you may expect friendly neighbors at Bill Frederick Park at Turkey Lake. The paths are level and shaded, flowing through portions of mature pine trees that are enjoyable to stroll through wherever they find.
This pathway is ideal for you and your dog if you don't care for the full woodsy feeling and heaps of 'nature.' It's more of a stroll than a path, but you'll still enjoy it. There are several picture opportunities available. Even a dog statue with a bone carved into it may find. Even though it's just 2.6 miles long, you'll still get a terrific workout.
Although many facilities and amenities are available to the public, there may be limitations on the number of people who may use them simultaneously and in modified places. Nevertheless, this is a great pathway to explore if you want to get a good view of the city while also stopping by local businesses. The trail's importance to the community will only grow as it expands.
This place is a minute out of the way, but it is well worth the trip. There's a dog park and a beautiful springs area, in addition to a beautiful location to trek with paved and unpaved routes. It's not swimmable (and you probably don't want to – yuck), but it's a great place to unwind after a long trek with your dog. All pets must keep on a leash at all times. The holders must clean up after their animals.
Dogs seem to love botanical garden areas. So that makes Mead Botanical Gardens a favorite for pet-friendly hiking in Florida.
Pets are welcome at Mead Botanical Gardens. Bring your leashed dog to this expansive, serene green park, which has flowery gardens, animal habitats, and pavilions to enjoy. Dogs are now permitted in designated areas because their owners have consistently kept them on a leash and cleaned up after them.
Please be considerate while visiting the garden. Only take images and only leave imprints. Every time of the week, from 8 a.m. to 7 p.m., Mead Botanical Gardens is open. Collecting or harming any of the species present at Mead Botanical Garden is prohibited.
Ready to take your dog hiking in Florida?
There are a lot of pet-friendly hiking trails all around Florida. Our above mention trails are the best ones for dog hiking. Take your dog to these places and enjoy hiking with them.
Just remember to take along extra water and snacks for your pet and for you. And enjoy one of the pet-friendly hiking trails in Florida with your best friend!
Read More: