==================
Florida Splendors is supported by our audience. When you purchase through one of our links, we may earn a small affiliate commission.  As an Amazon Associate I earn from qualifying purchases. Your cost is not affected.
Ready for a day at the beach for some relaxation and fun? Florida beaches are open year-round and boast some of the most stunning beaches in the whole world. But when is the best time to visit Florida beaches? Read on to plan your perfect beach vacation!

Discover the Best Time to Visit Florida Beaches

Florida has some of the most breathtaking beaches in the world. No wonder why tourists and locals love spending their days on the beach. With great weather year-round and stunning beaches, tourists enjoy a Florida beach vacation. Whether you want to unwind with a good book, dip in the ocean, or indulge in water sports. Even the locals fit in those beach days whenever possible! But, to make the most of your trip, knowing the best time to visit Florida beaches is essential. Get ready for an unforgettable day at the beach and discover why Florida's beaches are some of the most cherished destinations in the world.
Best Time to Go to the Beach in Florida
The best months to visit Florida are from March to May or September to November. During these months, the weather is warm but not too hot, and there is less chance of rain. The beaches are less crowded, and you can find better deals on lodging.
Spring
Florida's beaches are perfect for a peaceful and relaxing experience during spring. You can enjoy the sun and scenery on Florida's shores during the warm weather of spring. Plus, the crowds are low compared to the peak summer season. The beaches have clear waters, soft white sands, and plenty of marine life. It's ideal for swimming, snorkeling, and diving.
Florida's average temperature during the spring season:
March – 66.0°F (18.9°C)
April – 71.1°F (21.7°C)
May – 76.7°F (21.7°C)
You can also catch the beginning of turtle nesting season in Florida. Different types of turtles come to shore to lay their eggs in the sand. They create nests by digging holes in the sand with their flippers. Take advantage of this chance to experience the beauty of nature.
Summer
In the summertime, the sunny weather in Florida is perfect for beach activities. The longer days also provide more time for outdoor fun. Many beach towns offer a variety of activities to enhance the experience. Live music, festivals, outdoor markets spotting manatees, and whale-watching are one of them. If you have kids, summer is the best time to visit Florida beaches since they will be on summer break from school.
Florida's average temperature during the summer season:
June – 81.0°F (27.2°C)
July – 82.6°F (28.1°C)
August – 82.6°F (28.1°C)
But, there are some disadvantages to visiting Florida beaches in the summer. The crowds can be overwhelming as many tourists visit from all over the world. Some beaches are quieter and offer fewer activities than others, which may be a good option if you want to avoid crowds. Florida can be very hot and humid in the summer, making some people uncomfortable. If you intend to visit in the summertime, remember that most rain and storms occur in the afternoon. So, mornings are the best time to enjoy the heat and the weather. Sudden thunderstorms or heavy rain can occur, spoiling your beach plans. Prices for accommodation, food, and activities can also be higher than at other times of the year.
Fall
The weather is excellent, and the crowds are smaller compared to the summer in the fall season. Even though it may not be as warm as summer, the weather is still pleasant enough to enjoy beach activities. Especially given Florida's fall temperatures that are pretty 'beach comfortable.
One of the benefits of visiting Florida beaches during the fall is that it's less busy. You can avoid crowds and enjoy fun things like going to Panama City Beach Seafood and Music Festival. It is also the perfect time to explore the local shops and restaurants near the beach. It creates a more comfortable atmosphere for strolling in the stunning scenery. Discover many things, including fresh seafood and local cuisine, souvenirs, and handmade crafts.
Florida's average temperature during the fall season:
September – 80.6°F (27.0°C)
October – 74.7°F (23.7°C)
November – 67.0°F (19.4°C)
Winter
Many people choose to swim during winter despite the cooler weather in Florida. It is because the water temperature remains warm. Thanks to the moderating effect of the Gulf of Mexico and the Atlantic Ocean. Furthermore, some people prefer being in the water and have adapted to the warm climate. Swimming, snorkeling, and other water-based activities can be enjoyable even on cooler days.
There are also many outdoor activities to enjoy during the winter season. For instance, kayaking is a fantastic way to explore the waterways and spot wildlife. Many locations offer guided kayak tours, providing a fun and educational experience. Camping is also a popular activity during this time of year. Cooler temperatures make it more comfortable to sleep outdoors. Many parks offer camping options, from tents to fully-equipped RV sites.
Winter offers ample opportunities for hiking and exploring the great outdoors. Many trails are less crowded, making it easier to enjoy the beauty of nature without the crowds. Nature trails offer an opportunity to get fresh air and exercise. Parks often have signs with information about local plants and animals.
Florida's average temperature during the winter season:
December – 62.0°F (16.6°C)
January – 59.3°F (15.2°C)
February – 62.1°F (16.7°C)
When Is the Ideal Time of Day to Visit the Beach in Florida?
People often visit the beach early in the morning or late afternoon to avoid the intense heat and sun. In the early morning, the beach is generally less crowded. Making it an excellent time to take a stroll, run, or enjoy a quiet swim. Late afternoon is also the best time to go to the beach in Florida due to the cooler temperatures and sunset views. The best time may vary depending on your preferences and planned activities.
Famous Beaches in Florida
But what beaches are best to visit? With so many options, deciding where to go is a challenge. That's why we're here to help you make a decision. Check out these most recommended and famous beaches in Florida to visit.
In 2020, TripAdvisor's Traveler's Choice Awards™ ranked this beach as the number one beach in the US. Having white sand and clear water, Siesta Key Beach is a must-visit for beach lovers. Ready your most comfortable swimsuit to have an enjoyable stay on the beach.
One of the most popular destinations because of the soft white sand that draws visitors worldwide. Best place to go for jet-skiing, parasailing, and stand-up paddleboarding. It also has a variety of casual seafood restaurants and cafes, a perfect spot to grab a bite.
This island is near Fort Myers and is a haven for seashell enthusiasts. Millions of shells wash up on its shores, making it a paradise for shell collectors. From January to March, visitors come to search for conches and sand dollars.
Things to Do at Florida Beaches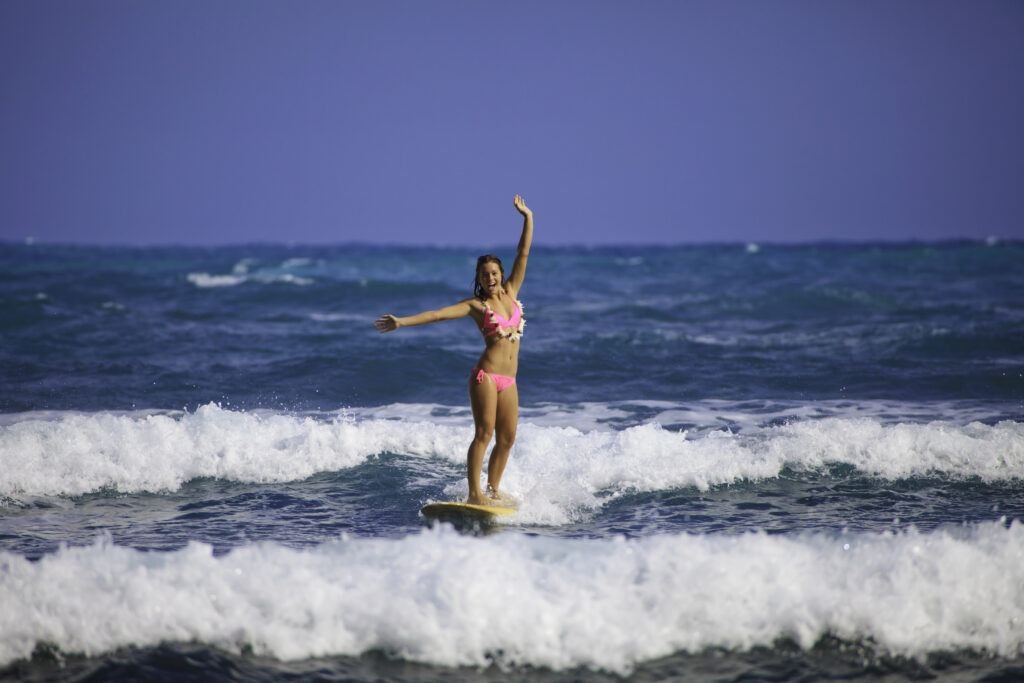 Soaking up in the sun and enjoying the beach, there are many things to do at Florida beaches. Here are some top things to do at Florida beaches that will make your trip unforgettable.
Florida's beaches offer opportunities for surfing. Thanks to their warm and consistent waves. Surfing can be a fun and challenging way to enjoy the outdoors and get exercise at the same time. It's also a fantastic way to connect with the ocean and nature and enjoy the thrill of riding a wave.
It is one of the things people love to do when they are near the sea. Florida beaches offer plenty of opportunities for fishing, whether you're looking to catch your dinner or enjoy the scenery.
Florida has a warm and sunny climate for most of the year. That's why it is ideal for outdoor activities such as kayaking. The state's climate means the water is warm enough to swim and perfect for water activities.
Beach Safety Tips
Before heading to the beach, it's crucial to remember that there are potential dangers. Sunburns, rip currents, and sudden weather changes are a few hazards that can ruin your day. Following beach safety tips are essential to keep you safe while enjoying the beach. Here is a list of some tips to remember:
The sun in Florida can be extreme, and you don't want to end up with a painful sunburn. Always apply sunscreen before heading to the beach, even on cloudy days. Choose a broad-spectrum sunscreen with an SPF of at least 30 and use it on all exposed skin.
They are powerful currents that can pull swimmers away from the shore. They are often difficult to spot, so being aware of them is crucial. Look for warning signs, and never swim in areas where rip currents are present. If trapped in a rip current, swim along the coastline until you can escape its pull.
Only Swim in Designated Areas
Swim in areas where lifeguards are present. Their training lets them spot potential dangers and assist you in an emergency. Follow their instructions and stay within the designated swim areas.
Check the Weather Forecast
Florida's weather can be unpredictable. Checking the forecast before heading to the beach is always a good idea. Be aware of potential storms or lightning, and avoid swimming in lousy weather.
Following these simple beach safety tips, you can enjoy your time on the beach while staying safe. Remember to be careful of your surroundings and always focus on your safety.
 Ready to Head to the Beach?
What is the best time to go to the beach in Florida? Any time you can, but it depends on your preference. As mentioned earlier, the summer months from June to August are the warmest and busiest. If you're seeking a bustling atmosphere and plenty of things to do, the summer is the ideal time to visit.
If you prefer moderate temperatures and fewer crowds, the best time to visit Florida beaches is spring or fall. It still offers warm temperatures suitable for beach activities but with fewer crowds.
The best time to visit Florida beaches depends on your preferences. So choose the time of year that aligns with what you're looking for in a beach vacation. It's essential to keep in mind that hurricane season in Florida runs from June to November. Stay updated on weather forecasts to ensure your safety before traveling.
---
These Articles Are Excellent Reads Too!
Beach Essentials for a Fun Beach Day
7 Best Seashell Beaches in Florida
Beaches for Swimming in Florida 2022, 13 Best
10 Best Niches for Affiliate Websites for 2023
Kayak through Florida Mangroves
---
FAQs
What is the water temperature like in Florida?
The water temperature in Florida varies depending on the season. From June to September, the ocean temperatures can range from 80°F to 85°F (27°C to 29°C) in most parts of the state. During winter months, from December to February, the water temperature can drop to around 60°F to 70°F (16°C to 21°C). Visitors should always check the water temperature for the specific area they plan to visit.
Are Florida beaches crowded?
Florida beaches can get very busy during the peak tourist season from June to August. But if you choose to visit during the off-season, which runs from March to May or September to November. It's the best time to go to the beach in Florida. You can avoid crowds and have a more peaceful and relaxed beach experience.
Is it safe to swim on Florida beaches?
Yes, it is generally safe to swim in the ocean in Florida. Remember to pay attention to any warning signs or flags on the beach. It's also important to follow any guidelines provided by lifeguards for your safety. Plan your visit.
What should I bring if I want to visit Florida beaches?
When heading to a beach in Florida, you should bring some essential items. These include sunscreen with a high SPF to protect your skin from harmful UV rays. Remember your wide-brimmed hat and sunglasses to shield your face and eyes from the sun. Bring swimwear if you plan on taking a dip or participating in water activities. Add towels to dry off after swimming or lounging. Of course, a beach bag to carry all your essentials, such as sunscreen, water bottles, and snacks.