BEST BEACHES FOR SWIMMING IN FLORIDA
Top 10 Best Beaches for Swimming in Florida
Please choose from our best beaches for swimming in Florida. Go there with your kids and family and enjoy a beach vacation.
1.  Sanibel Beach
People closed the beach due to Hurricane Ian. After the calamity hit, folks worked on rebuilding the site. They opened it on January 2, 2023, to residents and travelers alike. So folks can have fun here once more.
2.  Panama City Beach
Government officials have plans for this beach this 2023. Folks are ready to place new facilities for safety and convenience. With success, it would be an excellent destination for swimming and other activities.
3.  Naples' Pearly White Sands
The most difficult decision to make when relaxing on Naples' pearly white sands is how to look. The crashing waves on one foot and the gleaming mansions make up Millionaires' Row on the other. On 12th Avenue South, one of Naples Pier's most famous beaches locates in the neighborhood. There are bathhouses and food stalls on-site. Likewise, rentals for anything from umbrellas to kayaks are available. After all, guests go there to enjoy kayaking and canoeing. Thus, this is a perfect spot to lay out the family's beach picnic and hang out for the day. It's also where folks can go on an adventure.
Are Naples beaches safe? Yes, they are. They are in a city with lower criminal offenses than the national average. The coasts also have many visitors. They get guests even though a few sometimes have dangerous wildlife and tropical storms. Still, the place has a public aquarium nearby, which tourists can enjoy visiting.
4.  Siesta Key Beach
5.  Seaside, Florida
The Seaside is fifth on our list and has so many great things about it. It's why so many tourists visit this part of Northwest Florida. But just because it came in fifth place doesn't mean it's not a must-see. It is true! The beach sands are pristine, smooth, and acceptable. Like in Lake Michigan, the sands are soft and whitish. Mountain quartz brought by the river to the Gulf created it. You may also hear squeaking noises or whistling sounds during strolls. Calm and inviting, the coast is also ideal for a relaxing dip or a plunge into its clear waters. Guests can be sure of the area's cleanliness too. The environmental protection agency of the site keeps the place idyllic. Hence, you can expect to experience the vivid water beaches Florida offers here.
6.  Destin Beach
April and May are ideal for Destin. The water is warm, the sun is shining, and the temperatures are pleasant. If you go much sooner, the weather will usually feel cool, and the water will be colder. Some folks also consider this shoreline one of the cool beaches in Florida. Summer vacation will place you amid the queues and the highest costs. While late summer and early fall are popular times to visit, the weather can be hot and humid, with rain. Any visitors come during the winter offseason when prices are lower. But they must catch up on some of the area's most popular events.
Guests enjoy this beach due to the spontaneity of people visiting too. For instance, on New Year's Day, people started showing up for the "Destin Dunk." Hence, many also see this site as an exciting spot for fun.
Although it's rare to find them, nurse sharks are also in Destin. Yet, these creatures are often harmless to humans. The last shark attack in Destin, Florida, was in 1882. Hence, it explains why people see it as one of the nice Florida beaches for swimming.
7.  Clearwater Beach
The soft water and white sand of Clearwater Beach attract comfort seekers in droves. Beachgoers can play tennis or bike on the nearby Beach Walk promenade. That is after a few hours of swimming or lounging. After that, tourists can go to Pier 60 to see a spectacular sunset. Moreover, there are evening crafts and entertainment. Anglers and snorkelers sometimes come here to fish at night. After all, the 1,080-foot pier decorates with assorted lights.
When people look for "Florida beaches without seaweed ", they find this coast. The place is sandy without seagrass and rocky pebbles. Hence, folks can enjoy doing all kinds of activities here.
It's also near Pinellas County. Because of this, it's an excellent spot to witness the majestic manatees. Guests of Clearwater beach can see them passing by or notice them while kayaking. Hence, it's a fascinating place to observe rare wildlife too.
8.  Santa Rosa Beach
Santa Rosa Beach stretches 26 miles down Florida's northwest coast. Folks know it for its brilliant white beaches, emerald sea, and top-notch dining. Many also identify it for its nearby art galleries and boutiques. This beach town received high recommendations from its visitors. Choose this for a prime beachfront without Panama City Beach or Destin crowds. Santa Rosa Beach is a popular vacation spot for many relaxing and fun opportunities. It's where visitors can swim, sunbathe, explore dunes, bodysurf, and more. The US environmental protection agency also covers this site. So guests get clean and clear water during their trip. It's where Florida beaches clearest water flows.
9.  Amelia Island
Think of going on vacation on Amelia Island if you're looking for a luxurious beach resort. It's a place that comes with an old-world charm. Amelia Island has 13 miles of beaches, approximately 30 miles northeast of Jacksonville. It also includes Amelia Island State Park and Main Beach Park. Play a game of golf on one of the island's championship courses or go diving with your family. Still, it's only a 30-minute drive from St. Augustine beach, where you can try RV camping.
There's an inlet beach Florida map for fishing spots too. Anglers visit the island to reach St. Mary's river and catch whitefish, salmon, and more. Still, this place is worth visiting for its events. For instance, there's Amelia Island Restaurant Week and other events to look forward to this 2023.
Amelia Island has had tiger sharks swimming on its shores. Also, other shark species, like the hammerhead shark, surfaced. Yet people continue to appreciate the uncrowded coasts and carefully dip the waters of the Atlantic Ocean. Thus, many tourists still recommend it.
10. Cocoa Beach
Near the coast is the Walter L Hudson, Junior Artificial Reef. Hence, the area has reef sharks. Also, folks saw lemon sharks there. For years, incidences of shark bites surfaced. But experts provide precautions to avoid them. Thus, being cautious makes Cocoa Beach enjoyable to get a tan and swim. After all, visiting this beach also means seeing the best Florida ocean.
11. Sunset Beach
As its name implies, it's a great spot to watch the sun go down. People visit it when they travel south of Treasure Island. Like St. Pete beach, it dazzles guests with its sunset views. Hence, the shore provides emotional sightseeing experiences to visitors. Retirees, couples, and other travelers may love this seaside spot for this feature. Many see it as the best beach destination in Florida for this reason. More than that, it also has shell-filled sands. Beachgoers there appreciate its azure skies and boat launch ramps. So people come here for many things other than swimming.
When it comes to aquatic activities, this coast also has some things to love. Travelers going here can try surfing and snorkeling. It's where the water conditions may be ideal for watersports. Still, it's home to underwater creatures like sea turtles. Thus, it comes as no surprise why folks visit this tourist hotspot.
12. Coquina Beach
It takes about ten minutes to drive here from Anna Maria Island, which is 4.5 miles away. Like the said coast, it's also an excellent spot to view the sunset. Tourists going here can enjoy this vast area since it also has amenities to use. It has a spacious parking space and also some picnic tables to use. Still, the place has many surrounding lush trees, sea oats, and grass to see. Those features and its white sands make it a relaxing place for holiday vacations.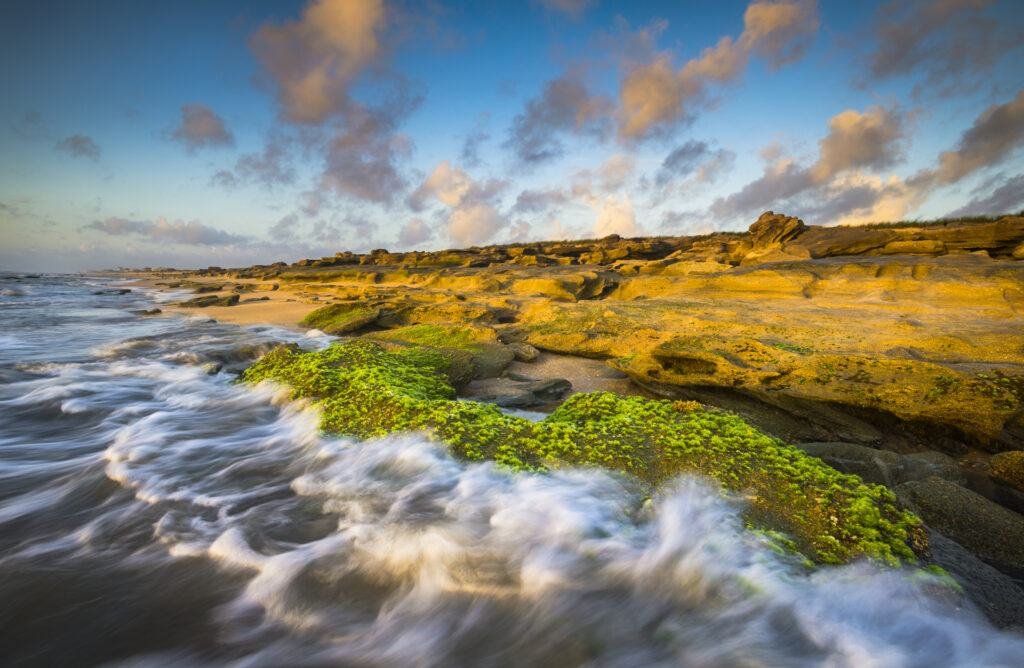 The beach has a cafe and local food for nourishment. It also comes with restrooms for guests. Moreover, it has a quiet atmosphere since it is less crowded than other coasts. Even when there are many people, it's still possible to see birds and other sea creatures. So folks go on vacation here to rest, experience convenience, and appreciate nature.
Conclusion
Read More
Pros and Cons of Inflatable Kayaks
10 Nature Trails in Central Florida
Hiking Trails in Orlando Florida Region
Important Things to Bring on a Day Hike
Bicycle Trails in Central Florida
FAQ
Is there a beach for swimming near me? Where is the closest swimming beach to me?
Florida hosts many beaches! When looking for "beaches near me," check out any one of the 189 official beaches along the 360 miles of coastline. When you ask a local, you're likely to hear, "Many Florida beaches right now are open!" After knowing the destinations, you only need to look for beach access points.
Still, it's also worth noting that places like Fort Lauderdale have plenty of beaches to choose from. After all, it has access to the Gulf Intercoastal Waterway Florida offers. South Beach is something you can experience there.
Yet, if you only wish to swim, you could try dipping in freshwater. Locations like the Blue Springs State Park provide excellent spots for water recreation. They offer swimming and the chance to see manatees. It's the same when going to the Merritt Island National Wildlife Refuge. Hence, the Sunshine State allows aquatic leisure and exploration almost everywhere. But take note that some waters are also inaccessible for swimming. For instance, Apollo beach became a nature reserve. So research open seaside locations first before traveling.
I'm looking for the cleanest beach in Florida. Which are the best beaches in Florida?
You will be pleasantly surprised! Florida prizes pristine beaches. Also, nearly any sandy shore will be among the best FL beaches. For instance, visiting Sombrero beach in Marathon allows one to experience soft and clean sands. Some of the sites in West Palm Beach are also attractive and clean. Still, the Port Saint Lucie weather and cleanliness provide a cozy spot for Atlantic coast beachgoers.
Crescent Beach is less crowded than other beaches, is broad, and offers easy parking. It has the charm of historic Florida and the clear waters you expect from the Sunshine State. And yet, many insist that Panama City Beach is the cleanest of them all.
Are any of the hiking trails near a swimming beach?
Florida parks often combine lovely swimming beaches with nearby hikes. Check the floridahikes.com site for ideas, and look at Florida State Parks. Bahia Honda State Park is a good spot for this. It has a bridge near the coast. Harvey Rest Beach Park is another example. It's suitable for walking, has chickens to see, and has excellent swimming conditions. Most of the time, there are also white sand beaches to welcome guests.
These days, it pays to be careful. People need to keep an eye out for more than just crocodiles. This is why it makes sense to search for things like "Shark attack Miramar Beach 2022." After all, sharks did attack people in the Sunshine State last 2022.
What are the best Florida beaches?
Everyone has their own unique set of beliefs and perspectives. Some have preferences and give favorable opinions of the regions they've explored. Usually, folks consider the pretty beaches in Florida best when the water and sands are great. Also, they appreciate them when it has other things to offer. For instance, some sites allow people to swim with dolphins Florida has.
When is the coast of Florida unswimmable?
Algal blooms can make the Florida coast unswimmable. Also known as blue green algae, harmful algal blooms can be poisonous for both animals and humans. Algae bloom Florida often occurs during the warm months. Blooms are caused by heat, slow-moving water, rainstorms, and water pollution. The algae then produce toxins or release harmful gases that can cause sickness in humans and animals that are exposed to them. The bloom can also deplete the water of oxygen leading to dead fish. Check the local news for any algal bloom before you Google best walking beach near me.
Related To Extras To Read