==================
A Caveat and Affiliates
First off, a little caveat: within my articles you will find affiliate links, meaning if you buy them, I get a small commission. Your cost is not affected. In addition, I am an Amazon Associate and I earn from qualifying purchases on Amazon.
And yes, if I say that I recommend a product here, it means I truly believe it is a good product. I refuse to recommend any product that I have not researched and believe to be a good value.
Even better, I provide you with a very clear picture of the product, it's use, and the probable value.
Earning your trust is important to me. I run this website myself and the commissions and donations help support the site.
Sound reasonable and fair enough? Let's continue to the article.
==================
Kayaking is a fun and relaxing hobby that lets you get away from the stress of everyday life and enjoy the beauty of nature. It's a a thrilling and peaceful hobby that offers endless benefits. Find out 7 reasons why kayaking is a great hobby.
Top 7 Reasons Why Kayaking Is A Great Hobby
Taking your kayak out on the water is a beautiful way to experience nature. Paddling a kayak is a good outlet. People of all ages can share this stunning recreation. Kayaking is fun, healthy, and stimulating.
Why Kayaking is a Great Hobby
Health advantages. Kayaking improves cardio, upper-body strength, and endurance.

Stress alleviation. Paddling around scenic lakes or landscapes can relieve stress and improve mental wellness.

Enthusiasm and excitement. It's thrilling to kayak in rapids or remote waterways.

Pet bonding. You can give your dog a memorable experience. It will make your relationship stronger.

Experience peace. Spend time alone or make some new friends. Relationships formed among kayakers are some of the most rewarding ones.

It suits all ages. Anyone, regardless of age, can enjoy it. It's an excellent way for people of all ages to try something new and engaging.

Cost-effectiveness. Kayaking is inexpensive, primarily if you use a small recreational kayak. Also, many local clubs and places to rent kayaks offer them at low prices.
Kayaking is a great hobby that people worldwide appreciate. In Florida, the warm weather makes it possible to kayak all year long. Florida paddlers fish, enjoy the water and enjoy Florida's lovely rivers year-round. Kayaking in tranquil lakes or the open ocean lets you see Florida's natural splendor.
Kayaking resembles canoeing but uses a different boat. Kayakers today enjoy environmental exploration and fishing. Florida kayakers paddle year-round. Hence, it's a versatile and worthwhile activity.
Kayaking Boosts Stamina, Upper-body Strength, and Aerobic Fitness
Want to find a fun way to get in shape? One of the best cardiovascular and muscular workouts is kayaking. But you won't feel like you're at the gym or on a treadmill. There are health benefits to being in nature, but you don't have to count reps to get them.
Kayaking is a great hobby for health-conscious individuals. It is a great way to work out and enjoy nature simultaneously. Also, it can be tricky, but it can also be fun! Studies have shown that kayak fishing burns 500 calories in an hour. You only need a few hours of kayaking per week to obtain those prized six-pack abs.
People's heart rates go up when they paddle. It's not because they're using different muscles, which works well with other exercises. Instead, it's because we move around a lot once our boat is out in open water (especially when we're paddling).
To develop stamina, attempt a shorter trail. I also recommend kayaking with a buddy, at least at first. Having someone to chat with eases the beginner's tension. And in case you push past your limits, you have a friend to assist you.
Paddling Decreases Stress
Kayaking is a great hobby to deal with anxiety. Let's face it; daily life often includes stress and tension. Gently paddling through waterways offers tranquility and releases those stresses and pressures. Even if you might be getting a good workout for your body, kayaking is also great for your mental fitness.
Most kayakers remark on the strong connection they feel with nature as they kayak. For many, this connection brings them back time and again.
Explore The Exciting Waterways and Coasts by Kayaking
Hidden gems await the kayaker amidst waterways and the coastline. You view nature up close and personal. Watch for birds and other animals living quietly in our less-trodden areas. Beautiful locations draw kayakers back.
Kayak on any water. Kayakers paddle lakes, rivers, and oceans. Yet, sea kayaking may expose you to harsh winds and currents. Start in calmer seas. Safety experts recommend bringing a friend or two.
Visit a nearby island and have a picnic there. Or plan your trip so you can see the sun rise or set. You can get it all done in one day!
Want a special treat? Bioluminescence! Yes, kayakers in Florida enjoy this incredible phenomenon along select waterways.
Kayaking is an Adventure for Dog Owners and Their Pets
Kayaking with a dog is a unique way to bond. It helps dogs enjoy the outdoors and improves their mental and physical well-being. Inquisitive and lively, dogs are always up for an adventure. Kayaking takes them to new, exciting places. Kayaking is a low-impact workout for dogs of all ages. It also introduces dogs to water, which can improve their swimming. Kayaking helps dogs trust and bond with their owners. The kayak owner's closeness and the water's quiet can help dogs relax. Kayaking with a dog is fun and beneficial for the dog and owner. Hence, kayaking is a great hobby for pet lovers.
Solo Adventure or Build Lifelong Friendships
Kayaking is fun alone and with friends. Solo kayaking is pleasant for its solitude and challenge. Being surrounded by nature and away from daily life can make you relax on the water. It challenges people physically and mentally, allowing them to learn new abilities. Also, paddling through peaceful lakes and craggy coasts enhances the experience. Kayaking with others fosters enduring connections via shared experiences, community, and respect. Kayakers often support and encourage each other, no matter how skilled they are. Trusting and working together, especially under pressure, can create strong ties.
Kayaking is a Great Hobby Everyone of Any Age Can Enjoy
Low-impact and versatile, kayaking is entertaining for all ages. People can change it based on fitness level, physical ability, and personal preference. Elderly or disabled folks can exercise and enjoy the outdoors by kayaking. It's a fun and challenging outdoor activity for kids. From quiet lakes to fast-moving rivers, kayaking is entertaining for all ages and abilities. Kayaking may be a pleasant family activity that creates memories. Kayaks are available for most ages and experience levels. Thus, all ages can enjoy it. Kayaking is a great hobby for everyone.
Kayaking is Cheap and Fun! Why Wait? Kayak!
Kayaking is an inexpensive way to have fun. It doesn't need much equipment, and you can buy or rent cheap options. Costs are often for cleaning and storing, which is easy to do. You can kayak on many different bodies of water, most free or cheap. Kayaking is a fun activity that can help you save money because you can do it instead of going to the gym. You can go kayaking, fish, camp, and do all sorts of other outdoor things with the same gear. Kayaking is a low-cost, low-maintenance method to get outside, get healthy, and make memories with loved ones. Thus many enjoy and recommend it.
Ready to Kayak Florida?
Kayaking is a great hobby that can help people of all ages in many ways. It is a fun and inexpensive way to get in shape, relieve stress or spend quality time with your pet. Also, the activity is a fun and unique way to get close to nature. The waterways are beautiful, and there are lots of chances for adventure. Paddling is a terrific way to challenge yourself while making friends. Because of its versatility and low impact, kayaking is attractive for all levels and ages. So it's easy to see why so many people turn to it as a means of improving their fitness.
Are you ready to go on a fun kayaking trip in Florida? With so much to see and learn, kayaking is a once-in-a-lifetime adventure you will remember. In our blog, you can learn more about kayaking in Florida. You'll find tips to plan and enjoy your trip. This great state has something for everyone, irrespective of kayaking skills. So why hold out? Start reading immediately and prepare for a kayaking trip in Florida that you'll never forget.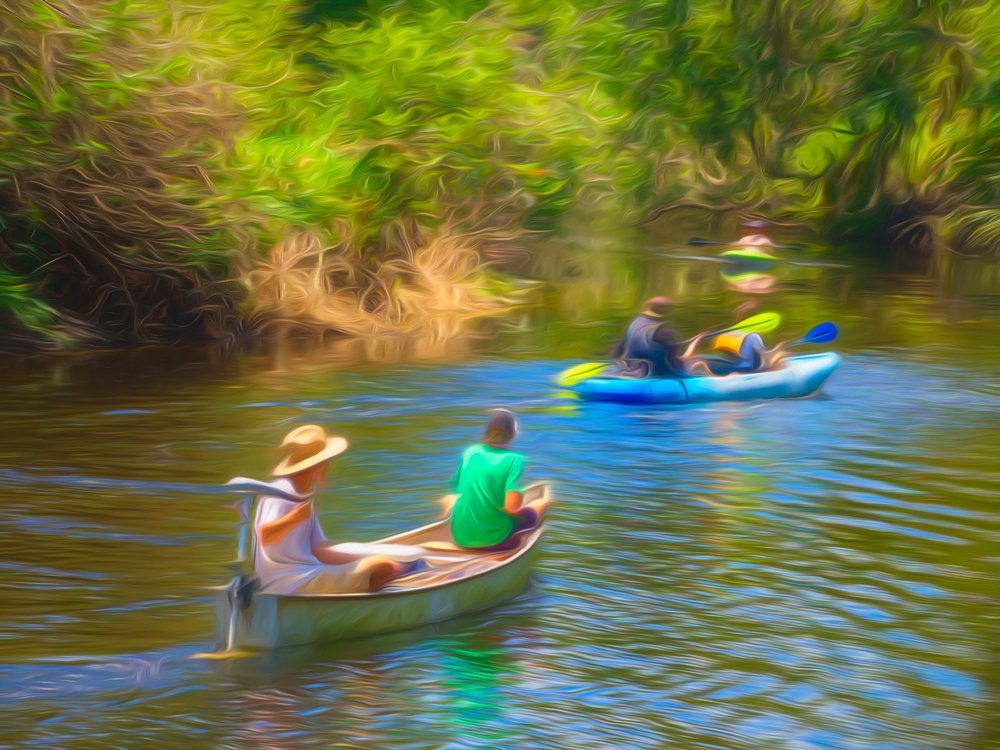 A Few Good Reads:
Taking Your Dog Kayaking? Tips for Safe Fun Together
Kayaking is a great hobby? FAQs!
How is life better when you kayak?
Kayaking is fun to get in shape, unwind, and discover new rivers. It makes you fitter and strengthens your core and legs.
I've always wanted to kayak, but I needed to figure out what I needed. Any suggestions?
Kayaking requires a kayak, paddle, and PFD (personal flotation device). A paddle leash, a spray skirt, and a bag that won't get wet are all excellent ideas.
Is kayaking risky?
If you're ready and know what you're doing, kayaking is safe. It's essential to have life jackets, check the weather, and know your limits. Paddle with friends to stay safe.
What's a good alternative outdoor activity?
If the weather or temperature is not ideal for kayaking, then we recommend hiking!