==================
Florida Splendors is supported by our audience. When you purchase through one of our links, we may earn a small affiliate commission.  As an Amazon Associate I earn from qualifying purchases. Your cost is not affected.
Welcome to our sunny guide on Florida's East Coast beaches! Here, we'll take you through the most loved spots where the ocean meets the land. We've got the scoop on where to soak up the sun, splash in the waves, and create memories. So, grab your flip-flops, and let's dive into the beaches that make Florida a slice of paradise for everyone! Enjoy reading!
Introduction to Florida's
East Coast Beaches
The allure of the Sunshine State is undeniable. Florida's east coast, with its captivating Atlantic Ocean views, stretches over 580 miles, it presents a landscape dotted with dazzling beaches. The stunning east coast FL beaches, provide a surreal mix of azure waters, golden sands, and diverse marine life. Whether you're a seasoned traveler or a first-time visitor, these beaches offer an unforgettable experience.
The coastline provides a stunning backdrop for a broad range of activities, from serene sunbathing sessions to exhilarating water sports. The best east coast beaches in Florida are also home to several protected areas. This is where you can witness a dazzling array of wildlife in its natural habitat. These beaches are not just about the sand and surf. They are gateways to unique adventures and cherished memories.
Each beach on Florida's east coast has its distinct charm and appeal. They range from bustling, vibrant expanses to peaceful, secluded stretches. The diversity of the best Florida Atlantic beaches ensures that there is a perfect spot for everyone.
Why Choose Florida East Coast for a Beach Vacation?

Choosing the east coast of Florida for your beach vacation is choosing an adventure-filled, unforgettable experience. The best beaches in Florida's east coast offer a blend of natural beauty, recreational activities, and cultural richness. They are famous for their pristine conditions, warm waters, and a climate that invites year-round visits.

The east coast is home to a number of the state's most iconic cities, including Miami, Daytona, and Palm Beach County. These cities not only offer the best Florida east coast beaches but also boast vibrant nightlife, excellent dining and shopping options, and a host of attractions for all ages.

Furthermore, the beaches are easily accessible, with several major airports and well-maintained road networks. This convenience, coupled with the wealth of activities and attractions, makes the east coast an ideal destination for solo travelers, couples, and families alike.
Top 10 Best Florida East Coast Beaches

The Florida east coast is home to some of the most beautiful beaches in the world. Here are the top 10 best Florida east coast beaches that you should consider for your next vacation:
Miami Beach
Miami Beach is not just a beach but a lifestyle. Every day feels like a festival with its art deco buildings and palm-lined streets. Families enjoy the shallow waters and playgrounds. Meanwhile, party-goers find their beat at oceanfront bars.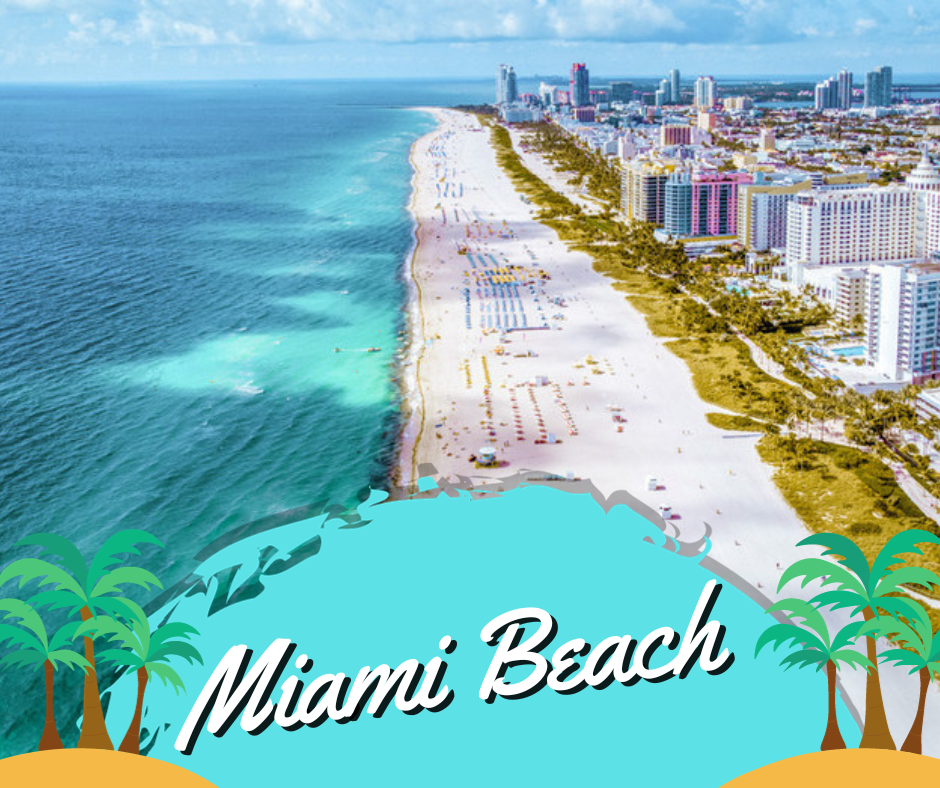 Daytona Beach
At Daytona Beach, the roar of engines isn't far from the waves. It's home to the Daytona International Speedway, and the beach itself is a hub for motorsports. It's also a family favorite, with mini-golf and a chocolate factory tour nearby.
Palm Beach
Palm Beach is where luxury meets the ocean. It's home to Worth Avenue, a shopping haven like Beverly Hills' Rodeo Drive. The Mar-a-Lago Club is here, too, as well as the Flagler Museum, where you can step back into the Gilded Age.
Cocoa Beach
Cocoa Beach is where surfers catch their best waves. It's also home to the Kennedy Space Center Visitor Complex, where space and ocean exploration meet. Families love the beach for its gentle waves and picnic spots.
Fort Lauderdale Beach
Fort Lauderdale Beach is considered to be the Venice of America. It consists of an iconic wave wall and a lush, palm-fringed promenade. The beach is perfect for jet-skiing, snorkeling, and volleyball. Also, the nearby Hugh Taylor Birch State Park is a great place to see Florida's wildlife.
Vero Beach

Vero Beach is a haven for those who love a slower pace. It's part of Florida's Treasure Coast, so named for the Spanish galleons that sunk here long ago. The McLarty Treasure Museum tells those tales. And the Indian River Lagoon is perfect for kayaking amid manatees.
St. Augustine Beach

In St. Augustine, history is as rich as the beach, and it is beautiful. The Castillo de San Marcos fortress overlooks the coast. After a day in the sun, visitors can wander the oldest European-settled streets in the U.S.
Jupiter Beach

Jupiter Beach is family-friendly and perfect for dogs. The Jupiter Inlet Lighthouse stands guard, offering tours and stunning views. Paddleboarding is popular here. You can also watch the local wildlife, like sea turtles, at the Loggerhead Marinelife Center here.
New Smyrna Beach
New Smyrna Beach is a hidden gem with a hometown feel. It's less crowded but full of life, with art galleries and boutiques. The Smyrna Dunes Park offers beautiful walks on boardwalks over dunes.
Delray Beach

Delray Beach pulses with energy. Its Atlantic Avenue consists of art galleries, boutiques, and restaurants. The Pineapple Grove Arts District shows off the city's creative side. And the annual Delray Beach Open attracts tennis enthusiasts from all over.
These beaches each offer their unique charm and appeal, making them the best Florida east coast beaches.
Hidden Gems: Lesser-Known East Coast Beaches in Florida

Beyond the well-known beaches, the east coast of Florida also hosts a number of hidden gems. These lesser-known beaches offer a tranquil escape from the bustling crowds and are perfect for those seeking serenity amidst natural beauty.

Blowing Rocks Preserve is one such hidden gem. Located in Hobe Sound, this beach is famous for its limestone shoreline that 'blows' water during high tide. Another lesser-known treasure is Hutchinson Island. It's a 23-mile-long island boasting uncrowded beaches, beautiful nature preserves, and excellent opportunities for turtle watching.

Fernandina Beach on Amelia Island offers a historic downtown area, unique shops, and delicious seafood, all along a picturesque beachfront. Ponte Vedra Beach is known for its luxurious resorts, world-class golf courses, and quiet, upscale beach environment.

Each of these beaches offers a unique experience, making them the best Florida Atlantic beaches for those who want to venture off the beaten path.
Elevate your beach experience with these stylish sunglasses, offering 100% UV protection and unparalleled clarity. Don't settle for less – embrace the sun and surf in ultimate comfort and style. #BeachSunglasses #Ads #CommissionsEarned
Family-Friendly Best Florida Atlantic Beaches

Florida's east coast is also home to a number of family-friendly beaches. These beaches offer calm waters, lifeguard services, and plenty of amenities, making them ideal for families with children.

Siesta Key Beach is one such destination. Consistently ranked among the best beaches in the country, Siesta Key offers clear, shallow waters and a playground, making it perfect for kids. Clearwater Beach is another family-friendly option. With its white sand, warm waters, and nearby aquarium, it's a hit with children and adults alike.

Deerfield Beach is another excellent option for families. It offers a variety of water sports, a fishing pier, and a 'Blue Wave' designation for cleanliness and safety. Lauderdale-by-the-Sea is a charming seaside village with a family-friendly beach, offering snorkeling, diving, and an annual sea turtle release event.
The Best East Coast Beaches
in Florida for Water Sports

The best Florida east coast beaches are not just for sunbathing and swimming. They are also perfect for a variety of water sports. From surfing and paddleboarding to snorkeling and jet-skiing, these beaches offer something for every adventure lover.

Cocoa Beach is renowned as the surfing capital of the East Coast. With consistent waves and a variety of surf schools, it's an excellent spot for both beginners and experienced surfers. Daytona Beach, with its hard-packed sand and warm waters, is perfect for jet-skiing. Meanwhile, Palm Beach offers excellent conditions for paddleboarding.

John D. MacArthur Beach State Park is a must-visit for snorkeling enthusiasts. The park's underwater snorkeling trail offers a chance to explore a diverse marine ecosystem. For those interested in kiteboarding, Jupiter Beach is the place to be. Its consistent winds and large beach area make it a favorite among kiteboarders.
Wildlife at the Best Beaches
on Florida's East Coast

The best Florida east coast beaches are also home to a diverse range of wildlife. These beaches offer unique opportunities to witness sea turtles, manatees, birds, and other wildlife in their natural habitats.

Archie Carr National Wildlife Refuge, located in Melbourne Beach, is one of the most important nesting areas for sea turtles in the world. On Merritt Island National Wildlife Refuge, you can spot manatees, alligators, and a variety of bird species.

Canaveral National Seashore is another excellent destination for wildlife lovers. The park boasts more than 1,000 plant species and 310 bird species. These include the threatened Atlantic loggerhead turtle and the endangered green turtle.
The Best Times to Visit Florida's
East Coast Beaches

While the best Florida east coast beaches offer a year-round appeal, some times are particularly good for a beach vacation. Generally, the best times to visit are from March to May and from October to November. During these periods, the weather is pleasant, the crowds are smaller, and the hotel rates are more affordable.

The summer months (June to September) are the busiest and hottest. However, they also offer excellent opportunities for water sports and wildlife viewing. The winter months (December to February) are cooler and less crowded. This makes them perfect for a peaceful beach getaway.
Accommodation Options at the
Best Florida East Coast Beaches

Accommodation options at the best Florida east coast beaches range from luxury resorts to family-friendly hotels and vacation rentals. Whether you're looking for a lavish stay or a budget-friendly option, you'll find something that suits your needs.

Luxury seekers might consider places like The Breakers in Palm Beach, the Fontainebleau in Miami Beach, or the Ritz-Carlton in Amelia Island. For a more budget-friendly stay, consider options like the Hampton Inn in Daytona Beach or the Holiday Inn Express in Cocoa Beach.

Vacation rentals are also popular on the Florida east coast. They offer the comfort of home and are particularly good for longer stays. You can find a wide range of options on websites like Airbnb and VRBO.
Beach Activities and Amenities

At these Florida beaches, there's a lot to do. You can lie on the sand and get a tan. Or you can swim, surf, or paddleboard in the sea. Each beach has its own fun things to try.

Many beaches have places to rinse off and change. They also have spots to eat and rest in the shade. You can find benches, tables, and sometimes grills for a cookout.

Do you need a place to stay? There are hotels near most beaches. Some are fancy, and some are more for those on a budget.

If you like to shop or want to eat out, you're in luck. Most of these beaches are close to shops and restaurants. You can buy a swimsuit or grab a bite of fresh fish.

Each beach is clean and works hard to be safe for everyone. They have signs to help you understand the rules. This way, you can have fun and stay safe.

Remember, the best beach for you is the one that fits what you like to do. Each one is special. So, find your spot, and enjoy the sun, sand, and waves!
Level up your beach game with these snazzy sunglasses that not only block UV rays like a pro but also turn your surroundings into an Instagram-worthy paradise. Say goodbye to those awkward squints and hello to the perfect beach selfies and crisp views of seagulls playing beach volleyball – because you deserve nothing but the best! 😎🏖️🌞 #BeachSunglasses #Ads #CommissionsEarned
Discover Your Own Paradise on Florida's East Coast

To wrap it up, the best Florida east coast beaches offer a spectacular mix of natural beauty, fun-filled activities, and cultural richness. Whether you're seeking a vibrant city beach, a peaceful hideaway, or a family-friendly escape, the east coast of Florida has something for you. So pack your beach bag and get ready to discover your own paradise on Florida's east coast.
Can I swim at all these beaches?
Yes, All these beaches have places where you can swim. Some spots might have lifeguards, which is great for safe swimming. Just look for the signs and flags that tell you it's okay to swim.
Are there any beaches where my dog can play too?
For sure! Jupiter Beach is one dog-friendly spot where you can bring your furry friend to play in the sand. Always keep them on a leash and bring bags to clean up after them.
Which beach is best for beginner surfers?
Cocoa Beach is awesome for new surfers. The waves are just right, not too wild. You can take surfing lessons there too. So, grab a board and give it a go!
What if I like quiet beaches without many people?
Vero Beach is perfect for that. It's peaceful and not too crowded. You can relax, read a book, or just enjoy the sound of the waves without much noise.
Which beach has some cool history to explore?
St. Augustine Beach is where you'll find lots of history. It's near the oldest town in the U.S., so you can see old forts and walk on streets that have been around for hundreds of years.
☀️ Explore Florida's East Coast Beaches – Your Perfect Getaway Awaits! 🏖️

🌊 White sands, endless sunshine, and relaxation await you!
🌅 Unforgettable sunrises and sunsets – pure coastal magic!
🏄‍♂️ Surf, swim, or simply soak up the Florida vibes.
🍹 Delicious food and cool drinks by the shore.
🏝️ Find your paradise and make lasting memories!
Don't forget to follow us on our socials:
Book now and dive into your ultimate beach escape! ☀️🌴🌊