==================
Florida Splendors is supported by our audience. When you purchase through one of our links, we may earn a small affiliate commission.  As an Amazon Associate I earn from qualifying purchases. Your cost is not affected.
Are you feeling overwhelmed by the crowds and excitement of Orlando's theme parks, but still craving some fun in the sun? Don't worry, we've got you covered! This article features a hand-picked selection of the best
beaches
near Orlando, each with its unique charm and activities. Whether you're looking for a quiet spot to relax or an adrenaline-packed water sports adventure, we've got the perfect
beach
for you. So, pack your
beach essentials
, slather on that sunscreen, and get ready to soak up some sun on the stunning shores of Central Florida. Let's dive in and
discover the best beaches
around Orlando!
Visit Beaches Close To Orlando Fl
Beaches close to Orlando Fl are where travelers enjoy vacations further. The city in Central Florida may be the world's theme park capital, but it's also near a few notable seaside spots. Even if it has swim-worthy freshwater springs, sometimes going to the shore is better. Water parks and spray pools are fun, but secluded, quiet, and peaceful coasts are more relaxing. Even crowded shores bring unique experiences to love. So it's no wonder tourists from all over look for the best beaches close to Orlando.
Why Search For Beaches Close To Orlando Fl
Despite the many features of The City Beautiful, folks find attractions near it. Some travelers even look for beaches close to Orlando airport. Seaside locations are often spread out and come with many attractive qualities. These have fresh ocean breezes and soothing saltwater. The waves allow different and enjoyable watersports. Most beachgoers also visit the coasts to declutter their minds. Sometimes it pays to get, go to a seaside spot, and soak beneath the sun. Hence, it's sensible why folks travel to gulf beaches close to Orlando.
Aside from the warm weather that greets guests, the coasts offer picturesque sceneries. Beachgoers get soft white sands while strolling and hear waves hitting the shores. Folks can find unique shells, pebbles, rocks, and other fascinating items along the way. Sea creatures on dry land and in the water may be around too. Still, surrounding the coastlines are things for amusement. Restaurants, boutiques, souvenir shops, landmarks, and hotspots for entertainment are available. They serve locals and tourists while complementing the ocean view. Thus the Florida beaches on the east coast cater to everyone. Folks who love picnics, do aquatic sports, and go sightseeing like these coasts and dolphin watching in Florida.
Examples Of Beaches Close To Orlando Fl
If you're asking, "What beach is close to Orlando?" There's no single answer to that. Many natives and foreigners consider various coastlines as worth everyone's time. Travelers, in general, consider many spots as the best beaches close to Orlando. People recommend them based on many factors too. They are easy and don't take long to reach. With their characteristics, a lot of beachgoers enjoy visiting and frequent them. So they are destinations worth reading about and checking.
Traveling for long hours often equates to high expenses, boredom, and exhaustion. You may even get lost after traveling far and to an unfamiliar location. Hence, look for nearby coasts when you've had a blast in Orlando City but want to travel more. Seaside locations are usually more relaxing to visit. They also allow getting in touch with nature. Searching for beaches close to Orlando airport may lead you to them.
It's one of the beaches close to Orlando Fl that many travelers endorse. Last 2019, it ranked number 1 on TripAdvisor. It's not a mystery why many are in favor of it. The said beach is a family-oriented place that is reminiscent of old Florida. The guests visiting get exposure to fresh sea breeze and fine powdery sands to sink their toes.Folks can also try ferry boat day tours with dolphin watching in Florida encounters here. But the barrier island near the gulf of Mexico also has more attractions for travelers. It comes with varied places to surf, stay and eat too. Thus it appeals to people of all ages.
It takes no more than 2 hours to reach this location from Orlando. From the Orlando International Airport (MCO), it's about 110 miles to get to the place. You must head north to Jeff Fuqua Boulevard and go west until you reach Coronado Drive. But the drive and stay there are worth it due to the attractions. Travelers there can go aboard a 65-foot, triple-decked ship. There the Calypso Queen offers buffet dining and cruising experiences. Folks can also try staying in modest inns or luxury hotels like the Hyatt Resort and Spa. So it's part of the beaches close to Orlando airport that brings memorable moments.
St. Pete Beach
This place is another one of the beaches close to Orlando Fl that folks frequent. It's around 20 miles from Clearwater Beach and 114 miles from the MCO. Getting there also means taking the Jeff Fuqua Boulevard. But the endpoint is arriving at Pasadena Avenue. It may take about an hour and 45 minutes to get to the beach from the said airport. Once at the coast, natives and foreigners meet azure waters and crystalline sands. Many folks visit the place to enjoy paddleboarding, jet skiing, and other activities. Still, others ride transparent boats, feed fish, and the natural ways of the local sea life. So it's also an example of the superb gulf beaches close to Orlando.
The Pass-A-Grill Beach is in there too. This part of St. Pete Beach allows visitors to experience fishing and boat tours with the locals. Shopping areas and restaurants are also available within the vicinity. They offer novelty items and taste gourmet delicacies. Plus, the space provides travelers with a laid-back atmosphere. Hence, it's ideal for unwinding from a stressful life. A
post
on the Champion Traveler site showed that traveling there doesn't have to be expensive. So, whether on a tight budget or otherwise, this is a worthy spot to visit in Florida.
Melbourne Beach
It fits on beaches close to Orlando Fl with a friendly and welcoming feel. The locals are accommodating, and it's the same for the place itself. Many folks who come over enjoy strolling on the shores. The spot has stretches of undeveloped white sand and clear blue waters. Thus it explains why many bask underneath the warm sun or appreciate moonlit walks. Belonging to Bravard County, it's also one of the Florida beaches on the east coast with plenty to offer. It's where the Brevard Zoo provides hundreds of animal species to view in lush habitats. Tourists can also become spectators of ongoing activities at the Kennedy Space Center. So there are plenty of things to do in this area close to the Atlantic coast.
It takes about 1 hour and 8 minutes to reach this beach from the MCO. From Jeff Fuqua Boulevard, you must take Miami and arrive at Ocean Avenue. This time, it's about going eastward to arrive at the barrier island. Because of the varied attractions available there, people call it The Harbor City. It's where folks can have their recreation in nature or upscale hotspots. The place offers aesthetic views of the local art and cultural heritage. The community provides high-end dining and boutique establishments too. Hence, folks say it belongs to worthy beaches close to Orlando airport attractions.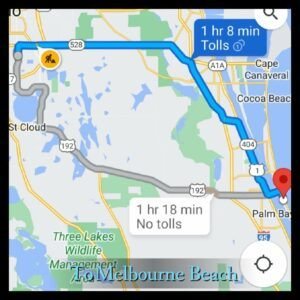 Vero Beach
Situated in the east, it's part of the beautiful beaches close to Orlando Fl that is accessible. Going there through the Melbourne Orlando International Airport (MLB) is nearer. Yet anyone can go there via the MCO too. Traveling 98.8 miles for an hour and a half may get you there. People can take a bus or shuttle to reach it. But going for a private car may provide a faster mode of transportation. Going on a trip there requires traveling to the east from the MCO. It means taking the SR 528 and I-95 to get to Estate Road 60. Going there won't take a while, and it's a wealthy place to visit. Thus, visitors can enjoy it there since it provides luxurious experiences.
The sands here are also clean and white, and the shores meet cold blue-green waters. Creatures like sandpipers, pelicans, and turtles show up and outnumber the humans there. Mangroves, palms, and other plants are plenty. Hence, travelers get fresh, salty, and soothing air. Plus, the place also has long summers and short winters. But, more than beaches, it's wealthy in things to do. It comes with golf courses and a range of other commercial establishments. So it explains why many see it as one of the finest Florida beaches on the east coast. It justifies the reason for its belonging to the Treasure Coast.
Visiting The Said Beaches
Going to the best beaches close to Orlando requires preparation. When you are ready to travel, you reduce your chances of having trouble on the road. Before you get to the MCO, have everything ready. It means gathering all travel documents and forms of relevant identification. While you're at it, pack all travel essentials. It should include bringing garments, footwear, accessories, medicine, and other necessary supplies. Still, you must be conscious of various conditions related to your destination. For instance, you need to know the
local customs
. Checking for climate and weather changes matters too. Thus must never leave without making yourself ready.
Learn about swimming and first-aid before your trip. Being able to swim can make your travel worthwhile. It pays to identify the presence of rip currents to avoid being in one too. Your safety should also be a priority. As for transportation concerns, know where to rent a car or take public transport first. Master the routes, but ensure you have alternative paths in mind. It's to be as flexible as you can when going somewhere far. Still, bring your preferred means of communication. You may need help at some point during your journey.
To Wrap It Up
Many beaches close to Orlando Fl are a little over an hour away. They are not only accessible but filled with pristine sands and clear waters. Activities, establishments, and novelty goods are also within reach at these locations. Hence, from having a grand time in Orlando City, travelers can head out to these seaside spots. They allow opportunities to relax and get wet while connecting with nature. Thus going to them won't end up in a disappointment.
All the coasts mentioned have positive and unique attributes. Your journey to either being enjoyable isn't farfetched when you prepare. Please share your experience with us while at either of these Florida shores. Thanks for reading, and we hope you enjoy the beach!
Can I bring my dog to any of the beaches on Florida's Space Coast?
Yes, some beaches on Florida's Space Coast are dog-friendly. For example, Canova Beach Park has a dog-friendly section where you can bring your furry friend to enjoy the beach with you.
Are there any activities to do at the Space Coast beaches besides swimming?
Absolutely! In addition to swimming, you can go kayaking, paddleboarding, fishing, and even surfing at some of the beaches on Florida's Space Coast. You can also go for a walk or run on the beach or just relax and soak up the sun.
What's the best time to visit the beaches on Florida's Space Coast?
The best time to visit the beaches on Florida's Space Coast is during the spring and fall when the weather is mild, and the crowds are fewer. However, if you want to experience the warmest weather, summer is the best time to go, but keep in mind that the beaches will be more crowded.