==================
A Caveat and Affiliates
First off, a little caveat: within my articles you will find affiliate links, meaning if you buy them, I get a small commission. Your cost is not affected. In addition, I am an Amazon Associate and I earn from qualifying purchases on Amazon.
And yes, if I say that I recommend a product here, it means I truly believe it is a good product. I refuse to recommend any product that I have not researched and believe to be a good value.
Even better, I provide you with a very clear picture of the product, it's use, and the probable value.
Earning your trust is important to me. I run this website myself and the commissions and donations help support the site.
Sound reasonable and fair enough? Let's continue to the article.
==================
Have you considered Visiting Lake Okeechobee?
Lake Okeechobee is the biggest freshwater lake in Florida and the ninth-largest in the US, measuring about half the area of Rhode Island yet only nine feet deep on average. We'll show you 
Though it is known by several nicknames, including the Inland Sea and the Big O, Okeechobee's real name derives from the Hitchiti, an indigenous people who resided on the Chattahoochee River until the early 1800s. Okeechobee means "big" (chubi) and "water" (oki) in their language.
The big lake in Florida is a must-see for anyone visiting the Sunshine State. Lake Okeechobee is the largest freshwater lake in the state, and it's teeming with fish and other wildlife. There are plenty of activities to enjoy around the lake, so it's a great place to spend a day or two if you're looking for something different from your typical beach vacation. Here are a few things to know before you visit Lake Okeechobee.
The flatlands around the 35-foot-high Herbert Hoover Dike, erected around Okeechobee in 1928 to defend against floods, are dotted with small villages, orange groves, sugarcane farms, and streams. The 152-mile Okeechobee Waterway cuts across the lake into Florida, allowing vessels to pass through rather than around it.
Today, Okeechobee is a popular tourist destination that offers a variety of lakeside activities such as fishing, boating, and hiking.
Lake Okeechobee Location
Because Lake Okeechobee sits outside Palm Beach County, Palm Beach International Airport is the nearest major airport. Clewistown is only about an hour distant, primarily via FL-80 W.
Things to Do when visiting Lake Okeechobee
On Lake Okeechobee's southern shore, the village of Clewiston is a popular tourist destination. Largemouth bass, speckled perch, catfish, and black crappies may all be caught with the help of a local guide.
There's much to do at the shore: take a tour of a nearby sugarcane field or hike or bike along with parts of the 110-mile Lake Okeechobee Scenic Trail. The Florida National Scenic Trail travels along the top of the dike and is an excellent area to see Okeechobee wildlife. (Manatees, alligators, turkeys, bobcats, pigs, egrets, ospreys, and various other birds have been seen.)
The Big Cypress Seminole Reservation, located just south of Lake Okeechobee, is the largest of Florida's five Seminole reservations. The Ah-Tah-Thi-Ki Museum, which is linked with the Smithsonian, has over 180,000 works of art and artifacts and portrays the narrative of the Seminole people in south Florida, where they have resided for thousands of years.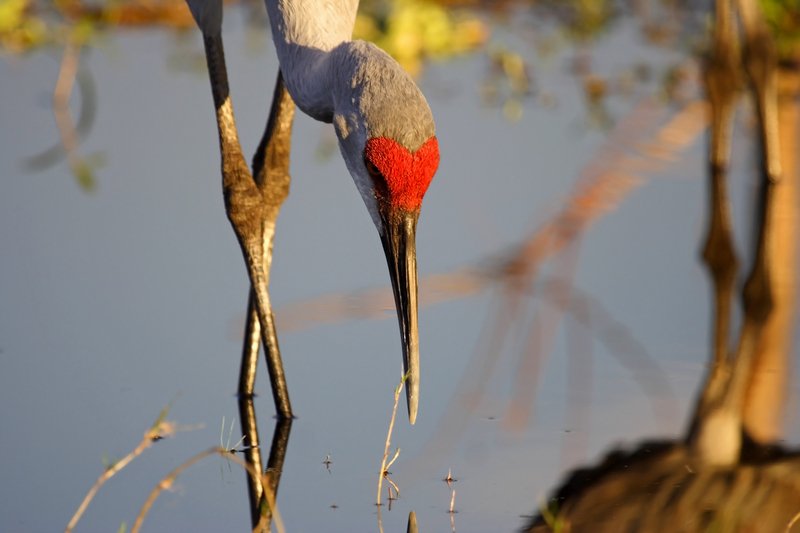 Best Things to Do in Okeechobee County
The county of Okeechobee, located in central Florida's Okeechobee County, has a population of around 6,000 people and is named after the state's biggest lake, on whose northern coast it is located. Because of its size, Lake Okeechobee is known as Florida's inland sea. It is one of the region's most famous natural attractions, and it is perhaps best known for the lunker-sized strain of Florida largemouth bass that makes its home in its waters.
There is a range of recreational opportunities in the vicinity and day excursions to the shore. In and near Okeechobee, Florida, below are the best things to do.
Lightsey's Seafood Restaurant
Though not in an actual coastal town, Lightsey's hosts on the shores of Florida's largest lake. As such,  its eateries cater to both fresh and saltwater diners. Lightsey's Seafood Restaurant specializes in making and presenting outstanding meals using fresh local ingredients, many of which have been harvested from the lake.
Popular menu options include catfish, alligator, and even turtle meals and fresh ocean fish, shrimp, and shellfish delivered daily. The restaurant has been serving other non-seafood dishes since 1977, as well as wonderful desserts like key lime pie.
KOA Campground and Golf Resort
The KOA Campground and Golf Resort in Okeechobee are like a collection of distinct resorts all rolled into one. It's the type of facility that takes up many vacationers' time, with golf, tennis, three pools, and access to some of the most incredible bass fishing in the country.
The park also features a fitness facility and various yearly seasonal events, such as a Christmas activity for the whole family and the Mardi Gras celebration. Tractor-trailer and RV parking sites with complete hookups provide vacationing spots. Other facilities include a choice of cabin and campground rental alternatives. The resort is surprisingly affordable, yet it fills up rapidly during the high season.
Bass Fishing at Lake Okeechobee
For a significant part of the year, bass fishers from everywhere the nation go to focal Florida to take a shot at catching largemouth bass from the flawless waters of Lake Okeechobee. In numerous ways, the lake is this present reality champion of bass lakes, delivering goliath fish that routinely top the scales at in excess of 10 pounds every year.
Fishermen who like to go out on the water with an expert aide might browse numerous choices, all of which have a great deal of ability uniting man and fish. The lake gives various boat inclines and an assortment of neighborhood food and inn decisions for individuals accompanying their boats.
Nature abounds while you are Visiting Lake Okeechobee
Dupuis Nature Center
The DuPuis Nature Center remaining parts part of Florida Atlantic University's Center for Environmental Studies. Beside research, the office gives different sporting and instructive open doors in view of creatures and the environment to guests.
The middle hosts both indoor and outside areas, including an assortment of interesting, intuitive displays, a considerable lot of which were made in light of youthful guests. The staff routinely arranges nature strolls and other learning open doors, and there's additionally a popular butterfly garden.
Seminole Casino Brighton
Seminole Casino Brighton on Reservation Road in Okeechobee is similarly near Vegas as sightseers to the Sunshine State can hope to go, with around 30,000 square feet of region and in excess of 350 gambling machines. The gambling club was perfect, wonderful, and brimming with food and other amusement choices as well as gaming, as indicated by past clients, and it was the ideal spot to hang out during the hottest piece of the day in Florida.
Continuous speculators who join the gambling club's player's club can get a good deal on products they'd ordinarily purchase in any case, for example, show passes, spa visits, and trinkets.
Okeechobee Battlefield Historic State Park
Local Americans combat gallantly against decided rookies plan on overcoming their genealogical terrains between the early and mid-nineteenth hundreds of years. On Christmas Day in the last part of the 1830s, the Battle of Okeechobee pitted north of 1,000 government powers against an aggregate of neighborhood minute men.
Miccosukee and Seminole fighters were among the Native Americans. The US powers guaranteed triumph on account of their more noteworthy numbers and complex weaponry. The battle was a defining moment in the contention, with the Native Americans never recapturing their strength. The landmark, situated on SE 38th Avenue in Okeechobee, is an unquestionable requirement for neighborhood history and Indian culture lovers.
See nature while Visiting Lake Okeechobee
Savannas Preserve State Park
Savannas Preserve State Park, situated between Jensen Beach and Fort Pierce on the Atlantic coast, isn't your standard beachside park. All things being equal, it has pine woods, inland bogs, and unmistakable Florida wet prairies that aren't seen elsewhere on the planet.
The recreation area covers in excess of 7,000 sections of land and is home to a fantastic assortment of greenery and creatures. Outdoorsy individuals, natural life lovers, picture takers, and climbers run to this area specifically. A guest's schooling community with intelligent presentations and a gift shop are likewise accessible, and directed visits might be planned nearby.
Port St. Lucie Botanical Gardens
Botanical gardens might be phenomenal departure spots for pushed travelers burnt out on business attractions and long days around the ocean. The Port St. Lucie Botanical Gardens, situated on SE Westmoreland Boulevard, are an enthusiastic desert spring of serenity in a generally jam-packed locale. A free fascination can keep families involved and drawn in for a really long time without squandering cash.
The nurseries are open from Wednesday to Saturday, and there are different developed areas with both local and colorful plants. It's additionally where you can get diversion, expressions and artworks, and directed journeys, in addition to other things.
Kids Enjoy Visiting Lake Okeechobee, as well
Children's Museum of the Treasure Coast
Families visiting Okeechobee track down a ton of convenient options available to them. Without a doubt, numerous choices flourish, in contrast to those meeting different spots with essentially fewer family-accommodating attractions. The Children's Museum of the Treasure Coast is perhaps the most famous attraction for guests visiting the Atlantic coast.
You track down it on NE Indian River Drive in Jensen Beach and is loaded with fun and informative presentations for youngsters. It covers different subjects, from creatures and nature to space investigation and innovation. The passage cost is moderately low by excursion fascination norms, and they're open most days from early in the day to late evening.
First Data Field
Baseball fans visiting Florida during spring are preparing to track down plenty of tomfooleries. Experience watching preseason games between clubs from everywhere in the country. They practice here, getting ready for the forthcoming Major League season. The New York Mets' spring preparing home, First Data Field, is situated in Port St. Lucie and was worked in the last part of the 1980s.
In excess of 7,000 individuals might sit easily in the best-in-class arena. Most view that as seeing a game or two and partaking in a frank and lager gives sensibly evaluated diversion. These slow time of year games give a reasonable option in contrast to expensive major-association arenas during the standard season.
Jaycee Park
Despite the fact that Florida has numerous costly retreats and towns, experienced vacationers track down the best places. Figure out how to uncover a couple of treasures waiting to be discovered without wasting cash or going through a large portion of a day in the vehicle. Jaycee Park, in Vero Beach, is one of the town's lesser-known treasures, including quiet, beautiful seashores and an assortment of administrations that make going through an entire day both charming and helpful.
Swimmers, sunbathers, and shell gatherers go to Jaycee Park. Restrooms, showers, and many covered it are accessible to sit places. Guests value that an enormous piece of the recreation area remains wheelchair open. Furthermore, it has an assortment of extraordinary occasions and celebrations consistently.
The Vero Beach Museum of Art
A critical number of workmanship historical centers and exhibitions in Florida show works in a scope of mediums by specialists from everywhere in the world. The Vero Beach Museum of Art traverses in excess of 50,000 square feet and comprises five exhibitions. Canvases, models, and hand-blown glassworks, to specify a couple, are among the super durable assortment's features.
The gallery's assortment highlights work by neighborhood and local craftsmen, and it has an advanced hall that offers live diversion and visitor teachers. More than 100 classes are given to beginner painters and nearby specialists over time.
Also nearby when Visiting Lake Okeechobee
Pelican Island National Wildlife Refuge
Pelican Island National Wildlife Refuge has one of the state's most seasoned untamed life asylums. The asylum stays open to guests consistently from dawn to nightfall. As its name shows, the asylum tracks down favor among numerous for the various pelican species that call it home. They're extremely interesting birds to see for guests from various pieces of the country.
Past guests said that the asylum appeared to be hot and loud more often than not. In any case, they partook in the features of their excursion to Florida with the untamed life. Manatees, dolphins, and ocean turtles live here. Guests frequently see them in the oceans around the safe haven.
Vero Beach Theatre Guild
The Vero Beach Theater Guild, situated on San Juan Avenue, flaunts a local area-based office. It makes fantastic creations with nearby entertainers and chiefs. It's turned into a famous traveler objective as well as a nearby home base. Emotional plays, entertaining comedies, and regular musicals are among the theater's contributions, and it has an over five-decade history in the area.
Each show includes great many worker hours, and most visitors report that the exhibitions altogether surpassed their assumptions. Tickets are economical, and seeing a melodic is a great method for going through an evening unwinding. You additionally help by adding to the local area.
Vero Beach Wine and Film Festival
Films and wine make a perfect fit. The Vero Beach Wine and Film Festival is the ideal social affair for film buffs. Grape and wine fans track down extraordinary delight, as well, as a matter of fact. It's a three-day celebration in June that is engaging for individuals of any age and interests, and it incorporates an assortment of social, imaginative, and comprehensive developments also.
Get-togethers with entertainers and makers, culinary occasions supported by nearby cafés and cooks. Additionally, heaps of moving, film appearances, and family-accommodating exercises are among the different exercises.
Consider Visiting Lake Okeechobee
If you're seeking a quiet vacation where you can forget about your concerns, then you should go to Okeechobee, Florida. It is a city in the same-named county that looks into old-fashioned Florida. With all of the natural beauties and a laid-back ambiance, this is the vacation you've been looking for. Okeechobee is located near Lake Okeechobee, Florida's inland sea, which offers a variety of activities such as cycling, hiking, fishing, boating, and more.
In November, you can camp with the Loxahatchee Chapter of the Florida Trail Association. Enjoy camping for up to six days during the annual Big O Hike. For more than 25 years, the yearly event has taken place. Visitors may attend the annual Sugar Festival in April.
Nearby lake communities hold yearly festivals, such as the Swamp Cabbage Festival in LaBelle in February, the Speckled Perch Festival, and Okeechobee Cattlemen's Rodeo Okeechobee, both in March. You may reserve a hotel room, live in a trailer, rent a vacation home, or camp out in the wilderness.
Read More:
https://www.co.okeechobee.fl.us/departments/tourist-development/top-10-things-to-do-in-okeechobee-county-florida