==================
A Caveat and Affiliates
First off, a little caveat: within my articles you will find affiliate links, meaning if you buy them, I get a small commission. Your cost is not affected. In addition, I am an Amazon Associate and I earn from qualifying purchases on Amazon.
And yes, if I say that I recommend a product here, it means I truly believe it is a good product. I refuse to recommend any product that I have not researched and believe to be a good value.
Even better, I provide you with a very clear picture of the product, it's use, and the probable value.
Earning your trust is important to me. I run this website myself and the commissions and donations help support the site.
Sound reasonable and fair enough? Let's continue to the article.
==================
Florida is known for its stunning waters, incredible wildlife, and fascinating festivals. Here is everything you want to know about renaissance festivals in Florida.
Finding Renaissance Festivals in Florida
Florida's incredibly rich folklore and piracy history come to life every year with great medieval fairs and festivals. Renaissance Festival in Florida offers countless opportunities for visitors to experience and revisit the times of yore, chow down on royal cuisine, or catch an appealing old-fashioned jousting tournament.
Florida renaissance festivals are basically to celebrate the enthralling culture of Medieval Europe. During a renaissance festival, you can see fanatics dressed up in maiden and sire apparel, spot seriously convincing actors roaming the pathways, or hear performers cracking a bawdy joke. In fact, the renaissance festival in Florida will make you feel like a villager while pilfering through markets.
In this post, we will talk about Florida renaissance festivals, what they are, and when and where you can enjoy them.
So, let's get started!
Renaissance Festival in Florida
For three decades, Florida renaissance festivals let festival-goers back in time where they can become Vikings, villains, heroes, and pirates of age-old legends. A renaissance festival is basically a theme park representing Europe's historical culture in the 14th-17th centuries.
This period is known as the renaissance, and participants in renaissance festivals in Florida attempt to refabricate the feel of this early age with architecture, archaic costumes, and speech patterns. These renaissance festivals are also known as renaissance fairs or faires and showcase handmade crafts and arts along with live entertainment.
It is worth noting that renaissance festivals in Florida are part of a broader trend of historical re-creation festivals around the world. Renaissance festival is a seasonal, outdoor activity with faire grounds usually located on the outskirts of cities.
Europe's renaissance period was a high cultural and scientific advancement. Additionally, the era has been a matter of intense fascination in succeeding countries, mainly for the ones with interest in art, history, and social sciences. While each Florida renaissance festival is an independent entity, enthusiasts are encouraged to embrace archaic costumes and speech methods and pretend to ignore modern conveniences.
Moreover, remember that renaissance festivals in the US are often weekend-only and can last from two days to nine weeks. In addition, these US festivals have become a subculture and have been spoofed in movies like Family Guy, The Simpsons, etc.
 When Was the First Renaissance Festival?
The first actual renaissance festival was the Renaissance Pleasure Faire of Southern California in 1962. The festival was actually one-off fundraising happening for a local radio station. It is still pretty much alive today and has grown into an enormous festival that attracts hundreds of thousands of visitors yearly.
It is worth mentioning that this singular event is also responsible for the main renaissance festival movement in the US today.
What to Wear for Renaissance Festivals in Florida?
Think of the Henry the Eighth, Queen Elizabeth I, and the Knights of the Round Table. Have you ever dreamed of being a Viking, Pirate, or Romeo & Juliet? If yes, then renaissance festivals in Florida are for you.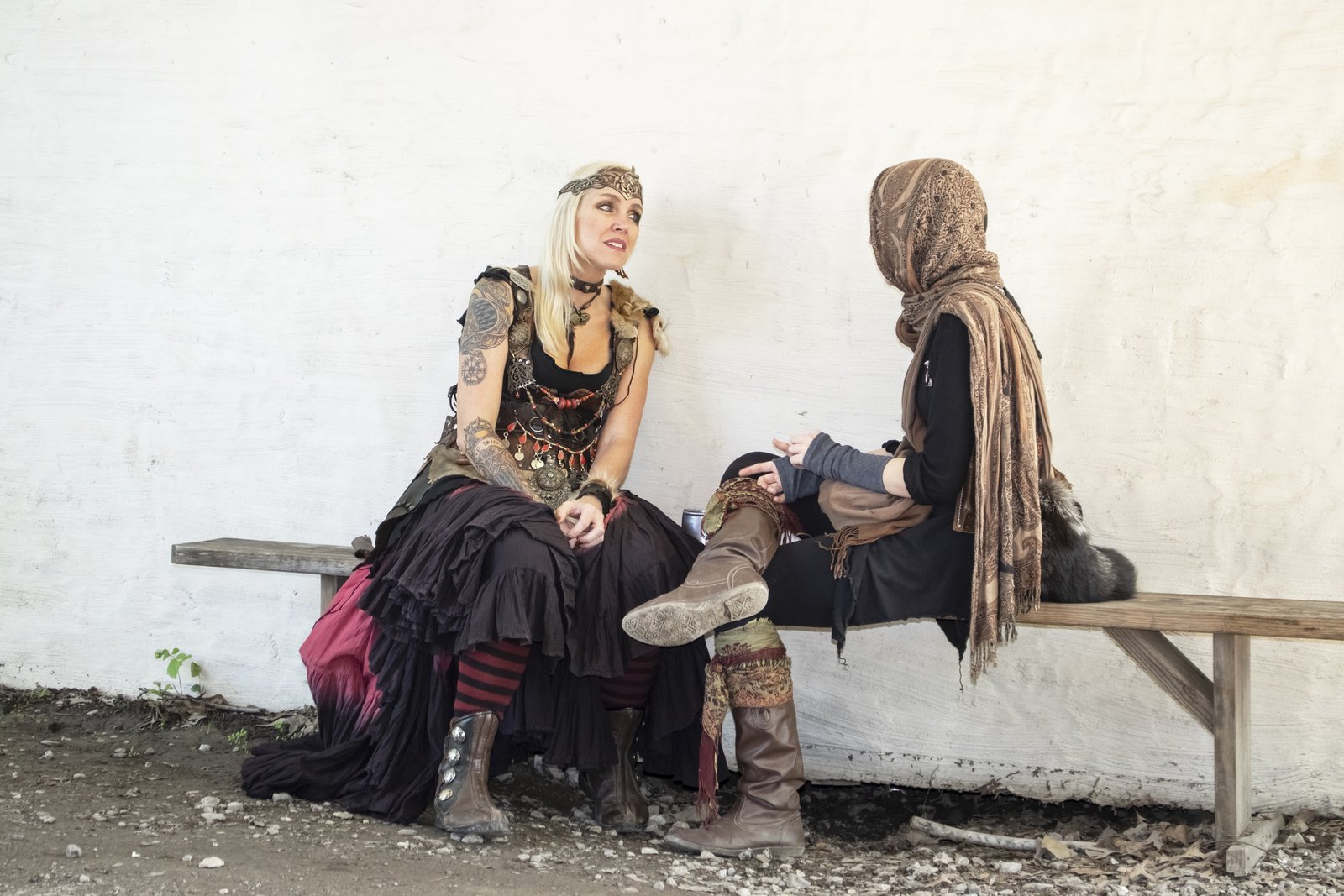 While it is not necessary to dress up in a costume, wearing one is more fun. There are various directions that renaissance festival costumes can go in, from princesses to pirates to gypsies to knights. Moreover, since the renaissance festivals in Florida are all about being someone you are not, there are various personas to choose from. So, if you decide to wear a costume, you will need to choose a persona.
Annual Florida Renaissance Festival 2023
7 Weekends of Splendid Fun

Deerfield Beach, Florida.

Saturdays and Sundays (weekends only)

From 10:00 a.m. to Sunset

February 4th to March 19th, 2023
The 2023 Florida renaissance festival has returned and includes new performers, themed weekends, activities, and much more. Come as you are, or dress up in costume and celebrate the renaissance festival in Florida.
It is an annual festival that rings in February/ March and runs for seven consecutive weeks. In the 2022 renaissance festival, there were over 100,000 attendees. Conveniently situated in Deerfield Beach, the 2023 renaissance festival in Florida has something for everyone, from kids to adults, witches to warlocks; enjoy shopping, eating, playing, and more.
Moreover, the festival will feature a broad selection of artisan vendors and entertaining performers. Attendees will have a rare opportunity to go back to the 16th century, listen to music, enjoy crafts, and watch athletics. In addition, there will also be plenty of food and ale, which will welcome attendees of all ages.
Themed Weekends and Specialty acts
The award-winning Florida renaissance festival includes a kaleidoscope of educational, cultural, exciting, and delightful experiences for all ages. These themed weekends and specialty acts will allow you to make memories that will last a lifetime.
1.      Pirate Invasion – A Swashbuckling Adventure
Weekend-I: February 4th-5th
Calling pirates, buccaneers, and scallywags, the renaissance festival in Florida invites you all to come aboard and set sail for a swashbuckling good time at the edge of Quiet Waters Park. The port will host the annual music festival and merriment, with the pirate crew welcoming you to a splendid merchant marketplace. You will see wondrous wares from across the world.
In addition to that, there will also be diverse entertainment, food, and drinks for the captain, crew, and you to enjoy. Raise your stein and scream, "land ho, here there be fun."
2.      Vikings – The Warrior's Weekend
Weekend II: February 11th-12th
Vikings came roaring from the icy mists of the far North in longboats and flame. Conquerors, world travelers, and explorers, these valiant protectors and warriors are known for establishing trade that introduced Europe to the goods and customs of far-off cultures.
While they are loyal and friendly, Vikings are yet fearsome foes. Since the 2023 renaissance festival in Florida will ring the bell soon, you can say hello to them.
3.      Steampunk Time Travelers – The Revolution of Invention
Weekend III: February 18th – 19th
Steampunk week is another beautiful week of the Florida renaissance festival. And the unpredicted is never a surprise on Steampunk weekend. During the show, all time and space converge at the junction of technology and literature. Many of you may find this week of wonder clever and confusing at the same time.
Moreover, as an attendee, you will be celebrating a past that never was and a future that nobody might ever see. However, for Steampunk time travelers, everything is possible in the lush fields of invention and imagination in the Kinmmendale village. It is an exploration that spans centuries.
4.      The World of Wenches – A Gorgeous Empowerment
Weekend-IV: February 25th – 26th
The wenches' weekend in renaissance festivals in Florida, you will be honoring and celebrating all the magnificent Goddesses in your lives. This weekend is for all the incredible women who "get it done." They are our wives, mothers, sisters, and daughters, as well as those beautiful and incomprehensible muses who inspire art, music, and poetry.
Moreover, wenches weekend also allows an opportunity for all the gentlemen of the village to bow down to these beauties with the most profound respect and heartfelt affection. It also allows the men of the town to demonstrate their utter dependence and submission to those who live in their hearts and inspire their actions.
5.      Heroes and Villains – The Cosplay Carnival
Weekend-V: March 4th – 5th
The weekend of heroes and villains in the Florida renaissance festivals takes attendees back to the fascinating old times. The armies of light and the warriors of darkness can be seen wandering the village. So, will chaos reign, or will God's affluence prevail? Do you wish to step out of your life and get into your desired animation? It's all about how you enjoy the game of life.
Moreover, whether you are a hero or a villain like to wear a cap or spandex, it's like two sides of a coin. However, remember that without darkness, it's impossible to notice the light.
6.      Highland Fling – The Celtic Celebration
Weekend-VI: March 11th – 12th
The Highland fling weekend is an excellent and delicious week. Attendees will be eating, drinking, and marrying as they revel in the secrecies and brilliance of the Celtic nations of Brittany, Scotland, Cornwall, Ireland, and Wales. The festival also allows one to admire rich art, music, storytelling, dance, and superstitious traditions.
Moreover, everyone is Irish on St. Patty's day, so wearing something green is an exciting idea to be a part of the celebration.
7.      Potter's Magical Finale – The Frolic of Faeries
Weekend-VII: March 18th – 19th
The Staff of Hogwarts, Harry Potter, and other Magical Academies of higher learning are calling Angels, Fairies, Elves, Goblins, Ghosts, Nymphs, Imps, Pixies, and Zombies. Magicians, Sorcerers, Druids, Saints, Students, Witches, and Wizards are also welcome.
The Magical finale weekend of Florida renaissance festivals is all about experiencing the unseen world around us with the blessing of empowerment and enchantment. Whether you are a Hufflepuff, a Gryffindor, a Slytherin, or a Ravenclaw, all are welcomed to this awe-inspiring magical village where imagination rules.
In addition to the above-mentioned themed weekends, renaissance festivals in Florida include various fan-favorite acts, performances, and entertainment.
Top Renaissance Festivals in Florida
1.      Gulf Coast Renaissance Faire
While renaissance festivals and pirates go hand-in-hand, this one is both. The faire is themed around the 16th century's Gulf Coast and takes place in the third week of November in Robertsdale, Alabama, over the Florida border.
Age-old comedy, skilled performers, dragon slayers, and even a little magic make the stages come alive. Moreover, vendor booths peddling renaissance goodies and crafts are woven through the entertainment platforms. Attendees can showcase their archery and axe-throwing skills or enjoy the jousting events.
2.      Palm Beach Renaissance Festival
Unlike longer weekend renaissance faires, the Palm Beach renaissance festival in Florida lasts only two days at the Kelsey Theatre. While it is a smaller festival, the event is packed with an assortment of food trucks and vendors that offer handcrafted items.
3.      Lady of the Lakes Renaissance Festival
Lady of the Lakes renaissance festival is yet another fun event that takes place in Tavares, Orlando. The festival is a weekend event and lasts for two weekends in November. Offering an undeniably authentic feel, artisan shops lined on dusty roads and exceedingly committed actors elevate the entire experience.
Moreover, attendees can enjoy turkey legs with crispy skin and other delicious food like fried Scottish eggs and mac and cheese cones. While enjoying Lady of the Lakes, kids will be wowed by fire eaters, and fairies and pixies will blow glitters around your little princess.
4.      Sarasota Medieval Faire
Sarasota medieval renaissance festival in Florida is another exciting event with performances scattered through fairgrounds. Hilarious comedy at the wenches show and incredible acrobatics are the things that entice visitors the most. Moreover, horse trot about, and the aroma of smoked meat floats around.
While the food here is limited compared to other faires in Florida, the quality is exceptionally high. The faire takes place in November and December, which means even St. Nikolaus will be there.
5.      Bay Area Renaissance Festival
Located in Tampa, the bay area renaissance festival kick off in February and lasts till March. While themed weekends are enough to surprise visitors, the core attractions are the entertainment stage and European village with a genuine marketplace. Moreover, the bay area faire also has a few distinctive attractions that separate it from many others.
For instance, it includes the otherworldly Unicorn Realm, something exceptional. Furthermore, themed weekends have pet days, highland games, and an extensive market to keep things exciting.
Wrapping Up
That's all about renaissance festivals in Florida. Have you ever been to the renaissance faire? How was your experience, and what did you enjoy the most? Let us know in the comments below.
You Might Also Like: