==================
A Caveat and Affiliates
First off, a little caveat: within my articles you will find affiliate links, meaning if you buy them, I get a small commission. Your cost is not affected. In addition, I am an Amazon Associate and I earn from qualifying purchases on Amazon.
And yes, if I say that I recommend a product here, it means I truly believe it is a good product. I refuse to recommend any product that I have not researched and believe to be a good value.
Even better, I provide you with a very clear picture of the product, it's use, and the probable value.
Earning your trust is important to me. I run this website myself and the commissions and donations help support the site.
Sound reasonable and fair enough? Let's continue to the article.
==================
WHAT TO WEAR WHEN GOING KAYAKING
Kayaking is an exciting way to get outside, be active, and learn new skills. However, like with any outdoor activity, dressing appropriately for kayaking is essential if you want to maximize your time on the water. In this article, I will show you what to wear when going kayaking.
When it comes to kayaking or canoeing, what you wear depends on various circumstances and can make or break your experience. So, how do you choose out your outfit? Will you need any extra clothing or gear for the night?
The weather is the most critical factor to consider while organizing your kayaking adventure. You can dress appropriately and be safe if you have an excellent concept of what the climate will be like and how it will fluctuate.
We've included some helpful information to help you figure out what you'll need and what to wear for your next kayaking excursion.
We'll walk you through what to pack for a multi-day excursion and dress in weather changes and water conditions. Let's get started!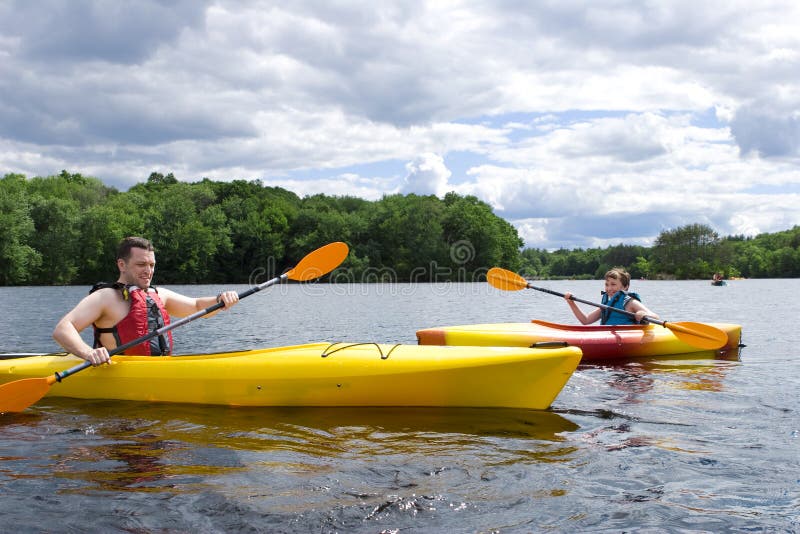 Kayaking Clothing Tactics in General
Consider the same standards you would ask of your regular outdoor clothing while planning for kayaking. Layers that are adaptable, durable, and comfortable are required. In a nutshell, something that will keep you safe from the elements while still allowing you to enjoy yourself.
The following are approximately the characteristics of these garments:
Such clothes contain quick-drying materials
Clothes should face challenging weather
Clothes that protects against the sun
Some Basic Guidelines
Follow these general rules when picking what to wear kayaking:
Always wear your flotation device (PFD) or lifejacket when kayaking. When kayaking, some individuals find lifejackets restricting. Therefore, it's better to invest in a kayak-specific lifejacket to give you as much mobility as possible. Put all reservations about appearing "stylish" aside and put one on.
Prepare for the temperature of the water, not the air temperature; this may demand a wetsuit or drysuit.
Layer your clothing, especially on top.
Wear sun-protective clothing. A day on the water, regardless of cloud cover, is a day of sun exposure. As a result, wearing apparel made of UPF-rated textiles is a sensible decision.
Avoid cotton in all layers since it absorbs water and retains moisture; instead, look for quick-drying textiles. Use wicking, quick-drying nylon or polyester for every garment layer that comes into contact with your skin (or another synthetic fabric). Wool is a good choice since it dries slowly yet insulates well when wet.
Dress in comfortable clothes that allow you to move freely, enabling you to sit for lengthy periods.
Look for abrasion-resistant textiles that can withstand the stress and strain of sand, water, and any other abrasive materials in your kayak.
Stay away from rusty zippers, hooks, and hardware: Many metals rust when exposed to water, especially saltwater. Therefore, rigid plastics are a viable option. Metal components in paddling-specific gear are almost certainly corrosion resistant.
Keep These Items At Home.
Jewelry
Bands, collars, and rings should leave at home. They may hook on anything and impede you from escaping, or they may slide off and drop to the bottom. Choose a water-resistant watch or fitness tracker. Moreover, your watch should endure splashes from paddles or a rapid dive into the water.
Cotton
A proverb in the outdoor culture goes, "Cotton kills." Cotton takes much time to dry once it has been wet, and it might keep you chilly, exposing you to hypothermia. It's also not a suitable choice for a base layer because it doesn't drain sweat away from your skin.
Check Weather Conditions before Kayaking
The environment where you want to kayak will be the most crucial aspect in selecting what you should dress. While the weather can influence your clothing choices, the water temperature is likely to be more critical in the case of a capsize. Bear in mind the weather prediction for the days you'll be on the water, as well as the environment where you'll be kayaking.
Warm Weather
Dressing for kayaking is straightforward if you reside in a hot section of the globe with warm water. Staying cool, hydrated, and sheltered from the sun will be your main problem. However, you are used to these conditions. The most straightforward method is to apply sunscreen and wear a hat.
Sunglasses are also helpful because the glare from the water may be blinding. Moreover, use a retainer strap to keep them from falling off your face. Of course, the best approach to protect oneself from the sun is to cover yourself so that a light, long-sleeved shirt could be appropriate. Surf shorts and swimming shoes or sandals work well below the waist.
Kayak Clothes for Mild Weather
If you've calculated that the water and air temperatures will be warm while you're paddling, you'll want to wear gear that is both comfortable and light.
There are a handful of steps to follow:
Tops
Rashguards, composed of polyester or nylon combined with Lycra elastic, can dry rapidly. Moreover, they stretch well, and have high UPF ratings to protect against UV rays, which are ideal for kayaking. When layered with other garments or a wetsuit, its skintight style and flat-seam construction make them even more comfortable. You can also use your preferred artificial or wool top layer.
Bottoms
You may wear whatever is suitable and quick-drying; board shorts or comfy quick-dry pants are ideal alternatives. Things that bind or chafe should avoid. Like those seen in specific synthetic yoga trousers, super-thin materials cannot withstand the frequent moving in your seat while you paddle.
Outer Layer
Choose a quality waterproof/breathable jacket and rain trousers if you expect to expose to considerable rain or wind. Paddling jackets are helpful because they contain gaskets at the wrists and neck to keep the water out. They're beneficial for preventing drips from running down your paddle shaft. A breathable/water-resistant jacket can suffice if you're going on a short outing and don't expect much rain.
Mid Layer
If the weather doesn't call for a wetsuit or a dry suit, packing a fleece jacket or another warm, synthetic mid-layer is a good idea.
Kayak Footwear
Kayak booties made of neoprene are suitable because they are lightweight, water-resistant, and protect the toes and soles of the feet. Any shoe that accomplishes the same thing will suffice. On the other hand, water sandals are less protective than booties and can accumulate gravel, sand, and mud underfoot while putting in and taking out. Anything without a back strap, such as flip-flops, should be avoided since they fall off your feet too quickly.
You may also acquire waterproof socks or waterproof paddling booties for rainy weather if rain or wave splash is probable. Another option for increased warmth in the rain is to wear thick non-cotton socks inside your boots.
Hats
Look for caps or capes with large brims. If you don't have a bow tie or another reliable means to attach your hat, consider a cap chain. You may also need a scarf for comfort, and it should fit tightly under or over your existing hat.
Gloves
Paddling gloves help protect against blisters and windy days. Another rainy day alternative is "pogies," which attach to the paddle and allow you to insert your hands inside to hold the shaft. Some individuals like them because neoprene gloves enable them to hold the paddle directly while simultaneously protecting their hands from the outdoors.
Helmet
Anyone trying whitewater kayaking should wear a helmet as a precaution. It's also a practical item to have with you on any travel. Even on the calmest of waters, a helmet can protect you from injury in the event of a collision.
Always wear layers.
When it comes to outdoor recreation, the rule of thumb is to dress in layers, and kayaking is no exception. Thin layers adjust to changing weather conditions, are better for insulation to keep you warm, and are often looser to allow for mobility and aid in temperature regulation.
Some drysuits include a fleece lining that eliminates the need for a base layer. You'll need to purchase drysuit liners or use wicking waterproofs if you don't have any.
Spare Clothing
A dry bag stocked with backup clothing will ensure that your clean clothing stays dry even if you wind yourself in the water while camping. Synthetic materials that wick moisture are suitable for packing since they dry rapidly.
It's a good idea to have waterproof gear with you, such as trousers because they can use both when paddling and on land. It's also a worthy impression to bring a waterproof jacket.
Conclusion
Kayaking clothing is comparable to that required for other outdoor activities. You should dress appropriately to be dry and warm when kayaking, ensuring a safe and pleasurable experience. It would help if you had a better idea of what to dress to be relaxed the next time you go out on the lake. Look for breathable, lightweight fabrics that will allow you to move and paddle easily. Bear in mind the weather circumstances. Finally, while shopping, look for durability, adaptability, and comfort.
Read More: