==================
A Caveat and Affiliates
First off, a little caveat: within my articles you will find affiliate links, meaning if you buy them, I get a small commission. Your cost is not affected. In addition, I am an Amazon Associate and I earn from qualifying purchases on Amazon.
And yes, if I say that I recommend a product here, it means I truly believe it is a good product. I refuse to recommend any product that I have not researched and believe to be a good value.
Even better, I provide you with a very clear picture of the product, it's use, and the probable value.
Earning your trust is important to me. I run this website myself and the commissions and donations help support the site.
Sound reasonable and fair enough? Let's continue to the article.
==================
Best Rivers To Kayak In Florida Are Worth Experiencing
Florida is a kayaker's paradise, with its many rivers and waterways winding through the state. Here are some of the best rivers to kayak in Florida, depending on what you're looking for in a kayaking experience. Whether you're a beginner or an experienced kayaker, there's a perfect river for you in this Sunshine State list!
For those who want a leisurely paddle: try the Withlacoochee River or the Blackwater River. If you're looking for something more challenging: check out the Suwannee River or Santa Fe River. And for those seeking an adventure: don't miss out on paddling down the St. Johns River! No matter which Florida river you choose to kayak, you're
The best rivers to kayak in Florida are the spots people often visit for peace and escapades. It's where plenty of flat and whitewater spots are for paddling. Also, travelers there can see all sorts of aquatic wildlife within and along the shores. Still, friendly locals and experts cater who always prepare and cater to guests. So, whatever size and type of boat and excursion travelers are looking for, Florida likely has it.
Besides, the Sunshine State has more than a thousand miles of coastline. It also has thousands of rivers and creeks. Many of these areas for serene and fast-moving activities. It's only up to the excursionists to pick which locations to visit. Thus, when it comes to water recreation, going to Florida is an excellent decision.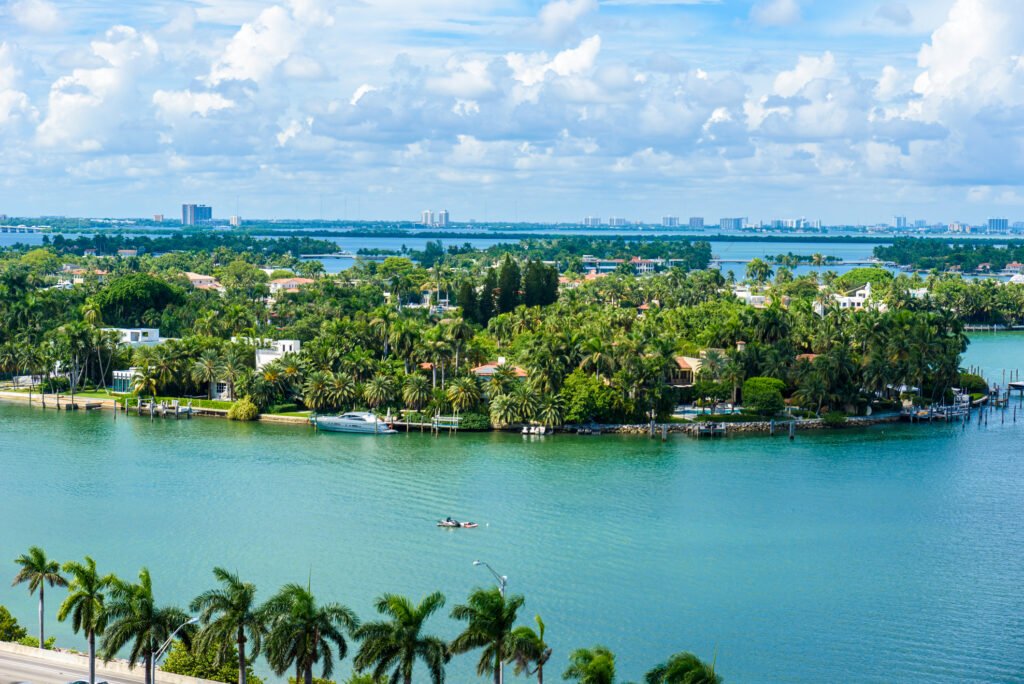 Before Trying The Best Rivers To Kayak In Florida
Instead of heading to one of Florida's waterways right away, make preparations first. After all, it's in having readiness wherein trips become safe and enjoyable. This is even if there are people in the areas for recreation to guide and provide for travelers. As tourists, we are still responsible for ourselves. Thus consider a few things before reaching the exciting places to visit in Florida.
Things To Think About Before Kayaking
Kayaks and canoes are different things. The shape of the vessels only has similarities. More often than not canoes are bigger with their top open.

Kayaks are easier to maneuver, considering that they are smaller. Plus, they use double-blade paddles for alternate paddling to move on the water. So it's easy to see why they move faster and can change directions with ease. Canoes can move faster with at least two persons. That would be since people on them use single-blade paddles. So it may be challenging to go in straight lines on a canoe.

Usually, canoes are longer and are around 16 to 17 feet in length. Kayaks are often shorter and about 10 feet long only. But there are longer versions of kayaks too.

There are different hardshell and inflatable kayaks for sale and rent. While there are those for solo kayaking, there are those for tandem tours. Folks use them for enjoying the serenity and also in overcoming tough rivers. There are even folks who kayak for fishing. Thus ,there are many options for recreation.
Some Of The Best Rivers to Kayak In Florida
Florida has around 1,700 rivers distributed in different counties. Many navigate them for leisure purposes. Yet some rank to be the best. Here are some examples of the ones that folks recommend and frequent.
Fort Lauderdale Waterways
The city has many or about 300 miles of navigable intercoastal waterways. The man-made and natural channels allow for activities like paddleboard and kayaking. These make it possible to see the city from afar and even immerse with nature and local wildlife. There are so many scenic views like the Las Olas Boulevard in Fort Lauderdale. Thus folks call the place the Venice of America in South Florida.
Passing these canals can even lead to the historic New River within Broward County. This has North Fork, South Fork, Middle River, and Tarpon River, or the best places to kayak in Fort Lauderdale. Since it connects to the sea, it's where people get surrounded by fresh, salt, and brackish water. So people get plenty when trying the waters of Fort Lauderdale.
Some That Provide Leisure Opportunities In Fort Lauderdale
Blue Moon Outdoor Adventures
This company offers rentals for experienced paddlers and tours for beginners. It provides boating equipment and other things for two to four hours or an entire day. That's starting at $30 to $45 for single and tandem kayaks, and stand-up paddleboards for two hours. The rate is $75 to $90 for a whole day rental. Yet there are also options for renting waterbikes and jetskis too.
More Details
Offers daytime and sunset rentals and tours. Reservations are necessary even for gifted services.

Address: George English Park, 1101 Bayview Drive, Fort Lauderdale, Florida

Official Website:

https://bluemoonkayak.com/
Las Olas Paddle Boards, Boats & Kayaks
This group is very popular in providing the right equipment for tourists. They have a great selection for cruising some of the best rivers to kayak in Florida. It has a variety of boats and even tours to reach and enjoy the best places to kayak in Fort Lauderdale. Paddleboard and kayak rentals cost $30 for 90 minutes. But there's an All-Day Pass for $45. Yet the rates get more expensive when renting group paddleboards and kayaks. Yet, at least, tourists get safety equipment and lessons in all options.
Further Information
It has kayaks, stand-up paddleboards, mini powerboats, and things to get watercraft motorized. In some of their offers, they allow pets and music while on water.

Address: 934 NE 20th Avenue, Fort Lauderdale, Florida

Official Website:

https://www.lasolaspaddleboards.com/
Southwest Florida Waters
This area in Florida has plenty to offer local and international tourists. People dwell, visit, and endorse this region due to its rivers, coasts, fine weather, and flora and fauna. These features make the place perfect for relaxation and exploration. We can say that it's where the best rivers to kayak in Florida are. So it's worth trying for new and even seasoned travelers.
Some examples of the ones that get high ratings are the Caloosahatchee and Peace rivers. Other nice ones are the Withlacoochee, Myakka, Hillsborough, and Estero rivers. It's likely because of their serene waters and the lush greens surrounding them. Of course, there are animals to see in these areas such as alligators, birds, and some deer too. Thus, being nature reserves somehow, we can say that they are valuable rivers.
Some Companies That Make Southwest Florida Enjoyable
Withlacoochee River RV And Canoe Rental
It's a travel and tour company that provides for and guides tourists in getting to and around the river. This one allows travelers to ride boats to immerse themselves in the forests. That is while having the chance to fish for marine life and other creatures in kayaks and canoes. Aside from taking photos of birds, butterflies, and others, narrations are also available. Thus travelers can have a paddling experience, scenic views, and stories altogether.
Extra Specifics
The rental fees and other rates are not on the official website. Yet there are details about the spots on the river where the boats pass. Trips often last for 2 hours but can be longer than that if requested.

Address: Withlacoochee River, Canoe Rentals

Official Website:

https://canoegatorstyles.com/
Adventure Kayak Outfitters Sarasota and Desoto Kayak Tours and Rentals
These groups help tourists see creatures like manatees in the mangrove tunnels. They also guide people in seeing dolphins swim during kayaking. That is within and even beyond the Myakka State Park, Sarasota. The charge is about $55 for a single kayak and $110 for a tandem type. So they provide the best places to kayak in Southwest Florida and worthy experiences too. That's all for reasonable rates.
More Details
They urge travelers to bring a camera, sunscreen, hat, eyewear, and water for hydration. It may become too sunny in the Myakka river during morning and afternoon tours.

Address: 190 Taft Dr, Sarasota for the AKO Sarasota. Emerson Point Preserve 6400 17th St., West Palmetto for the Desoto Kayak Tours. Both are in the South of Florida.

Official website:

https://www.adventurekayakoutfitters.com/

and

https://www.desotokayaktours.com/
Safety When Trying The Best Rivers To Kayak in Florida
River kayaking is enjoyable when people are out of harm's way. In that way, it would be possible and easy to appreciate the water and surroundings. Besides, often, some kayaking problems are preventable. So check the pretty places to visit in Florida but stay safe.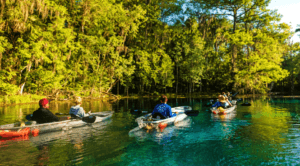 Tips
Put on the right outfit and accessories. Wear something for the water. Paddlers often get wet. Have a personal floating device such as a lifejacket too. It's to have an assurance of staying afloat even after falling in the water.

Consider having some things for safety while kayaking. Examples of important items to carry are those for communication and navigational devices. Place them in plastic bags or reliable containers to keep them dry and functional. With them comes peace of mind when getting to and around the exciting places to visit in Florida.

Check the weather first. Before launching, it is imperative to do this. Extreme weather conditions affect the environment. So, to steer clear of dangers, see the weather forecast to go only when it's likely safe for kayaking.

Paddling signals. Before going, travelers need awareness of these things. It's to know how to communicate while boating without using words. With these gestures, it would be possible to stay on course, avoid dangers, and help others.
Conclusion
Many of the best rivers to kayak in Florida are worth visiting. They provide travelers with wholesome opportunities to get in touch with nature. That is by seeing and even interacting with the flora and fauna of the coastlines, nature parks, and likes. Yet, before reaching these spots, preparations are necessary. That is so travelers would have organized, safe, and pleasurable trips.
Usually, when kayaking, people have to buy their equipment or rent. Most travel hotspots have people that allow travelers to borrow boats. Some even offer guided tours. Yet, instead of depending on these groups for everything, do some research. It's so you could have a guarantee of having a good time.
Florida is a kayaker's paradise, and there are plenty of places to paddle in every corner of the state. From the panhandle down to Key West and all points in between, you can find great kayaking routes that offer something for everyone. Whether you're looking for a leisurely paddle on a placid lake or an adrenaline-pumping whitewater adventure, Florida has it all. So get your paddles ready and start exploring some of the best kayaking spots in the country! Have you been kayaking in Florida? What was your favorite route? Leave us a comment below and let us know. We would love to hear from you!
Read More:
Florida Kayak Trail Beckons Paddlers
Visit The Longest River In Florida