==================
A Caveat and Affiliates
First off, a little caveat: within my articles you will find affiliate links, meaning if you buy them, I get a small commission. Your cost is not affected. In addition, I am an Amazon Associate and I earn from qualifying purchases on Amazon.
And yes, if I say that I recommend a product here, it means I truly believe it is a good product. I refuse to recommend any product that I have not researched and believe to be a good value.
Even better, I provide you with a very clear picture of the product, it's use, and the probable value.
Earning your trust is important to me. I run this website myself and the commissions and donations help support the site.
Sound reasonable and fair enough? Let's continue to the article.
==================
KAYAK TRAILS IN NORTH FLORIDA
We found our favorite kayak trails in North Florida. In addition, these vary from paddling through saltwater, mangroves, and caves to kayaking through woods. In fact, many consider North Florida the most beautiful place to kayak because it has memorable and scenic trails and plenty of wildlife. Moreover, we've compiled a list of kayak trails in north Florida to enjoy outdoor activities and enjoy the scenic, natural Florida.
Also, these locations are ideal for seeing nature and having a one-of-a-kind outdoor experience. Moreover, kayaking allows you to have healthy, socially distancing fun. Read about our favorite kayaking spots in North Florida's backwaters mentioned below.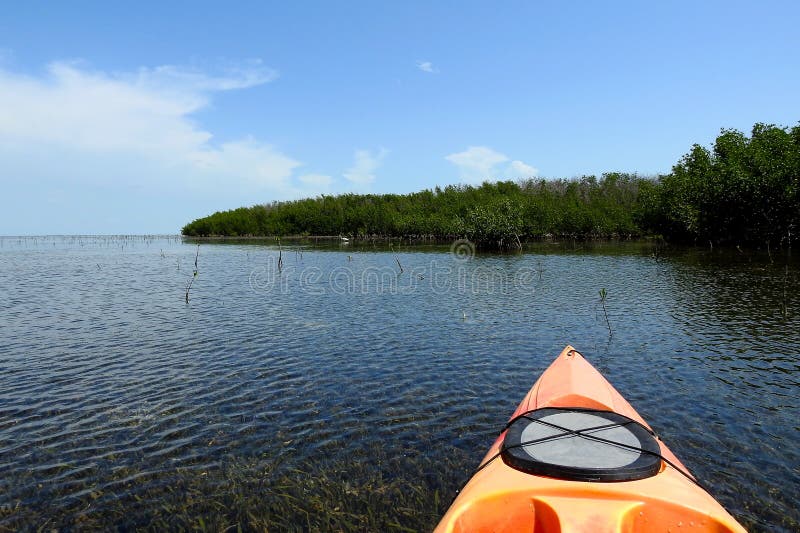 Top 10 Kayak Trails in North Florida
The Wakulla River offers a beautiful, calm river that is ideal for learning to paddle. It offers refuge from the summer sun in Florida. In addition, even the most seasoned paddlers would get a decent workout from it. In fact, this river, which is bustling with wildlife, is ideal for every kayaker, from novice to professional.
Moreover, there are various starting points, and you can either bring your boat or hire one from multiple outfitters. Paddling from the "Lower Bridge" to the "Upper Bridge" and back takes about 4 hours round trip. However, you might choose to turn around at any point before reaching the next bridge if you are running out of time.
The 171-mile Suwannee River Wilderness Trail is perhaps the most popular Florida river adventure. In addition, carry your fishing poles and your camera, for there are great fishing and wildlife watching opportunities along the 100-plus mile stretch. Moreover, visitors who travel by river have an exciting view of the parks. In fact, you never know what you'll find. Even repeat paddlers report new experiences.
Also, depending on the section of the river, you paddle and the present water levels, paddling difficulty on the Suwannee vary from straightforward to very challenging. A variety of outfitters provide day and overnight rentals.
Sea kayakers have long enjoyed multi-day expeditions along Florida's Big Bend Gulf Coast. This isolated location is home to one of the country's oldest and wildest publicly-owned tidal wetlands. In addition, there is a diverse variety of bird and sea life. Depending on which trip alternative you choose, there are several trail access points. In addition, purchase a trail map and guide. Please expect to be alone; it's possible to go a whole day without meeting another human being. Canoes are permitted, but not solo paddlers due to safety concerns.
The Bulow Creek Canoe Trail features a tranquil State Canoe Trail. Every curve in the channel exposes new scenery and wildlife viewing opportunities. Bald eagles and Florida manatees can see on occasion. The Bulow Creek paddling trail provides opportunities to visit Florida's Atlantic coast's grassy marshes. Kayak or paddle down the Bulow Creek Canoe Trail, arguably one of the most scenic kayaking spots on the Florida coast. In fact, the Bulow Creek Canoe Trail is famous for its panoramic views of salt marshes lined with palm trees.
Cedar Key hosts one of Florida's most open, quiet, and dependable places to go dolphin kayaking. You'll experience a peaceful island village on Florida's Gulf Coast, nestled among several minor keys. In fact, this calm village, rich with the almost forgotten past of old Florida, portrays incredibly natural beauty. In addition, it hosts an ample seafood supply. It's easy to kayak with dolphins in Cedar Key. After, as the sun upswings over the tranquil waters of the Gulf of Mexico, take a walk into town.
Relax. Allow the gentle current of the Ichetucknee River to carry you downstream while you take in the sights and sounds of nature at one of Florida's best paddling spots. For renters, check out the rental facility for kayaks, canoes, and stand-up paddleboards in Florida's Ichetucknee Springs State Park. Paddle downstream with family and friends in these crystal-clear waters at your speed. Any time of year, the scenery is breathtaking. In fact, the water is as pure as a swimming pool, thanks to eight big crystalline springs.
The wild Ocklawaha River forms Ocala National Forest's western boundary near Ocala. The Ocklawaha River offers pristine and serene scenery. Additionally, it's lined with old cypress trees for a true stately effect. If you explored the tributaries and paused to take pictures, you might easily spend more time on this journey. Many neighboring spring-fed streams rival the Ocklawaha in terms of pure elegance.
Florida hosts hundreds of spring-fed streams throughout the state. However, many find Juniper Springs among the most pristine. The paddling trail runs for about 7 miles from Juniper Springs Recreation Area to Juniper Wayside Park. Paddling can be very challenging, particularly in high water.
There are no intermediate entry points, so the journey takes about 4 hours on average. Visitors who wish to paddle Juniper Run must carry their kayaks or canoes, arrive before 1 p.m. Moreover, tired visitors need to plan their transportation back to the parking lot. Currently, the shuttle service is not operating, and there are no kayak rentals available.
Be sure to visit Pellicer Creek, which is a rare combination of fresh and saltwater. Pellicer Creek is home to Northeast Florida's most diverse plant and animal ecosystems, and it is not to overlook when exploring the park. Bald eagles, great blue herons, and manatees can see by visitors. Since there is little or no shade, please wear a hat, sunscreen, or other sun covers. At times, the wind becomes a problem because open marshes largely surround the waterway.
Silver Springs and the Silver River are the best rivers in Florida for more tradition, charm, and rare wildlife. The river provides a big, wild, and scenic paddle through the heartland of Florida. Kayaks rentals allow everyone an exciting trip. Of course, you can purchase single and tandem kayaks in both sit-in and sit-on models, so you can go alone or with a friend.
Conclusion
Northern Florida is a beautiful place to kayak. In fact, it has many memorable and scenic trails and plenty of wildlife. Try our above mention kayak trails in north Florida with the family. Let us know in the comments about your experience.
Read More
Kayaking the Florida Everglades
Kayaking with Manatees in Florida
10 Nature Trails in Central Florida
Bicycle Trails in Central Florida
10 Hiking Trails in Orlando Florida Region