==================
Florida Splendors is supported by our audience. When you purchase through one of our links, we may earn a small affiliate commission.  As an Amazon Associate I earn from qualifying purchases. Your cost is not affected.
"Explore the wonders of marine life and ecosystems at the Florida Keys Eco-Discovery Center. Discover nature's secrets in a fun and educational journey."


Close your eyes momentarily and imagine a place where the sun's golden rays dance on crystalline waters. You can feel the gentle breeze carrying the scent of salt and adventure.
Now open your eyes and allow me to introduce you to a real-life wonder. A place where the magic of the Florida Keys comes to life!

The Key West Discovery Center is where the sun shines bright, and the ocean sparkles like a million diamonds.

It is a treasure hunt, but you will find the treasure of knowledge instead of gold. The center takes you on a journey that immerses you in nature and history.

So, prepare as we embark on a virtual tour of the Eco-Discovery Center in Key West. We will explore where the center is, its mission, and the exciting experiences that await you.

Let's begin!
Overview of the Florida Keys
The Florida Keys is a fascinating chain of islands sitting at the southern tip of Florida. The region is often referred to as "America's Caribbean."

This unique archipelago boasts breathtaking beauty and natural splendors, encompassing over 120 miles.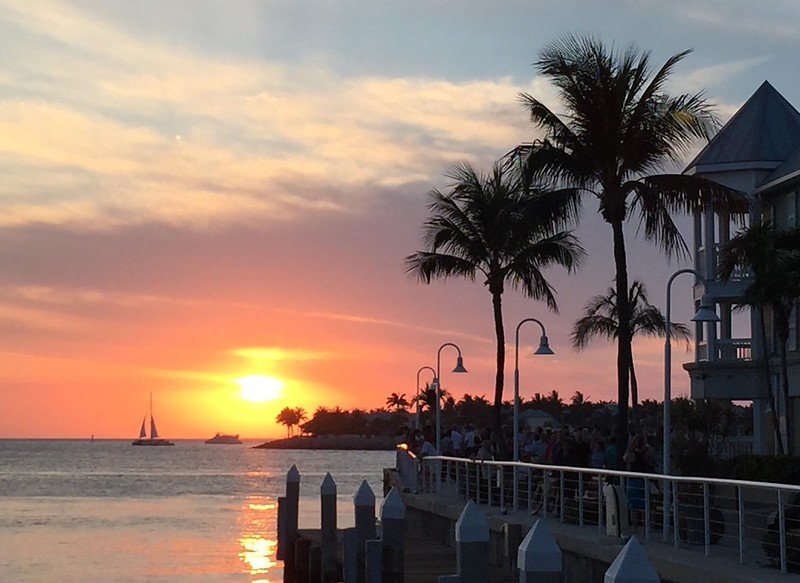 This geological wonder is captivating. The string of coral and limestone islands offer stunning vistas in the United States. One of the most famous is the Overseas Highway, a roadway that seems to float on water as it connects the islands. The blue-green water of the Gulf of Mexico on one side and the Atlantic Ocean on the other creates an enchanting panorama.

Moreover, one of the critical features of the Florida Keys is its incredible biodiversity. The islands are home to various flora and fauna on land and underwater. Coral reefs, mangrove forests, and seagrass beds form a complex ecosystem. It supports many marine life, including fish, sea turtles, and dolphins. Above the water, you can spot unique bird species like the American white ibis and the roseate spoonbill.

However, the delicate balance of these ecosystems faces many threats. These include climate change, pollution, and habitat destruction. That is why the need for conservation efforts becomes paramount.

The Florida Keys are much more than a traveler's paradise. They are vital for our planet's health. Thus, conservation initiatives are critical to protect and preserve these delicate environments. These initiatives ensure that they remain a treasure for generations to come.
Florida Keys Eco-Discovery
Center in Key West
Address: 35 Quay Rd, Key West, FL 33040

The beautiful Florida Keys Eco-Discovery Center lies in the heart of Key West, at the very tip of Florida. It offers a gateway to the incredible natural world of the Florida Keys. The center is easy to access whether you arrive by car, bike, or stroll. Since its opening in 2007, visitors can explore the area without getting their feet wet.

Florida Keys Discovery Center aims to educate others about the area's ecosystems. It invites visitors of all ages to explore and enjoy the delicate balance of life on these stunning islands. And guess what? It is free for everyone.
Thanks to the support from the Monroe County Tourist Development Council and the National Marine Sanctuary Foundation, this 6,000-square-foot space is now even more fun.

Inside, there are many new things to discover. For example, the center showcases an interactive mangrove exhibit. It has a native red mangrove tree with roots that stretch across the room.

Moreover, you can test your listening ability by guessing the sounds of mangrove animals. In addition, it also has a tactile enclosure that challenges your sense of touch.

The renovated exhibits are hands-on and meant for everyone. Behind a captivating picture of the seafloor, there are pull-out displays. These displays reveal seagrass habitats, sea urchins, crabs, and other underwater creatures.

Furthermore, you can also learn about the only coral reef in the U.S. Visitors can see coral structures and learn how tiny creatures called polyps build and live in them.

The Florida Keys eco-discovery Center in Key West is for everyone. It lets you explore, learn, and enjoy the fantastic nature of this unique region.
Visiting the Key West Discovery Center

The Eco-Discovery Center in Key West is a beautiful place with a welcoming staff. Visitors can explore the Eco-Discovery Center in a self-paced tour. However, staff and volunteers are also available onsite. They provide you with more information you may need about the Florida Keys.

Moreover, the center also hosts educational carts on weekends. These programs help visitors to learn about animal adaptations. You will also see skeletons of various sea creatures.

Furthermore, the center has a sensory room for those who want a break from the noise and bustle of a visitor center. You can ask them for sensory kits. In addition, don't worry if English is not your native language. All the exhibits are translated into different languages.
Explore Interactive Exhibits
at Key West Discovery Center
The Florida Keys Eco-Discovery Center is a fantastic place with fun things to see and do. They have interactive displays that teach you about the ocean, coral reefs, and more, all in a fun way. Here is what you can explore at the Key West Discovery Center:
Learn About Corals and Coral Reefs

Eco-Discovery Center in Key West, FL, offers a fun and informative experience. It helps preserve the unique coral reefs found in North America. The center hosts exhibits and displays to raise awareness about these fragile ecosystems.
These exhibits and displays raise awareness about the importance of these ecosystems. Visitors learn why reefs are necessary, their threats, and how to preserve them. This understanding, in turn, encourages people to advocate for protecting these ecosystems.

Moreover, the Florida Keys Eco-Discovery Center also focuses on the local economy and its connection to coral reefs' health. It underscores the economic incentives for reef conservation. Showcasing the economic benefits of coral reefs helps garner support for conservation efforts. In addition, it also promotes sustainable tourism and mindful fishing practices to protect reefs.
Explore Different Plant
Species Found in the Florida Keys
You're mistaken if you think the Florida Keys Discovery Center is only about fish, corals, and critters. While these creatures are the main attraction, you should also pay attention to the plants found in the region.
You can explore hundreds of plant species at the Eco-Discovery Center in the Florida Keys. Mangroves and seagrass, in particular, are vital for the Florida Keys ecosystem. These species have a significant impact on the environment and the local economy.

Moreover, these plants possess a unique charm and are exciting and beautiful. So, take some time to get to know these plants in the sanctuary. You will learn how they help the environment and the Florida Keys economy. In addition, you can also learn how you can help protect these valuable resources.
Discover Maritime History and Shipwrecks

Shipwrecks, resting beneath the surface of the sea, are captivating sites. Not only do they attract marine life, but they are also exciting destinations for divers. These underwater time capsules with historical significance offer fascinating glimpses into the past.

The Florida Keys National Marine Sanctuary is a treasure trove. It boasts a wealth of shipwrecks, each with a unique story. These underwater relics teem with marine life, creating a vibrant ecosystem.
Over 2,000 ships have met their fate within the Florida Keys waters. Visitors to the center can delve into maritime history and explore renowned wrecks. These exhibits showcase projected images of the wreck sites and display long-lost artifacts. Moreover, at the Florida Keys Eco-Discovery Center, there's an old cannon from the 1733 Spanish fleet.

It is a piece of history that connects visitors to the past. You can touch and feel it, reminding you of those who sailed these waters centuries ago. It acts as a time machine, giving visitors a peek into the exciting history of shipwrecks in the area.
Nearby Attractions to Discover
The Hemingway Home and Museum
Address: 907 Whitehead Street, Key West, FL 33040

Are you a literature enthusiast or want to explore a unique and historic destination in Key West, FL? Visit the iconic Ernest Hemingway Museum and Home.

Located at 907 Whitehead Street, the museum was once the home of the legendary American writer Ernest Hemingway.
The museum is a well-preserved French Colonial-style home that takes you back in time. It is where Hemingway wrote his most famous works, like "The Snows of Kilimanjaro" and "The Short Happy Life of Francis Macomber."

Moreover, the house is also famous for its adorable polydactyl cats, known as "Hemingway cats.

This historic gem invites you to explore Hemingway's creative haven. It also stands as the most sought-after tourist attraction in Key West. So take advantage and immerse yourself in the world of a literary giant.
Southernmost Point of the Continental U.S.A.
Address: 1400 Whitehead St, Key West, FL 33040
Are you done exploring the Key West Discovery Center? A visit to the Southernmost Point of the Continental U.S. is a must. The iconic buoy is a popular tourist attraction and a symbol of the island's unique charm.

It is a place where history and culture converge. The buoy was erected in 1983 to mark the southernmost tip of the contiguous U.S. It bears both geographical significance and a cultural connection to the "Conch Republic."
Moreover, the Southernmost Point offers more than just photo opportunities. It provides breathtaking open sea views, inviting you to the calm waters and vibrant skies.

As you stand by the buoy, you are surrounded by the essence of Key West, making it an immersive experience. Its central position allows for easy exploration of nearby places, adding to the appeal of this charming spot.
Truman Waterfront Park
Address: Southard St, Key West, FL 33040
Truman Waterfront Park is a gem near the Florida Keys Eco-Discovery Center in Key West. The spot is worth a visit. It is a testament to the island's commitment to preserving natural beauty.

Truman Waterfront Park has green spaces, walking paths, and scenic views; located along the harbor and next to the Historic Seaport. The park's name pays homage to former President Harry S. Truman. He used this area as a naval station during World War II.
Visitors can explore its lush gardens, perfect for a stroll, picnics, or relaxing in the shade. In addition, the park features playgrounds for children, making it family-friendly. It also has open lawns that host events and festivals throughout the year.

Moreover, the pier is a prime spot for watching boats and cruise ships as they arrive and go. Whether you're enjoying a morning jog or a romantic sunset, it offers a tranquil retreat. The park invites you to appreciate the island's natural beauty and historical significance. It's a peaceful oasis that complements the lively spirit of Key West.
Key West Mangrove Kayak Guided Tours
Experience an unforgettable eco-adventure when visiting the Eco-Discovery Center in Key West, FL!

Visitors can join expert-guided kayaking tours to explore the captivating Key West mangroves. Paddling through shallow backcountry waters reveals a world of natural wonder and discovery.
Moreover, you will get insights into the geology of the Florida Keys and its unique coastal setting. In addition, keep an eye out for a diverse array of creatures that inhabit the mangroves. It is expected to spot colorful birds, tropical fish, crabs, graceful jellyfish, and sea birds. The experience is immersive and ensures a close encounter with local wildlife.
Wrapping Up

The Key West Discovery Center is an environmental education and conservation hub. It is a place that provides visitors a platform to connect with the unique ecosystems of the Florida Keys. In addition, the center also ignites a deep sense of responsibility to protect our planet.

From interactive exhibits to fun programs, it offers a learning experience for all ages. The Eco-Discovery Center in Key West reminds us of the delicate balance in nature. It also underlines the critical role we can play to preserve it for future generations.

As you leave the center, you feel inspired to make eco-friendly choices and commit to a greener future. The center is not just a place to visit but a call to action. Together, we can protect the environment and create a brighter, more sustainable future for Key West and beyond.
Where is the Aquarius Underwater Library in Key West, FL?
The Aquarius Underwater Laboratory is not in Key West, FL. Instead, it is located in Key Largo, within the Florida Keys National Marine Sanctuary. Key Largo is located northeast of Key West. The area offers a unique underwater habitat for marine scientists. It is a place where scientists research and study aquatic life, coral reefs, and more. Underwater Ocean Library brings science and the sea closer to our understanding and appreciation of the marine world.
What is a Free Duval Loop bus?
The Duval Loop is an accessible Key West bus route from the Gulf of Mexico to the Atlantic Ocean. It travels along the main street with many shops, bars, and restaurants. You can get off the bus to explore whenever you like and get back on when you're ready to continue your adventure. It's a convenient way to see all the fun things in Key West without worrying about how to get around.
Does the Eco-Discovery Center offer free parking?
You don't have to pay anything extra when you visit the Eco-Discovery Center in Key West, FL. The center has free parking for its visitors. It means you can enjoy your time at the center without worrying about extra costs. The center is a fun learning place, and with free parking, you can focus on having fun and exploring. So, when you plan your visit, you won't have to consider paying for parking – it's on the house.
Is there an admission fee for the Eco-Discovery Center?
No, the Eco-Discovery Center is one of the few free attractions in Key West.
What can I see at the Eco-Discovery Center?
The Eco-Discovery Center features more than 6,000 square feet of interactive exhibits, including touch tanks, virtual dives, and a mock-up of a coral reef. Visitors can learn about the unique ecosystems of the Florida Keys and how to protect them.
Is the Eco-Discovery Center accessible to people with disabilities?
Yes, the Eco-Discovery Center is fully accessible to people with disabilities, including those with mobility issues. The museum is spacious and open, with exhibitions spread out far enough that getting around is pretty easy.
Discover Florida's Best-Kept
Secrets with Florida Splendors!

At Florida Splendors, we are your go-to guide for exploring the treasures of Florida. You are in the right place if you seek pristine beaches, enchanting nature spots, and unforgettable experiences.

Our mission is to uncover and share Florida's best-kept secrets with you. We believe true beauty often lies beyond the tourist traps waiting to be discovered. We've got everything covered, from secluded springs to serene hiking trails.

Join us on an exciting journey as we introduce you to the Florida most tourists miss. Your next adventure is just a click away. Explore with us and make memories that last a lifetime.
Florida Splendors: Where hidden gems become cherished memories!

Facebook: https://www.facebook.com/FloridaSplendors

Instagram: https://www.instagram.com/floridasplendors/

Pinterest: https://www.pinterest.com/floridasplendors

Twitter: https://twitter.com/FloridaSplendor