==================
Florida Splendors is supported by our audience. When you purchase through one of our links, we may earn a small affiliate commission.  As an Amazon Associate I earn from qualifying purchases. Your cost is not affected.
Imagine a vacation that not only revitalizes your senses but also contributes to the conservation of the environment. Welcome to Key Largo eco tours in the Florida Keys, where you can experience the awe-inspiring beauty of nature while supporting sustainable practices. This blog post will guide you through a green vacation in the Florida Keys, focusing on eco-friendly activities, transportation, accommodations, dining, and conservation efforts offered by Key Largo eco tours.
Short Summary
Explore the natural wonders of the Florida Keys with eco tours, guided mangrove hikes and marine life encounters.
Enjoy sustainable transportation options and green accommodations in Key Largo while exploring other eco-friendly activities beyond it.
Support local conservation efforts through dining responsibly and contributing to preservation initiatives.
Discover the Keys Natural Wonders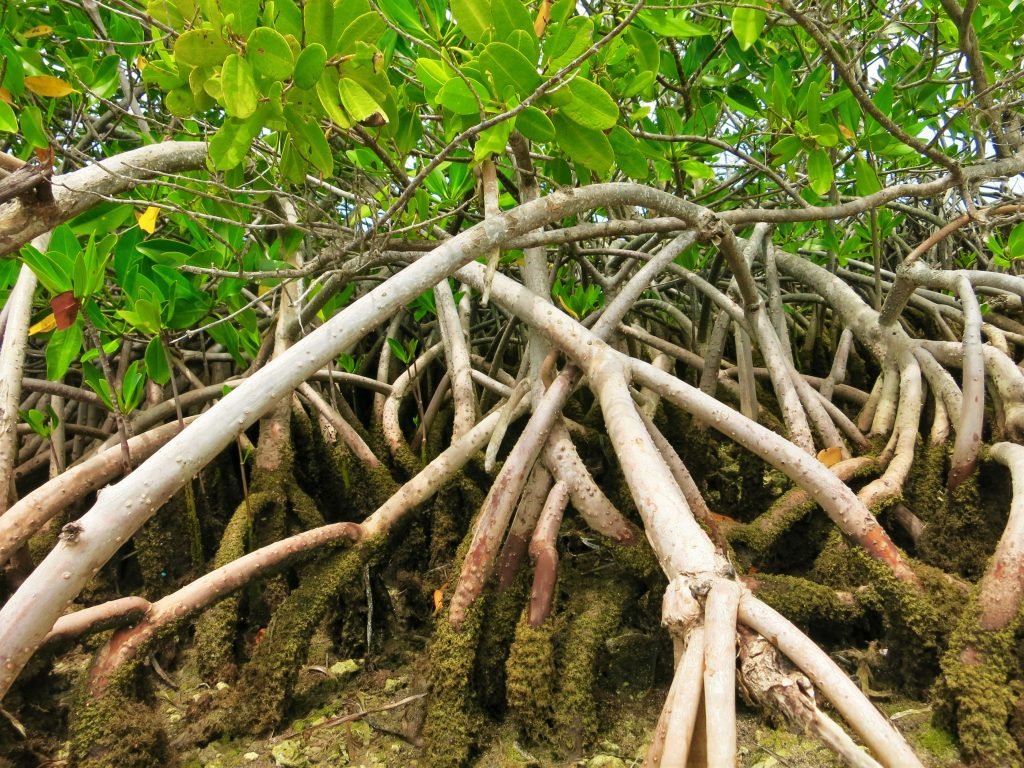 The Florida Keys, an ecologically fascinating place, offers many natural wonders to explore. The Keys are a paradise for nature lovers, from the dense mangrove islands to the vibrant coral reefs. The unique blend of freshwater from the Everglades mixes with the ocean's saltwater, creating an environment teeming with marine life.
As you journey through the Keys, you will encounter many wildlife, including bottle-nosed dolphins, sea turtles, and diverse bird species. Embarking on eco tours is the perfect way to experience the Florida Keys' natural wonders while minimizing your environmental impact. From guided mangrove tours to marine life encounters and wildlife watching, you'll discover a world of beauty and wonder. So let's dive into these eco-friendly adventures and see what the Florida Keys offer.
Guided Mangrove Tours
Guided mangrove tours offer an immersive experience, allowing you to explore the watery mangrove forests and natural tidal creeks of the Florida Keys. As you paddle through the mangrove channels, you'll be surrounded by a diverse ecosystem, home to various bird species and marine life. These tours provide hiking nature trails and birdwatching opportunities, ensuring that you connect with the environment more intimately.
Marathon Kayak, for example, offers guided mangrove eco-tours that take you through the channels and passageways of the Gulf of Mexico, allowing you to explore secluded islands and witness the beauty of the local wildlife. With a knowledgeable guide leading the way, you'll learn about the unique ecosystem and its inhabitants while navigating the winding mangrove channels.
Marine Life Encounters
The Florida Keys' marine life encounters are an unforgettable experience for anyone who appreciates the beauty of the underwater world. Snorkeling over the patch reefs allows you to observe the vibrant coral reef and its diverse marine life. In the John Pennekamp Coral Reef State Park, you can explore the only living coral reef in the continental United States through glass-bottom boat tours or snorkeling and diving charters. Kayak and paddleboard rentals are also available for those who prefer to explore the 50 miles of natural mangrove channels surrounding the park.
For a more immersive experience, consider taking a Dolphin Watch and Snorkel tour in Key West. This small group expedition allows you to observe dolphins in their natural habitat while also enjoying snorkeling and kayaking experiences. The all-inclusive eco tour on a sail cat offers a similar adventure, combining sailing, snorkeling, and kayaking to ensure a memorable marine life encounter.
Wildlife Watching
The Florida Keys offer a wealth of wildlife-watching opportunities, allowing you to observe various species in their natural habitats. For instance, the Great Florida Birding and Wildlife Trail encompasses 10 native habitat stops, providing ample birdwatching and wildlife discovery opportunities.
Backcountry explorations in the Lower Keys offer the chance to witness shallow-water avian species, such as egrets, herons, and kingfishers. The Key West Tropical Forest & Botanical Garden is the only frost-free botanical garden in the continental United States. It provides a home to many endangered and threatened flora and fauna species.
Visiting such locations not only provides an unforgettable experience but also supports the conservation of these precious ecosystems.
Sustainable Transportation Options
As you traverse the Florida Keys, consider choosing sustainable transportation options to minimize your environmental impact. Rental car companies like Hertz, Enterprise, and Avis offer hybrid and electric cars, allowing you to reduce your carbon footprint while exploring the Keys.
Another eco-friendly transportation alternative is FlixBus, which provides car-free bus service in the Florida Keys. Operating daily from 8 a.m. to 8 p.m., FlixBus offers an affordable and sustainable way to travel through the islands. For shorter distances, consider renting a bike from companies such as Bike Key West and Key West Bicycle Rentals, allowing you to enjoy the scenic beauty of the Keys while staying environmentally conscious.
Green Accommodations in Key Largo
When planning your eco-friendly vacation in the Florida Keys, consider staying at green accommodations, prioritizing sustainability through water conservation, energy saving, and solid waste reduction. You can find a range of green accommodations in Key Largo, including Baker's Cay Resort Key Largo, Curio Collection by Hilton, Island Bay Resort, and Kona Kai Resort.
By choosing green accommodations, you enjoy a comfortable stay and contribute to preserving the environment and supporting sustainable practices. These eco-friendly establishments are committed to minimizing their environmental impact, ensuring that your vacation aligns with your conservation values.
Eco-Friendly Activities Beyond Key Largo
While Key Largo offers abundant eco-friendly activities, plenty of other sustainable adventures can be found throughout the Florida Keys. This section will explore eco-adventures in Islamorada, marine sanctuaries in Marathon, and wildlife expeditions in Key West. These diverse experiences will ensure your green vacation is filled with unforgettable memories.
Islamorada Eco Adventures
Islamorada, known as the "Village of Islands," offers a variety of eco-adventures for those seeking a sustainable and memorable experience. Kayaking, snorkeling, and fishing are popular activities that allow you to explore the local environment and observe the abundant marine life. For a unique adventure, consider visiting Robbie's in Islamorada, where you can hand-feed massive tarpon, shop in the open-air market, and partake in various water activities, such as diving, snorkeling, and specialty fishing charters. Long Key State Recreation Area and Windley Key Quarry Fossil Reef State Geologic Area also provide eco-friendly activities, including nature trails and exploring acres of fossilized coral.
Marathon's Marine Sanctuaries
Marathon, located in the heart of the Florida Keys, is home to a wealth of marine sanctuaries that provide refuge to a diverse range of marine life. The Florida Keys National Marine Sanctuary and the Key West National Wildlife Refuge protect coral reefs, sea turtles, and manatees, ensuring the preservation of these precious ecosystems. In addition to their environmental significance, Marathon's marine sanctuaries also offer the chance to support local conservation efforts. For instance, the Dolphin Research Center and the Turtle Hospital are dedicated to conserving and rehabilitating two of Florida's iconic marine species. Visiting these facilities not only provides a unique educational experience, but also directly supports their vital conservation work.
Key West Wildlife Expeditions
Key West, the southernmost point of the continental United States, offers a range of wildlife expeditions that allow you to explore the surrounding waters and observe the local wildlife. Key West Ecosystem. Tours provide small group wildlife expeditions, such as the Dolphin Watch and Snorkel tour, which includes snorkeling and kayaking experiences. The all-inclusive eco tour on a sail cat combines sailing, snorkeling, and kayaking for a truly immersive adventure.
As you embark on these wildlife expeditions, you will have the opportunity to observe dolphins in their natural habitat, snorkel among vibrant coral reefs, and kayak through the pristine waters of Key West. These eco-friendly activities create lasting memories and contribute to preserving the local environment.
One of the best ways to support local conservation efforts in the Florida Keys is to dine with a conscience, choosing local, organic, and fresh seafood options. Sustainable seafood options in the Keys include spiny lobster, pink shrimp, mahi-mahi, grouper, snapper, and stone crabs, a sustainable delicacy. By selecting sustainable seafood options, you support environmentally responsible fishing and farming practices, protect marine ecosystems, and preserve fish stocks for future generations.
The Fish House, M.E.A.T. Eatery and Taproom, Ciao Hound, Lorelei Restaurant & Cabana Bar, and Pierre's are some of the premier restaurants in the Florida Keys that offer sustainable seafood, ensuring that your dining experience aligns with your eco-friendly values.
Supporting Local Conservation Efforts
In addition to the eco-friendly activities, accommodations, and dining options mentioned so far, other ways exist to support local conservation efforts in the Florida Keys. For example, local newspapers have taken steps to reduce their environmental impact by using biodegradable bags and natural inks.
By supporting these local conservation efforts, you are directly contributing to preserving and restoring the unique ecosystems found in the Florida Keys. Whether it's through eco-tourism, sustainable transportation, or dining with a conscience, every choice you make during your vacation can positively impact the environment and the local community.
In conclusion, the Florida Keys offer a remarkable eco-friendly vacation experience, encompassing a wealth of natural wonders, sustainable transportation options, green accommodations, and thoughtful dining choices.
By engaging in eco-friendly activities and supporting local conservation efforts, you create lasting memories and contribute to a greener and more sustainable future for the Florida Keys. So embark on your eco-adventure and discover the beauty and wonder of this environmentally conscious paradise. Also, discover fun Florida eco tour ideas in 2023 and embark on unforgettable adventures in nature. Discover the beauty of Florida's diverse ecosystems while enjoying sustainable and eco-friendly experiences.
Frequently Asked Questions
How do you get to the Florida Keys by boat?
If you are looking to go to the Keys by boat, then there is a ferry that departs from Marco Island and Fort Myers Beach. This ferry is a large catamaran equipped with air conditioning for a more comfortable ride. All you need to do is park your car and board the ferry to enjoy a scenic journey to the Florida Keys. The ferry is a great way to get to the Keys without having to worry about driving. It is also a great way to take in the sights and sounds of the area. The ferry is a great way to relax and enjoy the ferry.
What can you do or see in an eco tour?
Ecotourism is a great way to explore the world around us while simultaneously caring for the environment. By taking part in an eco tour, you can experience activities such as hiking, snorkelling, birdwatching, wildlife observation, and kayaking, all with a focus on preserving the natural environment. As an added bonus, many eco tours will also include educational components, allowing you to learn more about the local flora and fauna.
Are there whales in Florida Keys?
Yes, there are whales in the Florida Keys. Wildlife officials have spotted an endangered North Atlantic right whale and her calf swimming in the shallow waters off the Florida Keys. Additionally, thirteen species of whales, seven species of dolphins, and the West Indian manatee either reside in or travel through the sanctuary at some point in their lifetimes.
Discover the Beauty of Florida and Connect with Like-minded Conservationists: Follow FloridaSplendors on Social Media!
Looking for a community that shares your passion for environmental conservation and Florida? Look no further than our social media accounts!
Follow us on Facebook, Instagram, Pinterest, and Twitter for engaging content, product reviews, and to connect with like-minded individuals who love all things Florida. Join us in our efforts to protect and preserve the natural beauty of our state. Don't miss out on the fun, follow us now!
Facebook: Click here
Instagram: Click here
Pinterest: Click here
Twitter: Click here