==================
Florida Splendors is supported by our audience. When you purchase through one of our links, we may earn a small affiliate commission.  As an Amazon Associate I earn from qualifying purchases. Your cost is not affected.
"Learn about sea turtle facilities in Florida, where they are, and what they do to protect marine life!"
Florida is critical in preserving sea turtles due to its extended coastline and rich ecosystems. The Sunshine State hosts an array of marine life throughout its shores. It provides critical habitat to sea turtles and other marine life. With its rich biodiversity and nesting sites, the state is home to five of seven sea turtle species. This includes leatherback, loggerhead, green, hawksbill, and Kemp's ridley.
Sea turtle facilities in Florida / Flickr / Greg Goebel
Unfortunately, these beautiful creatures struggle to survive in the wild. Threats like habitat loss, climate change, and ocean pollution challenge their existence. However, Florida knows the importance of marine life conservation. It has many sea turtle facilities. These centers work hard to protect Florida's coastline and its beautiful marine life.
This article will explore the sea turtle facilities in Florida. We will discuss where they are and what they do to protect marine life. So, let's get started!
Loggerhead Marinelife Center (LMC)
Address: 14200 U.S. Hwy 1, Juno Beach, FL 33408
Juno Beach, FL, is home to Loggerhead Marinelife Center (LMC). It plays a vital role in conserving sea turtles and other marine creatures. The center started its operations in 1983. It is also a research, rehab, conservation, and education center. They research sea turtles and help them to get better and healthy. The facility even has a unique hospital for turtles. Moreover, the staff at the center conducts research to protect endangered marine species. They work hard to protect them and provide them with safe habitat. Besides, the facility also has a lab to experiment and learn more about these creatures.
The staff weighing and measuring a sea turtle / Flickr / Dan Bodenstein
In 2014, the staff at LMC started working with other groups. to help sea turtles. Their main goal was to rescue turtles caught on fishing piers. However, after visiting critical sea turtle habitats, they realized there was more to solve. To tackle these issues, they created the SHIELD program. It has many benefits and helps piers, beaches, scuba divers, and more. It focuses on protecting the environment and sea turtle homes and reducing ocean pollution.
The facility offers a variety of fun and educational activities for everyone! Besides watching sea turtles, you can indulge in many activities. For instance, the center hosts astronomy nights that allow you to learn about stars and planets. Besides, guided beach walks also offer a fun experience. Your kids will love to attend Boy Scouts and Girl Scouts programs and eco tours to help turtles. Moreover, evening turtle walks allow you to see turtles in the wild and beautiful turtle releases.
Because of their hard work, LMC's initiatives have made a big difference. They are now helping sea turtles in Florida, Hawaii, North Carolina, Virginia, Texas, and other places.
Navarre Beach Sea Turtle Conservation Center
Address: 8740 Gulf Blvd, Navarre, FL 32566
The center is one of the most beautiful sea turtle facilities in Florida. It is situated within the Navarre Beach Marine Park and is a special place for sea turtles and other marine life. Their primary focus is to care for sea turtles and their habitats. The center rescues and rehabs injured turtles, conducts research, and educates others about marine life's importance.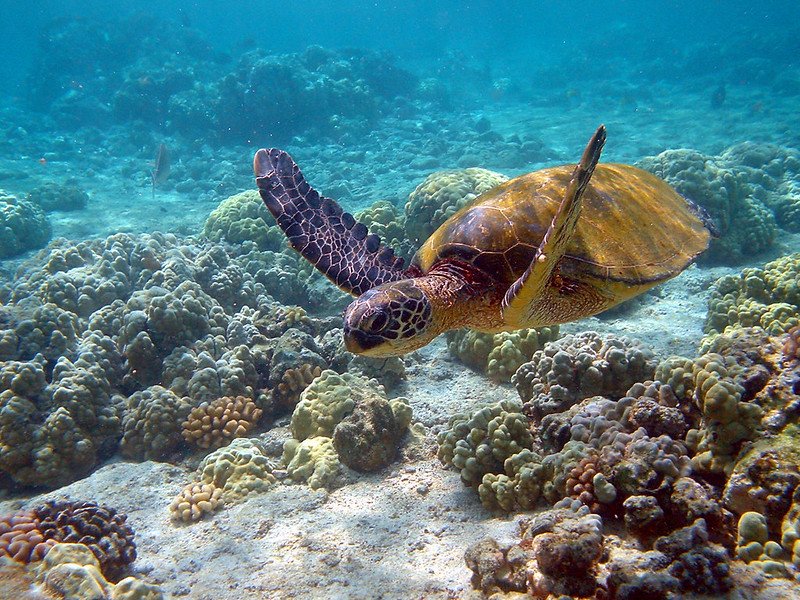 Amazing Marine Life / Flickr / Charly W. Karl
During your visit, you will have the opportunity to explore and learn about beautiful marine life. The center offers tours where you can explore the facility and see the turtles up close. Besides, you will learn cool facts about these extraordinary creatures and how to keep them safe. Moreover, the facility also hosts fun events like hatchling releases.
You and your family would love to see baby turtles being released in the wild for the first time. The scenes are pretty emotional. If you seek adventures, join one of their evening turtle walks on the beach. With friendly guides, you will see turtles nesting or watch them go back to the ocean. It is a chance to see them in their natural home.
Do you love stargazing? The center also has astronomy nights. Visitors look at the beautiful night sky and learn about stars and planets from guides. Whether you love turtles or want to know more about the ocean, Navarre Beach Sea Turtle Conservation has something for you. It is a place to have fun, learn, and help protect our marine environment.
The Florida Aquarium Sea Turtle Conservation Center
Address: 577 ESTUARY, Mayra Shores Ln, Apollo Beach, FL 33572
Florida Aquarium has one of the most famous sea turtle facilities in Florida. It is a haven for sick and injured sea turtles. Inside the center, it has four pools where the turtles can swim. Besides, there is a deep-dive foraging pool where turtles can practice their hunting skills. It even has a vet suite with all the tools and equipment needed to care for sick or injured turtles.
In addition to caring for sea turtles, the staff conducts essential research. They study sea turtles to learn how to best take care of them and keep their homes safe in the ocean. Moreover, the rehab center isn't just for helping turtles, though.
It's also a fun place to visit! They host exhibits that teach you about conservation and why it's essential. If you're lucky, you might even see the doctors treating injured turtles right before you. The facility hosts fun events all year round where you can learn more about marine life conservation. They have workshops and presentations that teach visitors about these amazing creatures.
Address: 4581 NW 6th St suite A, Gainesville, FL 32609
The Sea Turtle Conservancy is the world's oldest sea turtle facility in Florida. The Gainesville, FL, center is a fantastic place to learn about and help sea turtles. It was founded by Dr. Archie Carr, a sea turtle expert who cared deeply about sea turtles. The Sea Turtle Conservancy works to study and protect marine life. It has researchers who explore oceans to learn more about sea turtles and their habitats. They also collaborate with local communities and teach how to keep the beaches safe for nesting. By doing all this, they ensure that sea turtles have safer habitats.
Visiting the conservancy allows you to spend some quality time. It has a visitor center to see exhibits and get other information. Besides, you might even meet experts and hear their stories about sea turtle conservation. Moreover, the facility has plenty of fun activities for kids and adults. For example, you can enjoy arts and crafts exhibits or watch movies about sea turtles. If you seek adventure, take part in a scavenger hunt. All these fun events ensure everyone can have a great time while learning about sea turtles.
So, if you are exploring Gainesville, stop by the Sea Turtle Conservancy. It is a place where you can have fun and make a difference in protecting these magnificent creatures.
Address: 8385 S Hwy A1A, Melbourne Beach, FL 32951
The Barrier Island Sanctuary in Melbourne Beach, FL, offers a safe refuge to sea turtles. It is also one of Florida's best sea turtle facilities for a fun and educational experience. And guess what? You can explore it for free! The staff at the Barrier Island Sanctuary work for the safety of sea turtles. They collaborate with many sea turtle conservation organizations to protect nesting habitats. It includes the Brevard County Environmentally Endangered Lands and the Sea Turtle Conservancy.
Sea Turtle Conservation / Flickr / luvjnx
In the summertime, the facility hosts unique programs that anyone can join. You will love their guided walks and see the nesting process on the beach. It is a fantastic experience to learn from experts and sea turtles up close. The barrier island and nearby Archie Carr National Wildlife Refuge are critical nesting sites. Species like loggerhead nest here more than anywhere in the Western Hemisphere. Besides, the area is also an essential nesting ground for other endangered species.
June and July are ideal for enjoying guided turtle walks. The EEL, STC, and the US Fish and Wildlife hosts these walks. Remember, there is only room for 20 people each night, so reserve your spot for $15. During your trip, you can explore the ocean and lagoon. The center also offers fun exhibits, programs, and nature trails for nature lovers. It is a fantastic chance to learn about sea turtles, their habitats, and why we must protect them.
So, if you want to see sea turtles in their natural habitat, visit the Barrier Island Sanctuary. It is an excellent place to learn and have fun at the same time.
Address: 100 Lighthouse Dr, Ponce Inlet, FL 32127
Come and visit the Marine Science Center in Ponce Inlet, FL. It is one of the famous sea turtle facilities in Florida. The Marine Science Center allows you to explore the amazing marine life of the area. It is all about sea turtles and learning about ecosystems that make this area unique. At the Marine Science Center, you can see how they help injured sea turtles. The facility has amazing turtle places where they receive medical care and treatment. They work to rehabilitate sea turtles so they can return to their ocean homes. It's a process full of hope and healing.
The Marine Center works for the conservation of marine life. They conduct research and educate others to make a difference. In addition to on-site programs, the facility also has virtual programs for visitors. You can see stingrays being fed and even watch live programs about sea turtles. It is a great way to discover the incredible wildlife that lives right here in Volusia County. In addition to caring for sea turtles, the facility is also a fun place to visit. You can see, touch, and learn about marine animals during your visit. Besides, the center has exhibit galleries to showcase the incredible story of marine life in Volusia County.
For nature lovers, you can take a walk on its nature trails and see the wonders of the local environment. The Marine Science Center is a place to learn, have fun, and be inspired to protect sea turtles.
Gumbo Limbo Nature Center
Address: 1801 N Ocean Blvd, Boca Raton, FL 33432
The Gumbo Limbo Nature Preserve in Boca Raton, FL, is a special place to have fun and learn about nature. The center works with different organizations to protect the area's marine life and the environment. Located in Boca Raton, FL, the facility is committed to helping marine life. The 20 acres of land is safe for plants and animals, including some rare or in danger. Besides, it also has a sea turtle rehabilitation facility. The friendly staff and volunteers are passionate about what they do to protect marine life.
Hatched minutes before and is now going towards Ocean / Flickr / Mike W.
Moreover, the Gumbo Limbo Nature Preserve also teaches visitors about the environment. The staff and the volunteers do their best to protect natural resources and help others learn more about the coast and ocean. Besides, The Gumbo Limbo Nature Preserve helps scientists by studying sea turtles. They gain information to learn about how sea turtles act and live and the challenges they face. This allows scientists and conservationists to figure out how to protect sea turtles.
In addition to marine life conservation, the place is also fun to visit. People explore it to enjoy the peace and tranquility. You can walk on the boardwalk, see colorful fish in the aquariums, or relax in the butterfly garden. Moreover, you'll learn about sea turtles that nest in South Florida during your visit. You might even see a mother turtle nesting on the beach if you're lucky. It's a remarkable sight, but remember, it's only sometimes guaranteed.
You can also join the staff to see baby turtles released into the ocean. The Gumbo Limbo Nature Preserve is among Florida's most-visited sea turtle facilities. It is a place to see nature up close, learn, and make a difference.
There you have it – 7 sea turtle facilities in Florida. These facilities are critical for helping and protecting marine life. They provide a safe place for injured and lost sea turtles and teach people how to care for them. Besides, they have done a great job of helping many sea turtles get better and go back to their homes. The staff and volunteers are very dedicated and provide exceptional medical care. The facilities are also like schools for learning about sea turtles.
Scientists study the turtles there to learn more about their actions and where they go. This knowledge is essential for saving the turtles in the long run. Moreover, they also teach people about why turtles are in danger and what we can do to help. They have excellent exhibits, programs, and tours to show how to protect the turtles and keep oceans clean. Yet, they need our help too. We can support them by not polluting and using things that are good for the environment. We can also tell our leaders that we want laws to protect sea turtles and their homes.
How many sea turtle species can you find in Florida?
Five out of seven sea turtle species call Florida waters hoe. These include loggerhead, green, hawksbill, kemp's ridley, and leatherback. Many sea turtle rehabilitation facilities in Florida work to protect these creatures and their nestings.
How do beaches in Florida help endangered sea turtles?
Florida's beaches see the world's largest nestings of loggerhead sea turtles. The state takes several steps to protect sea turtles. For example, they use sea control lights to help baby turtles find the ocean. They also mark and ensure that nesting areas are safe.
In addition, they educate the public about turtle conservation by hosting fun events.
Welcome to Florida Splendors! Your Virtual Gateway to Sunshine State
You Might Also Like the Following