==================
Florida Splendors is supported by our audience. When you purchase through one of our links, we may earn a small affiliate commission.  As an Amazon Associate I earn from qualifying purchases. Your cost is not affected.
Cape San Blas Florida, is on a paradise-like peninsula. It's an ideal place for those looking to steer clear of crowds.
Cape San Blas Florida is along "Florida's Forgotten Coast." It should be on your must-visit destinations list. Also, it is a slice of tropical heaven. The site provides an incredible tourist spot with plenty to offer vacationers. After all, it features an extended 200-mile coastline. This aspect encompasses five islands. Still, within these areas are charming beachside communities. Also available are almost a hundred historic sites. Hence, there are plenty of reasons to explore this forgotten Golf Coast stretch.
Moreover, this gorgeous vacation spot has white-sand Cape San Blas beach. The shore is perfect for romantic couples and family trips. It's also a place to discover the beautiful Cape San Blas Florida lighthouse and wade in by the waters. Even so, guests may hunt for rare seashells at Cape San Blas beach. With the available options, how you spend your vacation is up to you.
So, read our guide if you wish to have a Cape San Blas family fun trip. Our post has everything you need to know about the place!
Where is Cape San Blas Florida?
Part of a peninsula in Gulf County, Cape San Blas, extends westward from the mainland of Florida. This paradise-like peninsula separates St. Joseph Bay from the Gulf of Mexico. About 59 miles southeast of Panama City, the closest town on the mainland of Florida is Port St. Joe.
There are two parts of the absolute gem of the Gulf County peninsula of Cape San Blas. The northern part is St. John State Park. It offers picnic areas, best beaches for swimming in Florida in 2023, cabins, camping, and more. Also, there's the southern part of Cape San Blas. People reserve it for year-round residential neighborhoods. It's perfect for those seeking a water-oriented lifestyle.
When is the Best Time to Visit Cape San Blas Florida?
Florida top Key West things to do is an excellent year-rounding vacationing destination. But, the ideal time to explore Cape San Blas is from April to October. Consider that if you want to go on a Cape San Blas family fun trip. The conditions at those times are warm and mild. So it's when you can make the most of your vacation
In contrast, chilly winter months have biting winds blowing off the Gulf of Mexico. January and February are cold. After all, temperatures then dip as low as 88 Fahrenheit.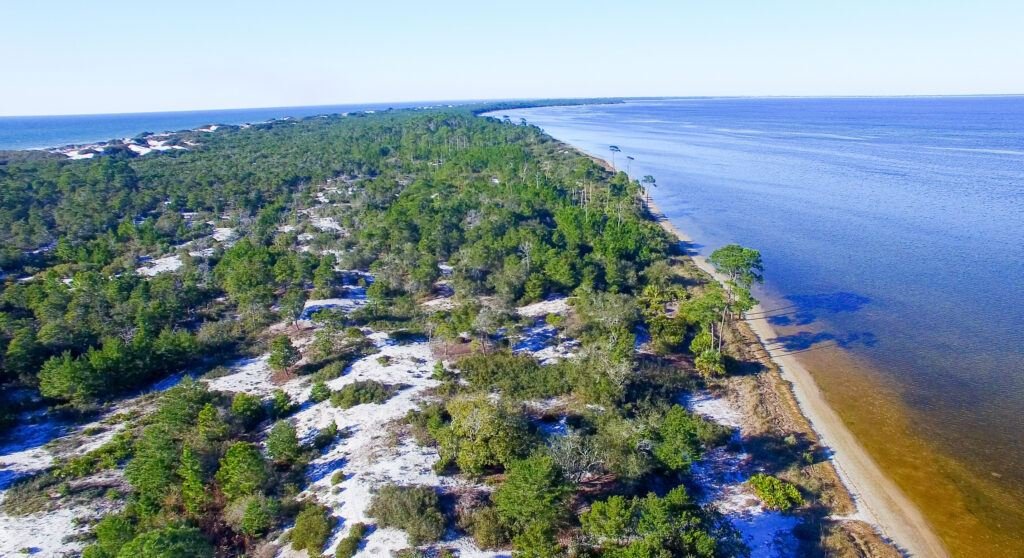 Likewise, humidity levels in July through August can also be a concern. So, June or September trips are the best as you also don't have to worry about hurricane season. Although October has average temperatures, that's when the hurricane season begins.
Here is the summary of the average temperatures and humidity:
Month

Temperature

Humidity

Avg. High

Avg. Low

January

59F
49F

71%

February

62F
52F

70%

March

65F
56F
69%

April

70F
62F

68%

May
76F

69F

June
81F
74F

76%

July

82F

76F

79%

August

75F

September

73F

October

75F
59F

71%

November

68F

58F

69%

December
61F
51F

72%
Why Visit Cape San Blas?
Here are the top reasons to explore Cape San Blas Florida:
1. Enthralling Water Activities
Cape San Blas offers tons of exciting water activities as a tropical paradise. On calm days, vacationers can take stand-up paddles on the water and enjoy the serenity. They can do that or rent kayaks to float on water in peace. St. Joseph Bay is a beautiful destination for SUPs and kayaking. Visitors can also explore the nearby Dead Lakes, a gorgeous spot.
Besides the stunning Cape San Blas beach, this area also features other attractions. It's where beautiful scuba diving and spectacular snorkeling sites are available. You can also explore fascinating shipwrecks and artificial reefs here. It's also where you can visit amazing tropical marine life. Still, you may have underwater adventures with sea turtles, sharks, and more.
2. Tons of Fishing Opportunities
Cape San Blas is also an excellent place for anglers and fishing enthusiasts. Year-round fishing is second to none in and around the area. After all, it's where you can fish inshore, offshore, and in freshwater. The site has some popular fish to capture throughout the year. These fishes include mackerel, redfish, flounder, and mahi-mahi.
If you are on a charter boat, talk with your captain. Ask what the best catch of the season is during your trip. Yet, apart from the angling, Cape San Blas is also famous for its scallops. So, book your trip with nearby outfitters if you want to catch your own.
3. Yummy Restaurants
It's no surprise that with great fishing comes excellent seafood. There are plenty of yummy seafood restaurants in Cape San Blas. After all, the establishments offer the best seafood in Sunshine State. Our favorite seafood restaurants include a few seafood spots. They include the Shipwreck Raw Bar and St. Joe Shrimp Company. Krazyfish Grille and LongBill's also have superb dishes.
4. Enchanting Community Events
Cape San Blas hosts plenty of exciting community events. They may appeal to those interested in local culture. These happenings are fun and worth every minute. For instance, if you are a fisherman, you could join the MBARA Kingfish Tournament. It occurs every August. The goal of this occasion is to raise funds for maintaining artificial reefs.
Moreover, if seafood appeals to you more, check out the Port St. Joe Scallop Festival. This occasion takes place in September. Hence, these two festivities cater to unique interests. Both festivals entertain participants with live music and other mini-events like art exhibits.
Top Places to Visit in Cape San Blas
The area has many excellent hotels, restaurants, and resorts. Yet we recommend spending as much time outdoors as possible. Below are some of our favorite places in Cape San Blas, Florida:
1. Visit St. John Peninsula State Park
It's attractive to nature lovers and those seeking an isolated place to escape the crowds. St. John Peninsula State Park is perfect for seclusion. After all, it has more than 25 miles of hiking trails. Also, it has many campsites where you can camp and sleep under the stars. Still, you can do those while interacting with nature. Even so, the state park also offers restroom facilities for relief.
Moreover, gorgeous beaches invite vacationers and seashell hunters. Be that as it may, it has plenty of colorful seashells and exquisite sand. Fishing is also a great activity here. So remember to bring your angling gear. Furthermore, observation centers near the lighthouse allow visitors to please their eyes. After all, these places display breathtaking views and picturesque scenery.
2. Experience Secluded Cape San Blas Lighthouse
Cape San Blas lighthouse is an excellent place for trips to achieve peace. So leave your cell phone in your car, and take a calming walk on Cape San Blas beach. Doing so will allow you to appreciate the beauty of nature without any distractions. Besides, if shelling is your hobby, there are plenty of seashells and glass to collect. Still, you can sit back and please your senses with the views and sounds. After all, it's where you can also see and listen to the waves hitting the shore.
Moreover, you can visit the lighthouse daily from sunrise to sunset. The admission fee is $1 per person. Also, climbing up inside the Cape San Blas lighthouse grants a privilege. After all, it will let you see Caloosa Island Light Station, State Park. If you like a bit of shopping, there's also a small gift shop there. The place has things you can get as souvenirs.
3. Camp Helen State Park
Camp Helen State Park can be your starting point for Cape San Blas family fun trips. It's an excellent place for family camping excursions. Likewise, the park offers RV camping, tents, and cabins on its peninsula. Still, the amenities are fantastic there. The area has accessible restrooms, showers, and laundry facilities.
Moreover, it has a white sandy beach with crystal clear waters. Thus, it's one of Florida's most pristine beaches. The park is where tourists can enjoy swimming and snorkeling. Also, you can take hiking trails throughout the park to explore nature. Doing so will lead you to scenic lookouts. At the same time, they grant breathtaking views of land and sea.
4. Pay a Visit to Salinas Park
Salinas Park is a place of excitement because of its features. It's on County Road 30E, about 3 miles from the Cape. Also, the park has two parts: the bayside and beachside spots. The bayside has a pickleball court and a small playground. It also has screened-in dining areas and a nice boardwalk. Also, the beachside allows people to reach and rinse off from the beach. This small place is beautiful. It often appeals to people who want to do something other than enjoy the sandy spots.
5. Enjoy Kayaking or SUPs
Kayaking and stand-up paddling are exciting activities at Cape San Blas. They are for vacationers to launch from the shore. Also, the place may show guests wildlife animals. While kayaking, you may spot tropical fish and stingrays.
If you don't have a kayak, don't worry. You will find many local companies that rent out paddleboards and kayaks. Likewise, you can ask local rentals to arrange beach equipment if you are staying at a rental place. Once they have what you need, they will drop it at your house.
6. Take a Bike Ride on Cape San Blas Beach
Bike riding on Cape San Blas beach is another fulfilling activity. A complete bike trail will lead you to see almost the entire Cape. People identify the 11-mile bike trail as the "Loggerhead Bike Trail." It runs from Salinas Park to St. Joe State Park.
The Loggerhead Bike Trail will drive you along the main road. Also, like SUPs and Kayak rentals, many companies offer rental bikes.
7. Enjoy Horseback Riding at Cape San Blas Beach
Horseback riding is fun. You can do it if you have already seen breathtaking views from Cape San Blas lighthouse. Also, you can try it if you want to do something unique. Horseback rides on Cape San Blas beach are worth the experience. With it, you can reach places on an animal and enjoy the sights. Moreover, you can find a few stables offering beach horseback rides. Examples of these are the Rockin M Ranch and Two Bit Stable.
8. Go Crabbing
Your Cape San Blas family fun trip will be more memorable if you take your kids to crab late at night. This activity is also simple. It involves grabbing a turtle-safe flashlight and a net. After that, you head to the beach after dark. Seeing crabs scampering all over the beach often excites children.
But most of these creatures are ghost crabs. They are small and fast. Yet these crustaceans are harmless. So you don't have to worry about them hurting your kids. Let your little ones try to catch some, and then let them go.
9. Learn about Sea Turtles
If you are at Cape San Blas during the turtle season, chances are you will see hundreds of them. After all, these sea turtles nest and lay their eggs on the beach. The area's Turtle Petrol team walks the beach early in the morning. They mark places where turtles have come up to lay eggs. So, if you want to catch some sea turtles looking for nests, get up early in the morning and head to the beach. Also, vacationers can schedule a turtle walk with sea turtle petrol.
10. Eat Delicious Food
Cape San Blas has plenty of delicious restaurants. Folks can visit them to appreciate their ambiance and taste the fresh seafood. The most popular and favorite one is Indian Pass Raw Bar. Your kids may also want donuts there. If that's the case, head to Weber's Little Donut Shop. It's because there, they serve cake donuts with creative toppings.
11. Enjoy the Sunset View
Cape San Blas is to the west region. So the place offers some of the most spectacular sunset views over the ocean. To savor in the dusk atmosphere, go outside, look above, and keep your eyes on the clouds. Once the sun sets, let go of everything and enjoy the moment.
During the summer months, the sun sets a bit late. It goes down between 8 to 9 in the evening. It is common for travelers there to get out after dinner time. They set their chairs on the ground and sit on the Cape San Blas beach. There they admire the nightfall as it unfolds.
Last But Not Least
Without a doubt, Cape San Blas is an enchanting and refreshing place for family trips. Different from a few popular spots, the area offers tons of activities. Plus, it provides entertainment without being around crowds. Places within it, like Cape San Blas lighthouse and Cape San Blas Beach, are also excellent. They provide impressive sights. Also, they give tranquility to travelers. Hence, this tourist destination is worth people's time and effort. It's crystal clear why so many travel far to reach and spend time on it. Also, discover the beauty of the shore and create lasting memories by collecting seashells. Embrace the coastal treasures and embark on a seashell adventure today!
We hope our guide helps you plan your trip to the Cape. After all, being familiar with the offers of a place allows for an unforgettable vacation. If you have some thoughts about this location, please share them with us. We'd love to hear from our readers. Also, thanks for reading.
We look forward to you reading our next posts.
You Might Also Like These:
What makes Cape San Blas Special?
Part of Gulf County, Florida, it's a beautiful place to visit. After all, it's an uncrowded, pristine beach with white sands and clear, blue waters. The area also has a laid-back atmosphere, friendly locals, and good food. Still, people appreciate it for its fishing, paddling, and hiking opportunities. Thus it's remarkable because of everything it offers to visitors.
Yes, of course. The place caters to leashed pets. Authorities put restrictions on some areas due to wildlife nesting and privacy issues. But many sites in Cape San Blas allow pets. Hence, you can bring your dog there and take your buddy out for a beach stroll.
Plus, facilities for these animals are available within the area. There's the Animal Hospital of PSJ for canine healthcare. Also, Dagny & Dexter's Doggie Daycare experts can care for our furry friends. Hence, we can say that it's a
pet-friendly
environment for dog lovers.