==================
A Caveat and Affiliates
First off, a little caveat: within my articles you will find affiliate links, meaning if you buy them, I get a small commission. Your cost is not affected. In addition, I am an Amazon Associate and I earn from qualifying purchases on Amazon.
And yes, if I say that I recommend a product here, it means I truly believe it is a good product. I refuse to recommend any product that I have not researched and believe to be a good value.
Even better, I provide you with a very clear picture of the product, it's use, and the probable value.
Earning your trust is important to me. I run this website myself and the commissions and donations help support the site.
Sound reasonable and fair enough? Let's continue to the article.
==================
This iRocker paddle board review will explore the features and benefits of iRocker paddle boards to help you make an informed purchasing decision. Our iRocker paddle board review may help you make the right choice for your next adventure on the water!
The stand-up paddleboarding (SUP) water sport has become popular nowadays. It is prominent among people of varying ages and physical abilities. SUP, or stand-up paddling, is a fun and effective way to exercise while enjoying the outdoors on the water. Stand-up paddling requires a paddle board in many sizes, shapes, and materials. Due to their portability, durability, and water-based steadiness, inflatable SUPs have become notable. It is more impressive among beginners and intermediate paddlers.
The iRocker SUP Stand-Up Paddle Board is an inflatable SUP. It is excellent for first-time paddlers needing a reliable and flexible board. The military-grade PVC used to make this board ensures that it will last long without wear and strain. The 10'6″ length is perfect for novices who seek an easy-to-ride board. It can accommodate paddlers of varying heights and weights. Its reliability is thanks to its 240-pound capacity.
The iRocker SUP Stand-Up Paddle Board has several accessories. It is one of its primary selling points. These extras consist of a backpack for portability. It has a high-pressure dual-action pump for speedy inflation. iRocker SUP has a coiled leash for security and a repair kit for on-the-spot fixes. It also has a lightweight, maneuverable fiberglass paddle.
For newcomers who don't want to go out of their way to get these extras, including them in the bundle is a boon. Are you looking for a trustworthy and stable board? The iRocker SUP is a great choice. It's an excellent investment for newcomers to the sport. This SUP has a sturdy build and adaptable layout. It has a complete set of necessary extras. This review will discuss the pros and cons of the iRocker SUP Stand Up Paddle Board. We will discuss how it performs in different water conditions.
Overview of iRocker SUP Stand Up Paddle Board
Material
The iRocker SUP is an inflatable stand-up paddle board of premium quality. It is suitable for paddlers of all skill levels. Its material is military-grade PVC. It has innovative dual-layer fusion drop-stitch construction. It is the hallmark of this board's construction. This ensures a rider's safety. They can set out on the water without concern about potential damage or punctures.
Size
The iRocker Stand-Up Paddleboard is 10'6″ long, 33″ broad, and 6″ thick. Because of this, you may ride it in a wide range of water conditions. The board can accommodate riders of varying sizes with its 400-pound weight limit.
Design
The iRocker SUP stand-up paddle board's design is also notable. The blue and white color palette is reminiscent of the sea and gives the board a timeless appeal. It's a beautiful board that stands out on the water and can appear far away.
Accessories
Its accessories improve the iRocker SUP's use and are among its best features. The package for the paddle board consists of a paddle, leash, backpack, pump, and repair kit. You can adjust the paddle to your height and weight, making it more manageable when paddling. You can also tighten the leash in the event of a fall, keeping the board close at hand. The surfboard and its attachments may all fit in the backpack. It makes it convenient to bring to and from the beach. The pump inflates the board. The feature helps riders fix any problems that may arise, extending their time on the water.
The iRocker SUP stand-up paddle board is an excellent choice. It is great for paddlers of varying experience levels. Due to its adaptability, durability, and portability, this SUP makes a great option. It is in a class of its own build quality, size, weight capacity, and design among inflatable paddle boards. So, what's more, it comes with some valuable extras at no extra cost.
Pros
Its material is military-grade PVC construction and dual-layer fusion. The iRocker SUP stand-up paddle board can last.
The board's size and thickness make it stable and suitable for riders. It is good for various experience levels.
The board is adaptable, functioning well in tranquil lakes and rough ocean waves.
The extras package includes a paddle, leash, backpack, pump, repair kit, and board.
The unique design and stands out from other paddle boards with its nautical theme.
Cons
The board weighs roughly 28 pounds when inflated, making transporting it cumbersome.
The included bag can be cumbersome to stow away the board after use.
The included pump could be sturdy. Some riders have experienced problems with it breaking down. It fails to work after extended use.
Personal Experience:
I was looking for a stand-up paddle board for the first time, and the iRocker SUP was perfect. The stability provided by the board's size and thickness allowed me to enjoy the ride. It makes me more comfortable to use despite the heavy seas. The board's nautical motif was a bonus, making my paddle-boarding sessions more enjoyable. The fact that the box had everything I required to use the board immediately was a welcome bonus. The board is pretty hefty, which made transporting it difficult when inflated. Putting the board back in the backpack after use also presented some challenges. The pump's performance and durability fell below my expectations after repeated use. Its superb stability and versatility make it a fantastic option. It is fit for novice and intermediate paddle boarders.
Performance and Use
The iRocker SUP Stand-Up Paddle Board can handle rough seas and calm lakes and rivers. The board's extreme steadiness on placid lakes makes it perfect for beginners. It is getting the hang of stand-up paddleboarding. It tracks well and travels, making long-distance paddling effortless.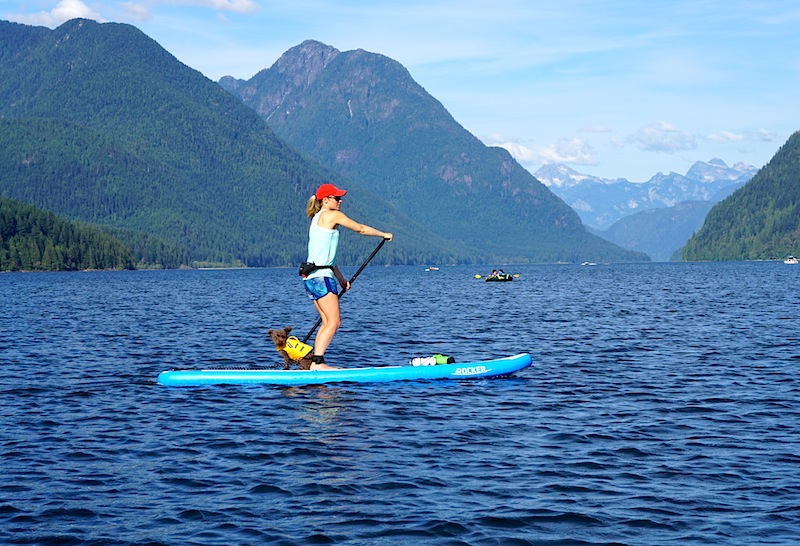 The board's dual-layer fusion and drop-stitch technology contribute to its performance. It adds stability and rigidity to rough ocean waves. Thus, when the water is turbulent, you will be less concerned about losing your balance.
The iRocker SUP is one of the best stand-up paddleboards I've tried. Extreme dependability makes it appropriate for beginners. Its adaptability also makes it appropriate for experts. I've tested it on serene lakes and rough seas, and it's always done well. The board is a joy to use for extended periods. It requires little effort to paddle and glides across the water.
The board's heaviness is a problem I've had to deal with so far. It's not the lightest SUP available at 26 pounds. Moving over long distances or in a compact vehicle may be inconvenient. Maneuverability is also a potential problem. It is especially in confined areas or when attempting a sharp turn. Even so, this is a typical weakness of SUPs that experience can overcome.
The iRocker paddle board review is an excellent option. It is great in searching for a multipurpose, stable SUP. Yet, a better or more agile board could be available. Despite this, it's fantastic for beginners and experts. Its strength, stability, and performance in diverse water environments make it top-notch.
Inflation and Deflation
Inflating Your iRocker SUP Stand Up Paddle Board
The iRocker SUP's inflating and deflation process couldn't be more straightforward on stand-up paddle boards. First, ensure the valve is in the closed "up" position before inflating the board. Then, to fill the board with air, connect the pump's line to the valve and turn it on. You should increase the pressure on your board to between 12 and 15 PSI for optimal performance. The high-pressure dual-action hand pump with the iRocker SUP board allows for speedy inflation. Depending on how hard you pump, inflating the board takes 10–15 minutes. Once the paddle board is inflated, disconnect the hose and seal the valve. While inflated, exposure to the sun or hot temperatures can cause damage. The air inside could expand and cause the board to overinflate.
Deflating Your iRocker SUP Stand Up Paddle Board
First, remove the fin(s) and the valve cover so you can deflate the board. You can let air out by twisting the valve to the "down" position. Use the pump to remove as much air as possible before folding the board from front to back. Press down to remove any surplus air. When you're done using the paddle board, deflate it completely and coil it up from the tail to the nose. Stowing the board may seem challenging if this is your first time using an inflatable SUP. Since mold and mildew can develop on the board if stored while wet, it is best to let it dry before putting it away. After the board has dried, you can fold it and store it in the backpack. The board fits into the backpack. Yet, inserting it for the first time can be tricky. If the board is too big to fit, try rolling it up and releasing some air. If you want to prevent harming the nose of the board while rolling it up, start rolling from the tail. Any trapped air will be forced out of the board in this way. Keep the board and accessories out of the sun and in a cool, dry area while not in use.
Maintenance and Care
You can make your iRocker SUP board last as long as possible and function at its best. Regular maintenance and care are necessary. Some advice on keeping your board in good condition is below: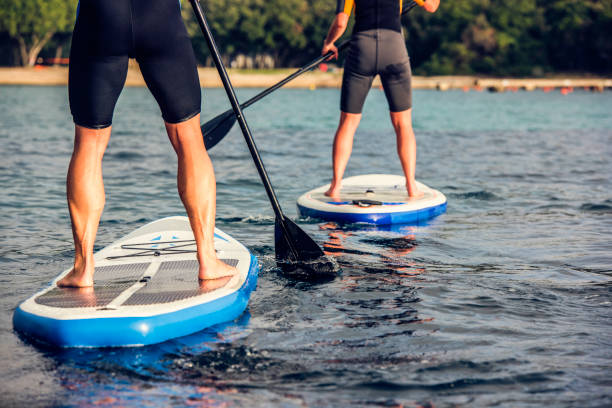 After each usage, you should give the board a good rinsing with clean water. Remove any sand or other material that may have gathered. You can avoid mildew and mold by letting the board dry before storing it. Prolonged exposure to sunlight might degrade the board's substance. It would help if you kept it out of the sun whenever possible.
Store the board flat rather than on its end to prevent warping during storage. Keep the board out of direct sunlight and in a warm, dry environment.
Mild soap and water will suffice to clean the board's surface. Yet, please do not use harsh chemicals or scrubbing machines, as they may ruin the surface. Don't keep the board in a damp environment, as this encourages the growth of mold and mildew.
Ensure the board is safe from harm in transit by securing and protecting it. Use the included backpack for convenient transport of the board.
The board includes a repair kit to fix small holes and leaks. Find the damaged area, clean it well, and use the patch and adhesive as directed to fix the hole or leak. Before putting in the patch, ensure the affected region is arid.
Your iRocker SUP stand-up paddleboard will last longer and perform better. Give it the attention and care it deserves. You may improve its performance by following these guidelines.
Watch This Video To Understand What Board May Be Best For You. Get Ready For ULTRA Fun This Summer. See You On The Water!
Do you want a long-lasting, adaptable, simple-to-use watercraft? I'm sure you'll love the iRocker SUP Stand-Up Paddle Board. Get Yours Now!
iRocker SUP Stand Up Paddle Board Review: The Ultimate Verdict
The iRocker SUP Board is an excellent choice for beginner and professional paddlers. Military-grade PVC, dual-layer fusion, and drop-stitch technology go into its creation. The material gives it rigidity and longevity. The board's dimensions (10'6″ long, 33″ broad, 6″ thick) and weight capability (up to 400 pounds). It makes it ideal for a wide variety of riders, and its nautical-themed design in blue and white is pleasing. A paddle, leash, backpack, pump, and repair kit are all included with the board. The iRocker SUP is a superb buy and delivers a fantastic experience on the water.
Despite its minor shortcomings, this SUP Board is ideal for beginners. The iRocker SUP performs in various environments, from tranquil lakes to rough seas. It's easy to operate and manage compared to other SUPs on the market stability and mobility. The board only needs a little maintenance, the occasional rinse, and a dry place to store it. You can use the repair kit provided in case of a puncture or leak.
Final Thoughts: Ride the Waves with iRocker SUP Stand Up Paddle Board
The iROCKER SUP Stand Up Paddle Board is an exceptional choice for anyone looking to experience the ultimate paddleboarding adventure. With its durable construction, impressive stability, and high-performance features, this board is perfect for both novice and experienced paddlers alike. Whether you're looking to explore the local waterways, ride the waves at the beach, or simply enjoy a peaceful day on the lake, the iROCKER SUP has got you covered.
If you're looking for a comprehensive guide to all things Florida, then our blog is the perfect place to start. From the best beaches and outdoor activities to the top restaurants and cultural experiences, we've got you covered. So why not dive in and explore all that Florida has to offer? Check out our blog today and discover the Sunshine State like never before!
Is it a good choice for first-timers to learn on an iRocker SUP?
The iRocker SUP is an excellent choice for those getting into stand-up paddling. It's great for beginners because of how steady and straightforward it is to steer.
How much weight can the iRocker SUP hold?
Based on the iRocker paddle board review, it's excellent for most individuals because it can support up to 400 pounds.
The iRocker SUP stand-up paddle board has a quick inflation time, but how long does it take?
The supplied pump makes inflating the iRocker SUP possible in 10 minutes.
Is it simple to fold up and store the iRocker SUP stand-up paddleboard?
You can fold the iRocker SUP stand-up paddle board and stow it away. The deflated board may transport and store thanks to the included backpack.
Can you tell me about the iRocker SUP's warranty?
There is a 2-year warranty on the iRocker SUP stand-up paddle board. This protects against any flaws in construction.
Can I use the iRocker SUP stand-up paddleboard in flat water (like lakes) and rough water (like the ocean)?
The iRocker SUP board is excellent for flat waters like lakes and rough water like the ocean.
How stable is the iRocker SUP stand-up paddleboard?
There's no need to worry about the iRocker SUP's longevity. The board can resist punctures and abrasions. Thanks to the military-grade PVC material and dual-layer fusion construction.
If you have an iRocker SUP, how do you recommend I care for it?
Care for your iRocker SUP boards by storing them in a dry, cool place after each use and a freshwater rinse. Please don't put it somewhere warm or sunny, because that could damage it. If the board gets damaged, use the repair kit to fix the leaks or punctures. Avoid dragging it on uneven surfaces.