==================
Florida Splendors is supported by our audience. When you purchase through one of our links, we may earn a small affiliate commission.  As an Amazon Associate I earn from qualifying purchases. Your cost is not affected.
Embark on a unique adventure through Florida museums for natural history and unlock the secrets of the Sunshine State's prehistoric past and its awe-inspiring natural wonders.

Florida is famous for its vibrant beaches and lush landscapes. However, the Sunshine State's charming history extends far beyond its iconic tourist destinations. Florida's past is as diverse as its ecosystems. From indigenous peoples to the Spanish conquistadors and the daring pioneers of the Everglades, its history is woven with remarkable tales of exploration and resilience.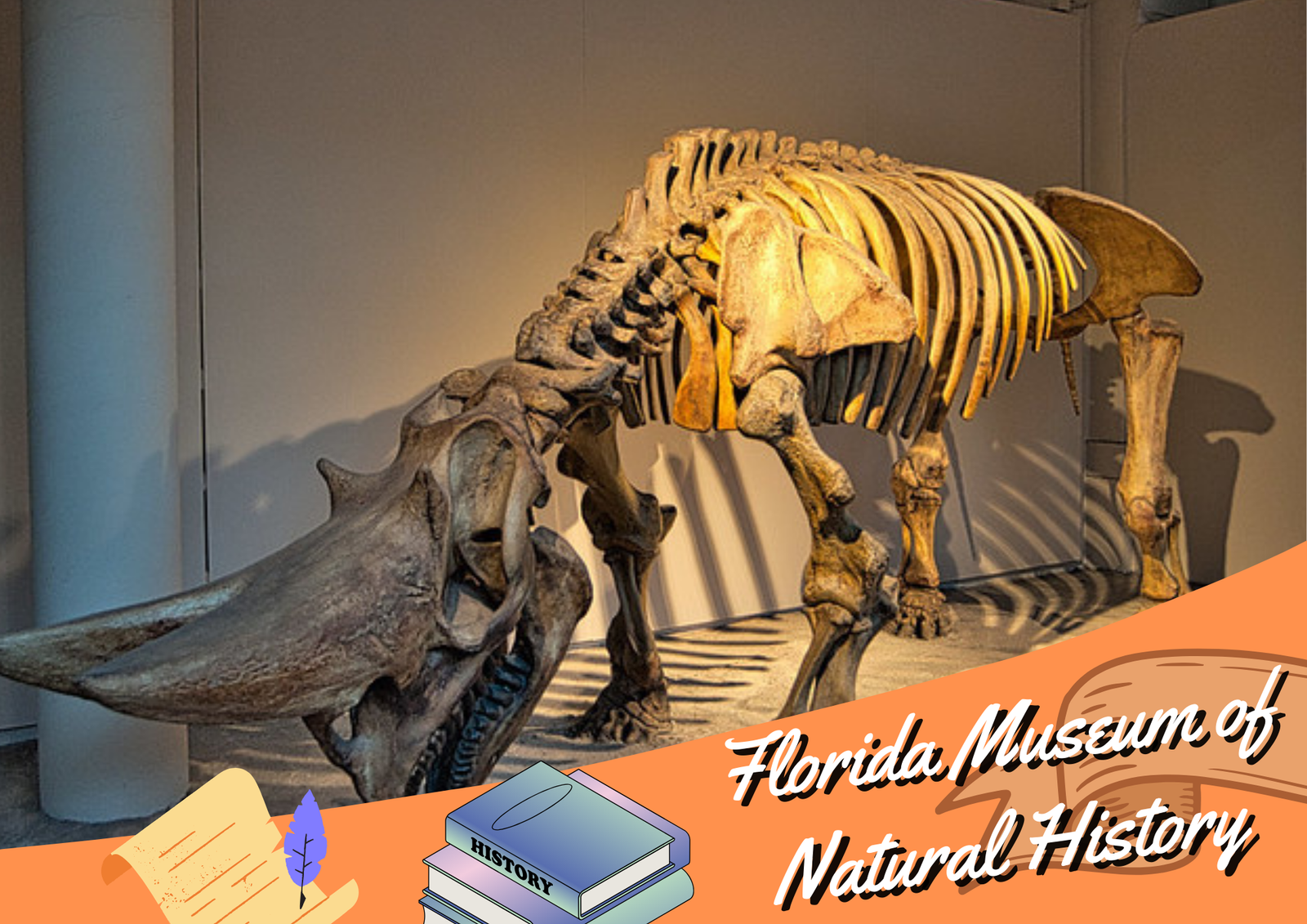 The best way to discover the secrets of Florida is to visit natural history museums in Florida. These institutions provide a beautiful journey through time. They showcase the state's unique geological, ecological, and cultural heritage.

This article will take you on a tour of the best Florida museums for natural history. We will also discuss where they are and what they have to offer.

In addition, you will also learn what makes each of them a must-visit destination for history and nature lovers.

So, let's embark on a magical journey through Florida's past and present, all within the walls of these remarkable institutions.
Indian Temple Mound Museum

Address: 139 Miracle Strip Parkway SE Fort Walton Beach, Florida 32548
10 AM to 3 PM (Monday – Saturday)


The Indian Temple Mound Museum is among Florida's best natural history museums. It is located in Fort Walton Beach and offers a glimpse into the Native American history of the region. Inside the Museum, you will see a stunning collection of artifacts.

These items let you explore Native American tribes who once lived here. These tribes include the Choctaw, Chickasaw, and Creek. In addition, you also learn about their cultures and their connection to nature.

One of the goals of this Museum is to focus on the prehistoric temple mound. It allows you to explore the ancient Americas collection. Visitors will get insights into the architectural brilliance of these ancient cultures.

In addition to exhibits, the Indian Temple Mound Museum also offers educational value. It hosts engaging initiatives to share the rich history of the region. Visitors and students can attend their educational programs, events, and workshops. These initiatives promote a better understanding of Native American traditions.

So, if you're a history buff or just curious about the local culture, visiting the Indian Temple Mound Museum is a must. It allows you to explore the past of early settlers of the region.
Brevard Museum of Natural History
The Brevard Museum in Melbourne is one of Florida's best natural history museums. It is a must-visit place for nature lovers and curious minds.

Sitting on the picturesque Space Coast, the Museum is a knowledge hub. It explores the unique ecosystems and natural history of the region.

Inside the Museum is an interactive world of exhibits. These exhibits showcase the region's diverse flora and fauna, including ancient fossils. One of the Museum's standout features is the Hall of Dinosaurs. That is where you will see life-sized dinosaur models. While exploring, you will be transported back to the prehistoric era.

Moreover, the Museum is also perfect for those interested in space exploration. Its convenient location near NASA's Kennedy Space Center makes it an ideal stop for those interested in Earth's history and the cosmos.

In addition, Brevard Museum also offers educational programs and displays for visitors of all ages. All this makes it an ideal spot for families and lifelong learners.

The Brevard Museum of Natural Science is a gateway to the wonders of Florida's natural world. It offers an immersive experience that you will remember.
Uncover the beauty of Florida's natural history and create lasting memories with the assistance of a reliable camera and beautifully crafted journal. These products will enhance your exploration and keep your experiences preserved for years to come. #ads #commissionsearned
The Palm Beach Museum of Natural History
10300 Forest Hill Blvd., The Wellington Green Mall, Suite 172, Wellington, FL 33414
12 PM to 7:30 PM (Monday – Saturday)
Are you into dinosaurs and marine life history? The Palm Beach Museum is among the best Florida museums for natural history. It is a fun place to visit in Wellington, FL. The Museum boasts a world of owners, making the past come to life.

It has various artifacts and specimens that tell the region's story. One of its key highlights is the rare fossil collection. You have the opportunity to explore ancient creatures' remains up close. In addition, it also organizes exhibits about marine life, allowing you to discover the underwater world.

Moreover, the Museum also emphasizes the environment and sustainability. Visitors can join ongoing initiatives and research aimed at the preservation of nature.

Visiting the Palm Beach Museum of Natural History takes you back in time. You will discover the secrets of the planet's past in a fun and interactive environment.
Tallahassee Museum of History and Science Museum
Address: 3945 Museum Rd, Tallahassee, FL 32310
9 AM to 5 PM ( Monday – Saturday)
Florida museums for natural history are out of this world. They transport you back in time, letting you unearth the region's past. One such place is the Tallahassee Museum in Tallahassee, FL.

The Museum offers diverse exhibits and activities for visitors of all ages. As soon as you step in, you witness a sprawling museum with ample space to explore.

Visitors can spend a few hours delving into the wonders on display. Or you can taste the Museum's exciting zipline course. The Museum's interactive exhibits are ideal for history buffs. And if you are into nature, get immersed in the breathtaking flora and fauna that flourish here. Every visit is memorable and offers an experience of a lifetime.

They partner with wildlife sanctuaries for the Museum's Guest Animal program. It allows visitors to get up close to exotic creatures.

Furthermore, you can take your adventure to new heights with the Museum's Tree-To-Tree Adventures. The aerial obstacle course lets you see the Museum from a different perspective.
Orlando Science Center
Address: 777 E Princeton St, Orlando, FL 32803
10 AM to 5 PM (Monday – Tuesday)
10 AM to 5 PM (Thursday – Sunday)
The Orlando Science Center is a stunning place in downtown Orlando, Florida. The state-of-the-art facility offers an enriching experience for people of all ages. This Museum in Florida has an array of interactive exhibits for nature and science fans. These programs let you explore various scientific fields. For example, the Nature Works exhibit lets you get up close and say hello to live animals. In contrast, the Kinetic Zone exhibit is for science lovers. That is where you can experiment with the laws of motion.

Moreover, the Crosby Observatory allows one to observe celestial objects through powerful telescopes. One of the main reasons to visit the Science Center is its commitment to education and science. It hosts programs, workshops, and shows, making learning a thrilling and fun experience. In addition, earth science exhibits are also there to keep visitors engaged.

So, whether you are into science or looking for a family-friendly outing, Orlando Science Center promises an unforgettable adventure.
Audubon House & Tropical Gardens
Address: 205 Whitehead St, Key West, Florida 33040
09:30 AM to 04:15 PM (Monday – Sunday)
Visiting the Audubon House means you return to the world of a maritime and master wrecker in mid-19th century Key West.
The Audubon House and Tropical Gardens is a historic place in Key West, Florida. It was home to Captain John Huling Geiger in the 1840s, where he lived with his family. However, in 1958, the Mitchell Wolfson Family Foundation kept it from being destroyed.
Today, it is one of the best Florida museums for natural history. You see historic boats that crashed near Key West inside the Audubon House. The house and everything inside is well-preserved.
Moreover, the best thing about the Audubon House is its beautiful research gardens. These gardens brim with hundreds of unique plants, flowers, and trees. Visitors can walk through the pretty paths, enjoy the lovely smells, and look at all the pretty colors.
If you like history or nature, visit the Audubon House and Tropical Gardens. You can learn about Key West's past, see a fancy old house, and enjoy the lovely gardens.
Crowley Museum and Nature Center
Address: 16405 Myakka Rd, Sarasota, FL 34240, United States
10 AM to 5 PM (Saturday – Sunday)
Are you in Sarasota, FL, looking for museums in Florida? Head to the Crowley Museum and Nature Center!
It is one of the most tranquil museums in Florida and a remarkable place for seeking to immerse in nature. You would love to experience the good Old Florida and the beauty of nature.
Inside, it has a plethora of pioneer artifacts. These include a pioneer cabin, a blacksmith shop, and a working sugar cane mill.
Moreover, it is also a perfect children's Museum for your little ones where they can relax, unwind, and play. The Crawley Museum and Nature Center has a Discovery Path nature trail for children. Your kids will get hands-on learning experiences in a natural setting.
Furthermore, a half-mile boardwalk meanders through five distinct Florida habitats, like the Maple Branch Swamp and the Tatum Sawgrass Marsh. You can get on the two-story observation tower and see the stunning marsh and Myakka River views.
The Museum organizes special events throughout the year, adding even more thrill to the visitor experience.
Morikami Museum and Japanese Gardens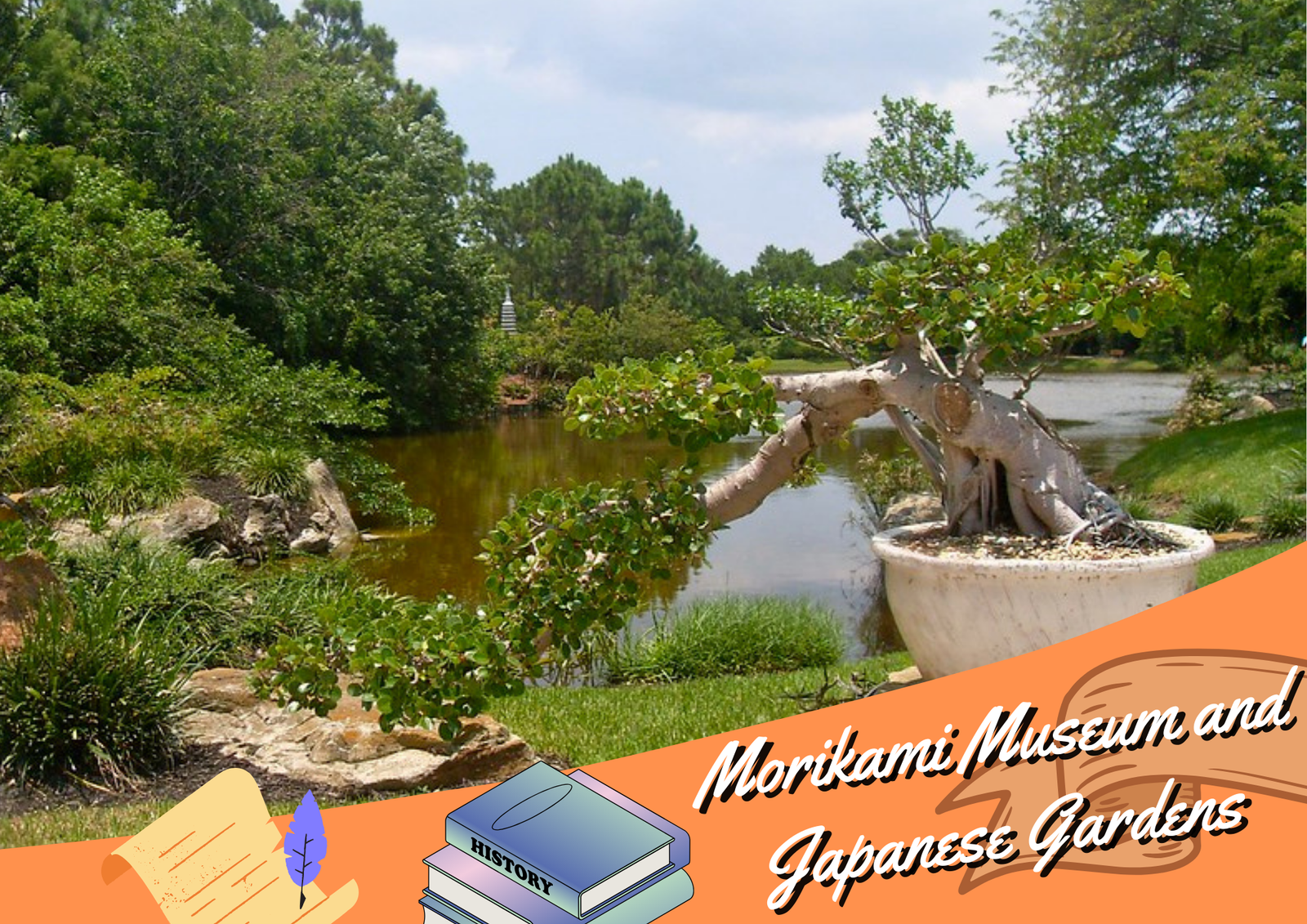 Address: 4000 Morikami Park Rd, Delray Beach, FL 33446

10 AM to 5 PM (Tuesday – Sunday)

South Florida is home to some of the most enchanting museums in FL. One such place is the Morikami Museum and Japanese Gardens in Delray Beach, FL. You will be surprised to know the connection between Japan and South Florida.

In 1904, a group of Japanese farmers, led by Jo Sakai, launched a farming colony, "Yamato." The aim was to revolutionize agriculture in Florida with the help of the Model Land Company. However, their experiment went differently than planned.

Today, the Museum tells the story of these pioneers and their dreams. It boasts a charming collection of Japanese art, artifacts, and historical exhibits. You will learn about the Yamato Colony's journey and the Japanese influence in the region.

Moreover, the Morikami Japanese Gardens offer a tranquil and scenic experience. These gardens feature lush landscapes, tranquil ponds, bonsai trees, and traditional Japanese architecture.

Strolling through the gardens offers a peaceful respite. Visitors to the Morikami Museum get glimpses into the shared heritage of Japan and South Florida. You will have a chance to immerse yourself in the beauty and tranquility of Japanese culture.
Silver River Museum and Environmental Education Center
Address: 1445 NE 58th Ave, Ocala, FL 34470

10 AM to 04 PM (Saturday and Sunday)

The Silver River Museum and Education Center is among the best museums in Florida. It's in the beautiful Silver Spring State Park, Ocala, FL.

This Museum is a beautiful blend of history and nature, making it perfect for all ages. It has three galleries that take you on exciting journeys through time.

The front gallery houses awe-inspiring exhibits about prehistoric artifacts. These also include rare Florida fossils dating back 12,000 years.

Moreover, the history wing shows Florida's history after the arrival of Europeans. You learn about early Spanish explorers and the Seminole Indians. In addition, exhibits also cover the Civil War era, Silver Springs, and even steamboats.

The exhibit hall reveals Native American canoes across North and South America. Visitors can engage with interactive displays and enjoy hands-on activities.

Furthermore, the Museum mainly aims to educate students about Florida's history. However, it also welcomes the general public on weekends.
Once more, as we highlighted earlier, delve into Florida's natural history while capturing your journey through the lens of a top-quality camera and documenting your experiences in a beautifully crafted journal. These tools will undoubtedly enrich your exploration and serve as lasting reminders of your adventures. #ads #commissionsearned
Wrapping Up: Florida Museums for Natural History

That is all about Florida museums for natural history. The Sunshine State has much more than just beaches and theme parks. It boasts a rich history and has plenty to explore. Museums in Florida are a treasure trove for those passionate about natural history.

Visitors can unearth Florida's unique ecosystems and remarkable creatures.

Moreover, Museums in FL have it all, from prehistoric giants and ancient fossils to the state's flora and fauna. These museums let you understand Florida's natural heritage and its importance.

So, the next time you are in Florida, visit one of these Florida museums to unlock the state's secrets.
Where is the Charles Hosmer Morse Museum in FL?
The Charles Hosmer Morse Museum is in Winter Park, FL. It is among famous museums in Florida for its extensive collection of American art. The Museum's main attraction is the works of Louis Comfort Tiffany.

The Charles Hosmer Morse Museum boasts a remarkable variety of Tiffany's art. These include stained windows, lamps, glassware, jewelry, and other decorative objects. Visitors can see the exquisite craftsmanship that made Tiffany famous for his work.

Moreover, the Chapel interior is another key highlight of the Museum. The chapel is a masterpiece of stained glass and decorative art.
Does the Sunshine State have any art museums?
Yes, there are numerous art museums in FL. For example, The Salvador Dalie Art Museum in St. Petersburg is an excellent place for art lovers. It is dedicated to the works of the famous Spanish surrealist artist Salvador Dali.

Moreover, the Ringling Museum of Art in Sarasota has many art collections. These include European art, Asian art, contemporary art, and more.

Norton Art Museum in West Palm Beach is another famous art museum in Florida. It houses an extensive European, American, Chinese, and contemporary art collection.

Furthermore, the Pérez Art Museum Miami in Miami, FL, focuses on modern and contemporary art. Besides these art museums in FL, there are many others throughout the state.
Where is the Circus Museum in FL?
The Circus Museum in Florida is part of The Ringling complex in Sarasota, Florida. The Ringling is a cultural and historical center that has plenty to explore. It includes the John and Mable Ringling Art Museum, the Ca' d'Zan Mansion, and the Circus Museum. In addition, it also has beautiful gardens for nature lovers. The Circus Museum celebrates the history of the circus in the US and the legacy of the Ringling family.
What treasures does the Mclarty Treasure Museum have?
The McLarty Treasure Museum is located in Sebastian Inlet State Park, Florida. It shows the treasures and artifacts from the 1715 Spanish Plate Fleet shipwrecks. You can explore a collection of gold and silver coins, jewelry, and other relics. It tells the story of the ill-fated fleet through exhibits, maps, and pictures. The treasure museum also features shipwreck remnants like cannons. Mclarty Treasure Museum is a magical place for all ages.
What is unique about the Mable Ringling Museum in FL?
The John and Mable Ringling Museum in Sarasota, FL, is a unique place. It is rich in history and has a remarkable European and American art collection. The Mable Ringling Museum is a hub for art, history, and culture and a key landmark in Sarasota.
Does Florida have an Air Force Armament Museum?
No, the Florida Air Force Armament Museum is not in Florida. Instead, it is in Florida, at Eglin Air Force Base in Okaloosa County. The Air Force Armament Museum tells the history of air warfare. Visitors can see a collection of aircraft and armaments used by the US Air Force.
Which is the best contemporary art museum in Florida?
There are many contemporary art museums in Florida. The Pérez Contemporary Art Museum in Miami is famous for its collections. In addition, the Tampa Museum of Contemporary Art also houses an impressive display.
Welcome to Florida Splendors,
Your Key to the Sunshine State!

Florida Splendors is your ultimate guide for all things Florida, tailored for all curious adventurers.

Learn stories about Florida's past as we dive into its history. Explore beautiful museums in Florida that make learning fun.

Moreover, We will also reveal the best-kept secrets that even most Floridians don't know about. Whether it's the pristine beaches, vibrant cities, or unique attractions, we've got you covered.

Join us on social media to unlock the beauty and wonders of the Sunshine State. Get ready for unforgettable adventures and make the most of your Florida experience!
Facebook: www.facebook.com/FloridaSplendors

Instagram: www.instagram.com/floridasplendors/

Pinterest: www.pinterest.com/floridasplendors

Twitter: twitter.com/FloridaSplendor